Chicken Noodles with Chili Bean Sauce
…
July seems to be an Asian inspired month for the blog (and needless to say for us
!
)
…
cook a couple of times and then post throughout the month seems to be my new strategy
…
actually come to think of it, I should have just called it an Asian week or month
…
oh well, next time
…
but honestly, I needed to finish that bottle of chilli bean sauce in cooked food instead of buying some more crackers to use it as my movie time dip
!!
J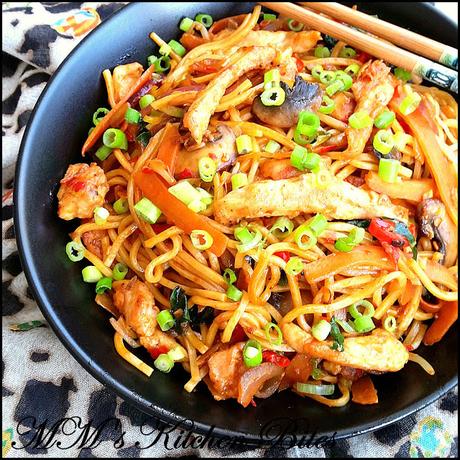 Chicken Noodles with Chili Bean Sauce
Ingredients:
Thin or wide noodles, fresh around 300gms or dried around 180gms

Mixed vegetables of your choice, 300gms (I used carrots, mushrooms, onions, cabbage, mung bean sprouts, baby spinach)

Chicken breast, thinly sliced, 300gms

Garlic, finely chopped, 2-3

Ginger, finely grated, 2 tsp

Salt, if needed to taste

Oil, 1 tbsp + 1 tbsp

Sesame oil, to drizzle (optional)
For the Sauce:
Chilli beans sauce, 2tbsp

Sugar, 2 tsp

Dark Soy sauce, 2 tsp

Shaoxing rice wine, 2 tsp

Chicken stock, ¼ cup
For the marinade:
Light Soy sauce, 1 tsp

Shaoxing rice wine, 1 tsp

Oil, 1 tsp (preferably sesame oil)

Corn starch, 1 tbsp

Salt, to taste

Pepper, to taste
Garnish:
Spring/Green onions/Scallions, only the green portion, 2-3
Instructions:
Marinate the chicken with

light Soy sauce, Shaoxing rice wine, sesame oil, salt, pepper, to taste

in a medium size bowl. Sprinkle with corn starch, toss to coat well and leave to marinade in the refrigerator for about half an hour to overnight. Get the chicken back to room temperature before cooking.
Mix the sauce ingredients in a small bowl and keep aside.
If using dried noodles, boil the noodles in well salted water per instructions given on the packet. Drain well, toss with 1 tbsp oil and keep aside.
Heat a large wok on high heat for about a minute.
Swirl in 1 tbsp oil and heat it till it starts to shimmer. Stir fry the marinated chicken for 3-4 minutes till done. Remove the chicken and keep aside
Add the remaining 1 tbsp oil to the wok. Add in the garlic and ginger and stir fry for about 10 seconds.
Add the onions and carrots and stir fry for another 10 seconds.
Add the mushrooms and stir fry for a minute or two. All vegetables should still retain some crunch.
Add the sauce mix to work and let it come to a quick boil.
Add in the noodles, spinach, cabbage, mung bean sprouts and reserved chicken to the wok. Stir fry for another minute or two till everything is coated well with sauce. Taste and add salt if required.
Drizzle with a tsp or two of sesame oil.
Top with the spring onions. Serve hot.
Notes:
Chilli Bean Paste is also known as "Toban Djan". I use the Lee Kum Kee brand which is a little more garlicky than a couple of other brands that I have tried. A really good and must have addition for your kitchen if you cook Chinese often. If you don't, you can try substituting with Sambal Oelek or any other Asian Chilli sauce.