We're all looking for quick and easy weeknight dinners. And, this chicken linguine with peas and green onions if gonna be your go to at least one night a week. Then if you have leftovers, you're all set for lunch because this is even delicious cold! Like a pasta 'salad' with chicken!
What's Not to Love
The presentation of this dish is spectacular. And, if you have a blue plate or big serving bowl, you see how it pops. I mean so much of eating is visual, so make sure you give this delicious dish the attention it needs. Not to worry if you don't have a special bowl or platter, I've been shopping for you and you'll see some of my favorite finds on Amazon! I'd love to have one of each, and I just might be ordering some myself! These bowls and platters are so versatile and great for so many other things you're going to be serving.
You can add some great flavoring, and save time cooking, with some of the packaged sauces, and in this recipe, I'm using the Sweet & Sour Chicken Sauce from Campbells. Gives this dish a more distinctive flavor.
Another time saver, I think with this recipe is the way you're going to cook the pasta. Stick with me on this one. It really does save some time. Now, serious pasta gurus might shutter at this technique, but the end result is quite magical.
This is a perfect dish to fix any day of the week. If you want to swap out chicken for some grilled shrimp or salmon chunks that would be fabulous. Or, if you're a beef eater then try a nice tender strip steak or ribeye, pan seared and thinly sliced to go with your pasta! Here's another quick and easy Chicken Parmesan recipe that I think you'll love, too!
Don't forget to take a look at some of the beautiful serving pieces at the end of this post!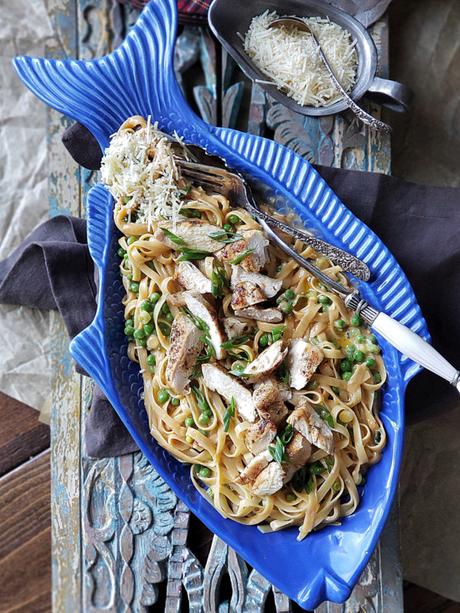 Ingredients
1 lb. chicken filets, boneless and skinless, if thick, butterfly and to make thinner to cook faster
3 Tbl. olive oil
2 tsp. sea salt, divided
1 tsp. pepper
8 oz. linguine pasta
3 cups chicken stock
1 package (11 oz.) Campbell's Sweet & Sour Chicken Sauces
½ cup heavy cream
½ tsp. red chili flakes
¼ cup freshly grated parmesan + more for garnish
3 cups frozen petite peas
6 green onions, sliced thinly with some of the green tops
Instructions