I got mail! And I have mixed feelings about it. It's an invitation for a free meal at Chicken Junction in One Pavilion Mall in Banawa. On one hand, who wouldn't want free food? On the other, it makes me feel like I am obliged to write positively (or as nicely as I can) about whatever it is I am about to be fed. Thankfully, I wouldn't have to lie about this one. (Not that I lie about anything. I am an honest man. Honest.)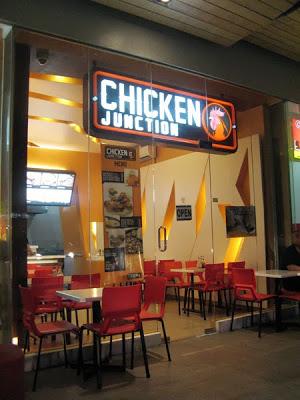 Since buddy also got a coupon, we went to Chicken Junction together. They have a simple menu of grilled/fried/sizzling chicken and pork (Php89-95), plus pasta (Php65-70) and sandwiches with fries (Php65-70). Drinks are priced at Php25-35.



The coupon was only good for select dishes: chicken inasal, glazed crunchy chicken, sizzling devil'd chicken, and (not on the menu board) glazed chicken sandwich. We chose the not so common ones: glazed crunchy chicken and sizzling devil'd chicken.


Glazed crunchy chicken (left) and sizzling devil'd chicken (right)
The glazed crunchy chicken was tender and sweet (as how "glazed" should be!). It had a side of coleslaw of cabbage and carrots. The side was also sweet. I would have wanted something pickled to counter the sweetness of the chicken. But that's just me. And the sizzling devil'd chicken? Tender and spicy. A very very good choice! Our only complaint was the pineapple juice. It tasted like the powdered kind. But we are not here to talk about the drinks, are we?
Chicken Junction, thank you for the coupons! Your food did not disappoint! By the way, a little bird told me your pork sisig is also commendable. Will go back for that!

Chicken Junction
One Pavilion Mall, Banawa, Cebu City
(032) 253 0611
How Chicken Junction gave my wallet a break:
Glazed crunchy chicken Php92 free
Sizzling devil'd chicken Php89 free
Pineapple juice Php28