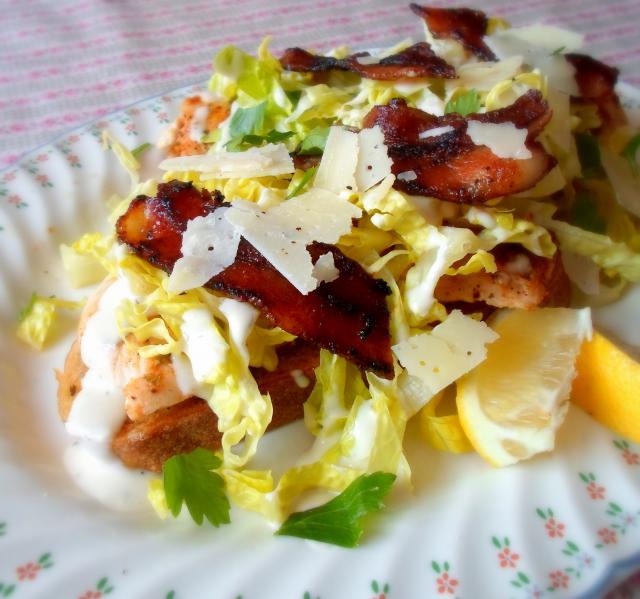 I will confess . . . my absolute favorite all time salad is the Caesar Salad and I will admit if it comes with grilled chicken, I am even more in love . . .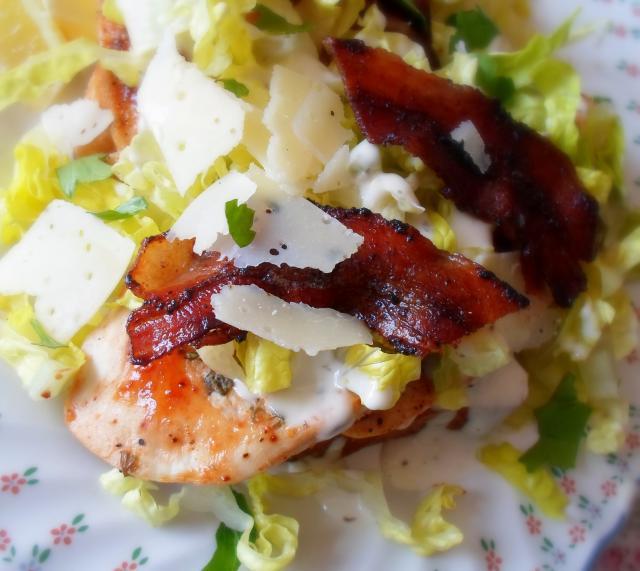 What's not to love . . . crisp Cos lettuce . . . garlic croutons, bacon . . . Parmesan cheese and that fabulous garlicky dressing . . . add chicken and I am  in heaven!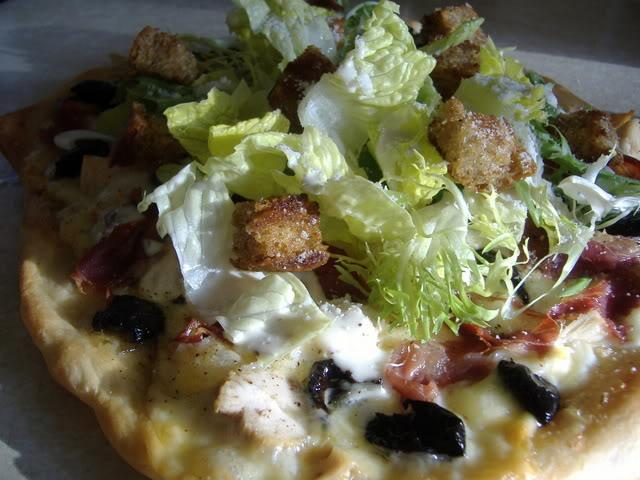 I have made Chicken Caesar Salad Pizza's before and they are pretty scrum if you ask me.   (The recipe for this  is also in my cookbook, Recipes From the Big Blue Binder.  See my left hand sidebar for more info on that!)  Today I decided to make something a bit different though . . .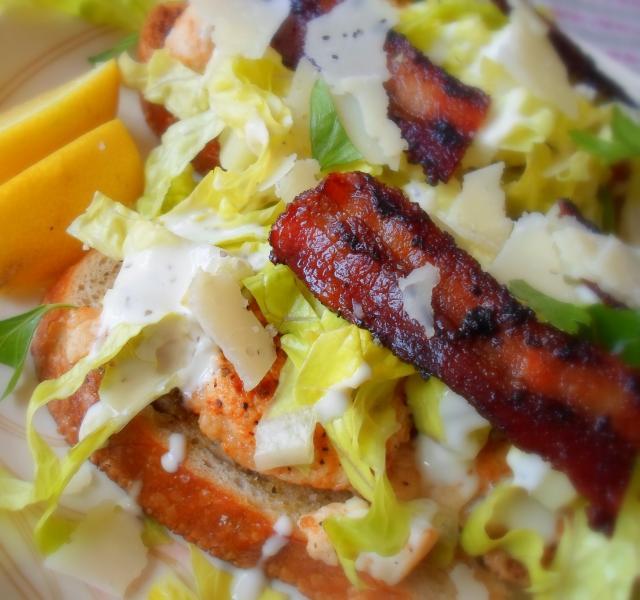 The weather has been so hot and muggy . . . we are craving cool food.  Food which is easy and quick to prepare and which gets us in and out of the kitchen quickly, but it also has to be pleasing and filling . . .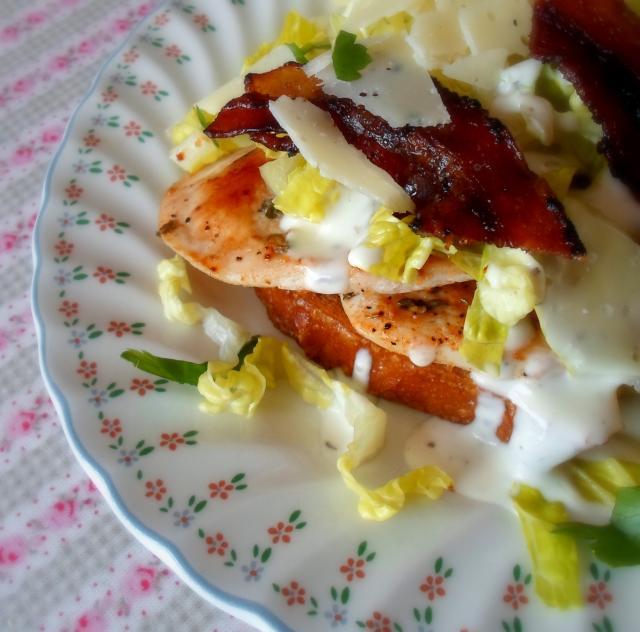 Chicken Caesar Salad Sarnies!  (Sandwiches)  These fit the bill perfectly on all counts!!  Instead of croutons on top of the salad . . . you get a sourdough garlic crouton base . . . topped with some lemon pepper chicken paillards . . .  shredded lettuce, a drizzle of a fabulously easy homemade Caesar dressing . .  salty flakes of Parmesan cheese . . . and . . .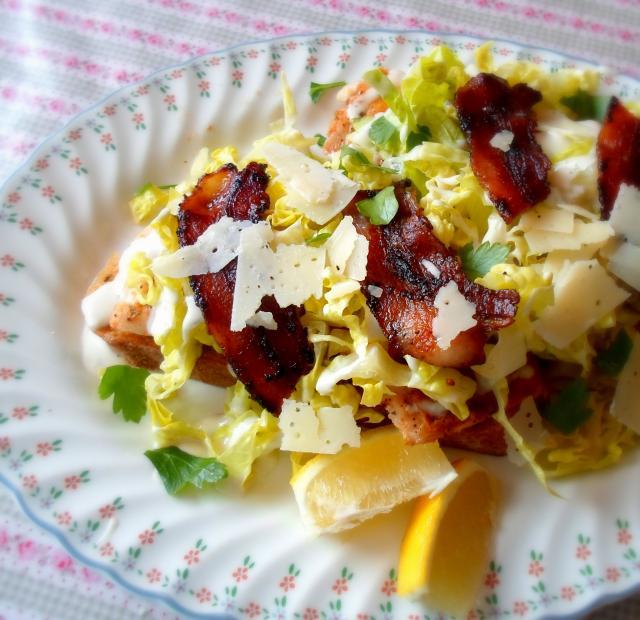 Bacon.  Crisp, salty bacon.  Doesn't bacon make everything taste gloriously fabulous?  I know . . . I am a bacon fiend.   I try not to eat it very often, but come on . . . you just got to have it on a Chicken Caesar . . . don't you???  Whether it's a scrummy salad, a tasty Pizza . . . or . . .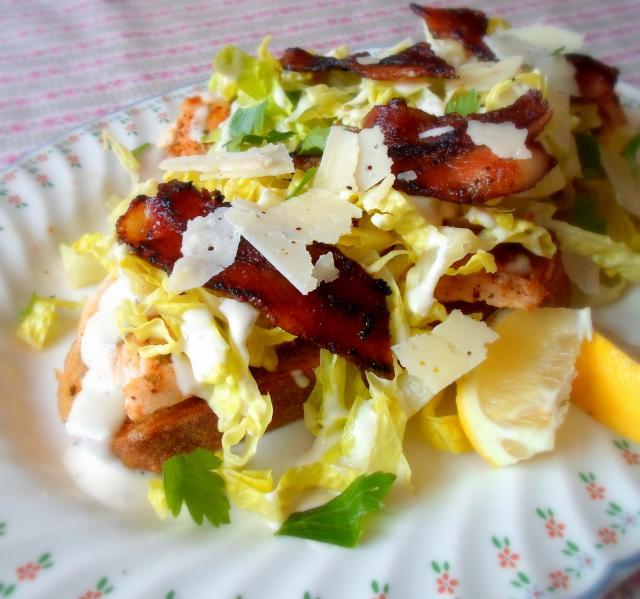 A fabulously easy and tasty Sarnie!  NOM! NOM!   These were seriously good.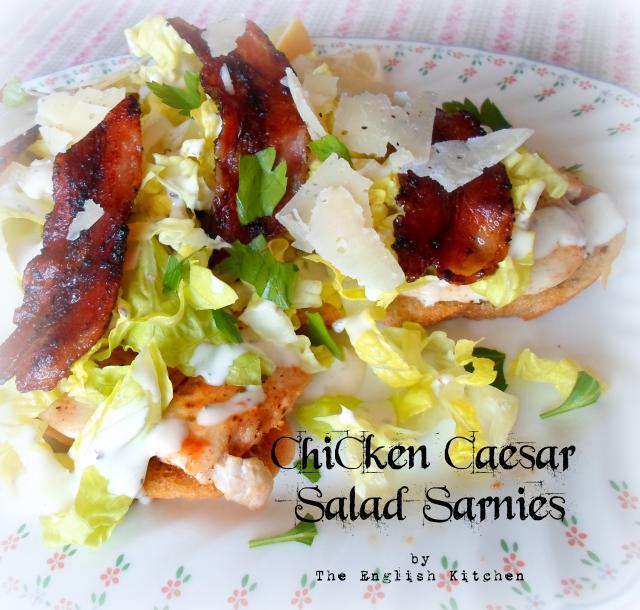 *Chicken Caesar Sarnies (Sandwiches)*Makes 2Printable Recipe  

The amounts given here are for two, but you can easily adapt for more.  The dressing does make enough for about  4 to 6 servings and is delicious in it's own right. 
For the chicken:one large chicken breast, cut into 4 thin slices lengthwise, also called paillardslemon pepper seasoning 
For the garlic toasts:Four slices of sour dough bread, about 1/2 inch thicksoftened butter
garlic seasoningchopped parsleycoarse black pepper 
For the Dressing:4 TBS good quality mayonnaisethe juice of 1/2 lemon1 tsp white wine vinegar1 heaped tsp Dijon mustard1 anchovy filet in oil, drained and mashed1 garlic clove, finely minced2 TBS olive oila good handful of finely grated Parmesan cheesecracked black pepper 
To finish:2 baby gem lettuces coarsely sliced4 slices of streaky bacon, cooked crispa few leaves of flat leaf parsley, tornA few flakes of Parmesan cheeseLemon wedges  
Whisk the dressing ingredients together until well combined.  I use my immersion blender for this.  You should have a slightly thick dressing.  If it is too thick, thin a bit with some water.  Taste and adjust seasoning as necessary.
Cook the chicken.  Season it liberally on all sides with lemon pepper.  Heat a large nonstick skillet.  Spray with some low fat cooking spray.  Add the chicken and cook for about 2 minutes per side, until cooked through and golden, but not dry.  Remove from the heat immediately and set aside.  If you have not cooked the bacon yet.  Wipe out the pan and cook it until crisp. 
Heat the grill of the oven.   Spread both sides of each slice of sour dough bread with butter.   Sprinkle one side only of each with the garlic seasoning, chopped parsley and black pepper.   Grill until golden brown, flip over and grill the other side. 
Place two garlic toasts on each of two plates.  Top each with some of the pan grilled chicken slices.  Top with the sliced  lettuces and a few torn parsley leaves.  Drizzle each with some of the dressing.  Top with some bacon and flakes of Parmesan cheese.  Garnish with a few slices of lemon and serve immediately.