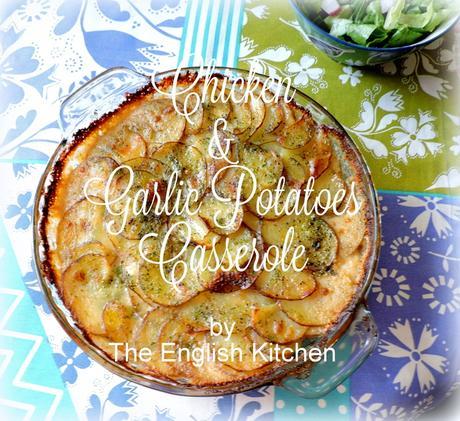 Are you ready for another delicious one pan chicken meal?   I know I am.   We do eat a lot of chicken in this house, but that is totally because it is economical, adaptable and delicious.  It never gets really boring.  I would love to eat more beef or lamb, but in all honesty, it's not within my budget except for on very rare occasions these days.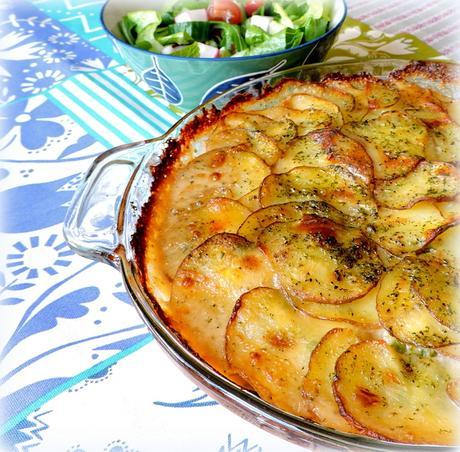 You are going to love this casserole.  Truly.  It is simple and easy to do and uses things I am betting you have in your kitchen right now!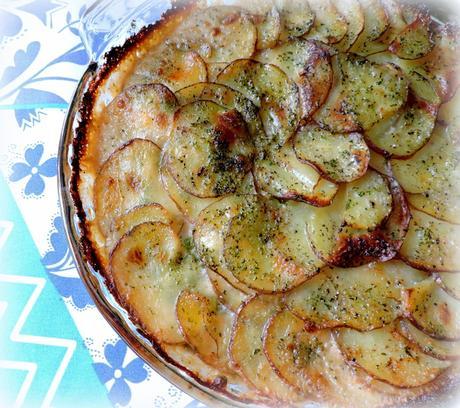 Cooked chicken.   You can use leftovers from your Sunday Roast, or quite simply poach some boneless skinless chicken breasts.  I picked up a pack locally, for less than a fiver . . .  which had four really large and meaty pieces of chicken in it.  I poached them in some lightly salted water.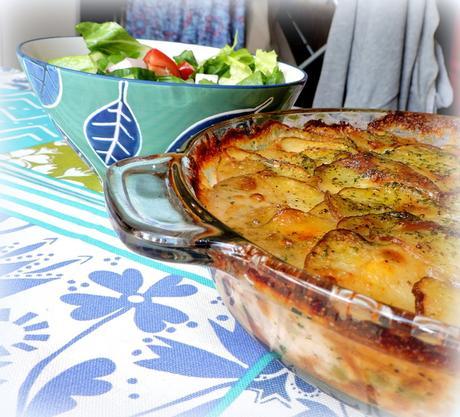 Just bring it to the boil, then simmer for about 10 minutes and then I let it cool down in the water until I can just handle it by hand.  End result.   Perfectly moist and tender chicken breast meat.   I used two, shredded,  for this recipe . . . and I have two more chilling in the refrigerator for another recipe another day.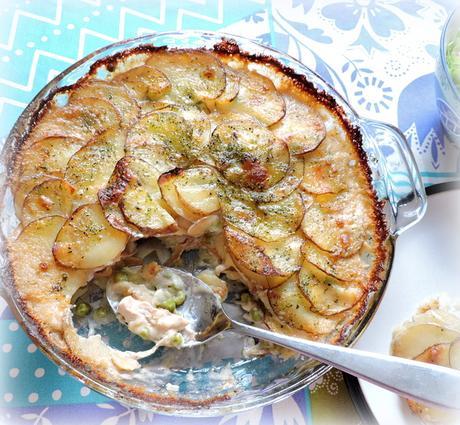 Two baking potatoes sliced thinly, along with some frozen peas, a delicious cream sauce and some crispy salad onions . . .  and that's all you need.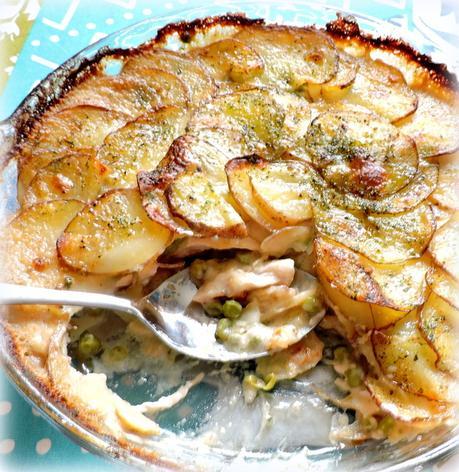 Put together in just the right way, you end up with a truly delicious casserole that will have everyone scrambling for just a tiny bit more.  The recipe serves 6, but I just know people will want seconds to plan on using it for four.  I do hope you will make it and that you will enjoy it as much as we do.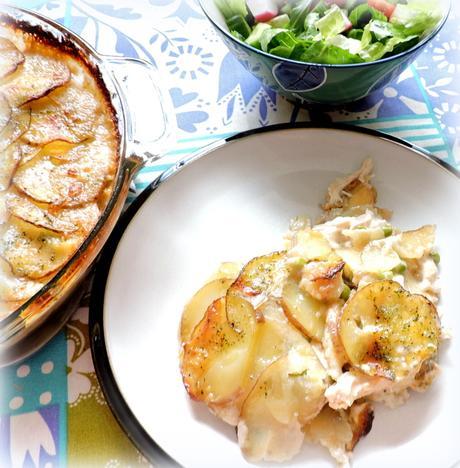 Crispy, buttery potatoes, layered just right with moist chicken and a deliciously creamy sauce and peas.   What more could you want?   A nice chopped salad on the side and some crusty bread perhaps.   Enjoy!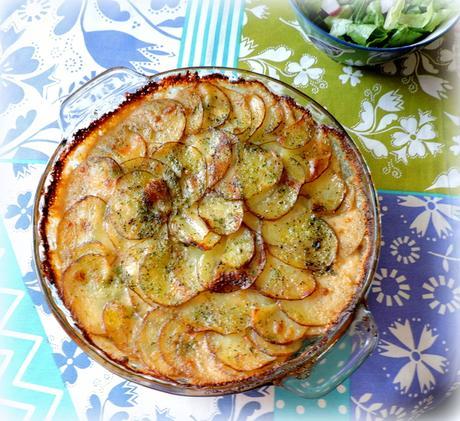 *Chicken and Garlic Potatoes Casserole*Serves 6Printable Recipe 
A simple and delicious chicken casserole which makes good use of leftover chicken and store cupboard ingredients.  We love this.  It is like a pot pie, but with a potato crust. 
2 medium baking potatoes, washed, dried, unpeeled and thinly sliced1/2 390g)  can of fried onions (like Durkees, about 1/2 cup)250g of frozen peas (1 heaped cup)450g of shredded cooked chicken (1 pound)2 TBS butter, meltedgarlic powder, dried parsley, salt and black pepper to taste 
For the cream sauce:3 TBS butter3 TBS plain flour300ml of chicken stock (1 1/2 cups)150ml of milk (3/4 cup)150ml single cream (3/4 cup)dried sage, thyme, salt, pepper, and garlic powder to taste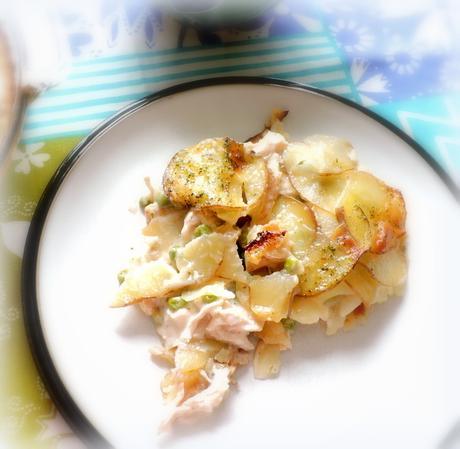 First make the cream sauce.  Melt the butter in a saucepan.  Whisk in the flour and cook over medium heat whisking constantly for about a minute.  Whisk in the stock, milk and cream.   Season to taste with sage, thyme, salt, pepper and garlic powder.  Cook, whisking constantly until bubbling and thickened.  Set aside.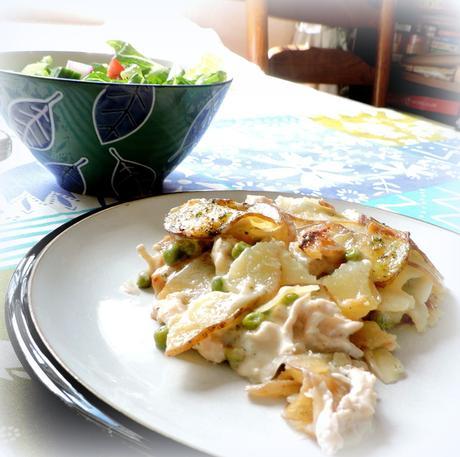 Preheat the oven to 180*C/350*F/ gas mark 4.  Butter a 2 litre/2quart baking dish.  Line the base of the dish with half of the sliced potatoes.   Cover with the sauce, shaking it a bit to allow the sauce to settle down into the potatoes. Sprinkle on half the onions and half the peas.   Sprinkle the chicken over them and then sprinkle on the remaining peas and onions.   Layer the remaining potatoes over top.   Brush with the melted butter and sprinkle with some garlic powder, dried parsley, salt and black pepper.  Cover tightly with foil.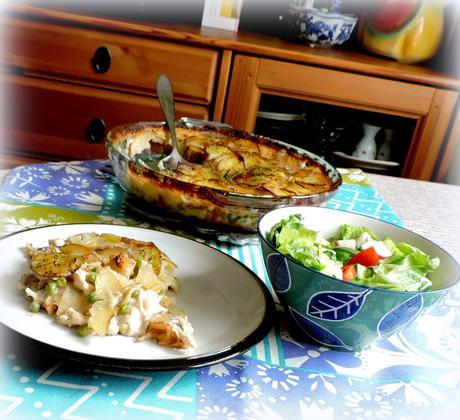 Bake in the heated oven for one hour. Increase the temperature to 200*C/400*F/ gas mark 6.   Remove the foil and then bake for an additional 20 to 30 minutes longer until the potatoes are golden brown and tender.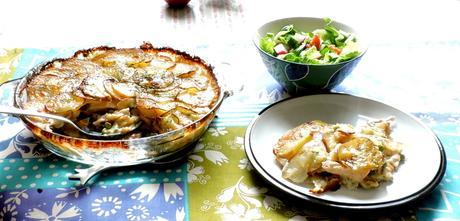 I hope you have been admiring my new table runner and salad bowl.    Aren't they just beautiful?   I got them from a really nice site Gundrun Sjoden.   This is a Swedish brand of housewares, fashions, soft furnishings and textiles which have been around for about 30 years, having just recently opened their first store in London along with an online shop.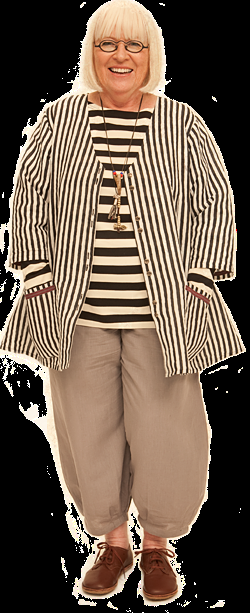 Gundrun is the design force behind the brand and runs it with a strong eco-conscience.   She uses Mondays and Tuesdays to paint, creating original patterns and prints every season.  (You can buy fabrics by the meter so that you can sew your own goodies as well!)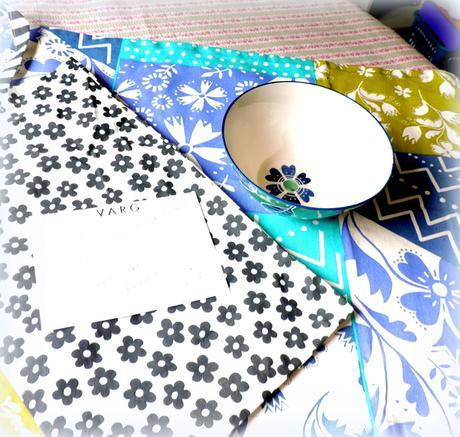 Everything is sustainable and environmentally sound, and really attractive.  Environmentally friendly, ecologically sound, organic,  pretty to look at . . .   I don't know what more you could ask for.  I think it is all beautiful.   To find out more about the label and their practices check it out here.  To go shopping, click here.
Many thanks to Gundrun Sjoden for sending me these lovely bits and bobs.