This Week i had several different requests due to my blogging, first i had 3 requests to attend various food and music programs and cover it or give my feedback on my blog. 
One invite i had gone to yesterday, that was Chicken comes first , other 2 are still in the coming weeks, then i got one more award thanks to Salvwi Prasad at http://poeticbug.blogspot.in/p/blog-page.html and i got some shampoos via courier , i don't know how that came to my address because i had not asked for it anywhere and yes i got a nomination in a international directory too and to write and photograph a guest post
So finally i think blogging is paying.
So anyway Farzana and myself went to the CCF launch yesterday,  it was in Aundh which is far, very far from the place i stay, the heat and my laziness would have not allowed me to go there in normal circumstances but since the invite had come due to blogging and Farzana and my sister Batul who is a avid blogger and a photographer herself insisted so i decided to go.
As usual the evening traffic and the heat got better of me and by the time i reached there it was quite a crowd already , the host quickly got me a table and he asked me what would i like to taste, usually i don't like this KFC styled bland food but i decided to sample certain spicy stuff which these guys specialize , they claim.
Overall quite a decent stuff and service, today morning when i opened the news paper and i saw this offer, i wondered oh if i would have known i would have stayed there the whole night and claimed this offer at 11 am today , Haha .........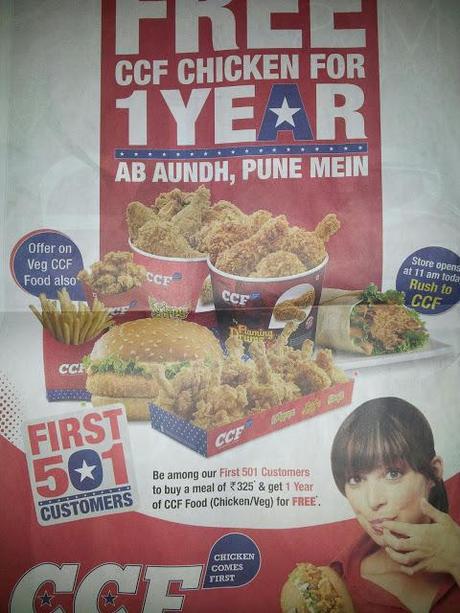 Anyway whoever wants me to write about them, their establishment ,etc can freely request me as i am not that busy yet as i sound.