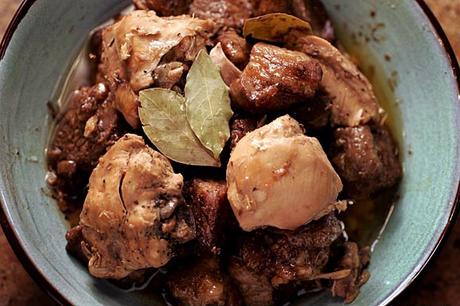 Chicken Adobo (Repost from Dec.5, 2012)
Sunday was my birthday, and now that I am an empty nester it was a pretty quiet one. Since my husband has to be at his practice in Pensacola on Tuesday, we decided to celebrate on Monday by having a day date. We went to Destin Commons to see Lincoln (which was incredible and I highly recommend), and dined at Tim Creehan's Cuvee Bistro (update now Cuvee 30A at Inlet Beach). Cuvee has the best happy hour, with terrific drink and appetizer menu items half-priced from 5-10pm.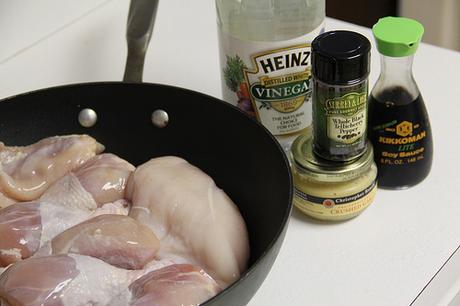 Chicken Adobo Prep
Growing up my parents always asked my sister and I what we wanted to eat on our birthday and then they would make it for us. Always a foodie, I got great joy out of mulling over my options. My parents also took on this task for their grandchildren, and this week it was my turn once again to choose.
The last few years my choice has been chicken fried steak with saw mill gravy, buttermilk biscuits or cornbread, and a mess of greens. But, after a heavy Thanksgiving meal, and with Christmas around the corner, I went back to our 1970's roots from the time my father was stationed in the Philippines and chose Chicken Adobo.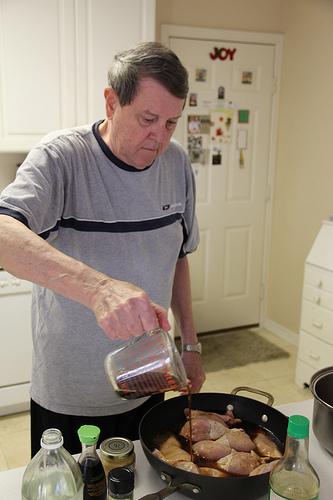 Tom (aka Poppy) is the executive chef
When we were stationed in the Philippines I was a young girl, and this dish was prepared for us by our appointed house staff, Lourdes. She was also my friend and mentor in the kitchen. It is so easy to make, healthy if you remove the chicken skin and use light soy sauce, and one I think your family will love too. the vinegar makes the dish. Serve with your favorite rice. I happen to like Anson Mills.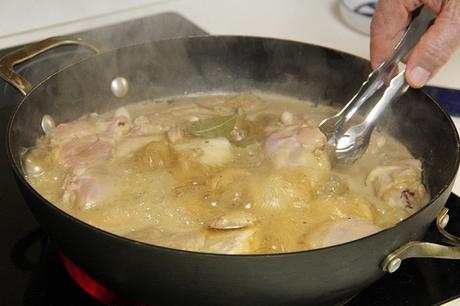 Fragrant Adobo
Poppy's Chicken Adobo
Ingredients:
4 pounds cut up chicken pieces, skin and fat removed
1/2 cup white vinegar
1/2 cup soy sauce, light
1/2 cup water
4 cloves garlic crushed
salt to taste
1 tsp. black peppercorns, ground
2 bay leaves
Note: Chicken thighs and legs are the most popular parts used in this dish. I add breasts too as my husband is not a fan of dark meat. And, keep it Keto or low carb by leaving the rice out and serving over your favorite veggies.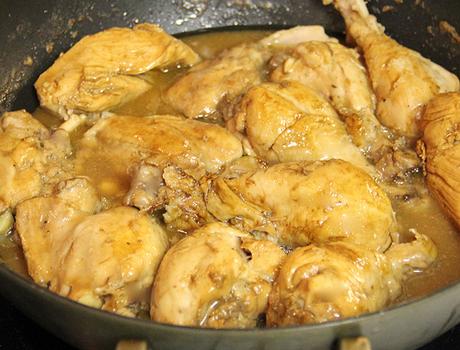 Ready to serve Chicken Adobo
Directions:
Clean chicken of fat and put in a pot covered with cold water in the refrigerator for an hour. Rinse and pat dry. Combine all other ingredients in a bowl. Lay chicken in a large flat pan and cover with marinade liquid from bowl, then place back into the refrigerator marinating chicken for 30 minutes.
Turn the chicken for 30 minutes more, marinating a total of 1 hour. Place covered pan on burner. Bring to a boil and then lower the heat. Keep covered and let simmer for 30 minutes, stirring and turning occasionally. Uncover and simmer until sauce is reduced and thickened, and chicken is tender, about 20 more minutes. Serve over your favorite rice with additional soy sauce and hot sauce such as Sriracha or Tabasco on the side.