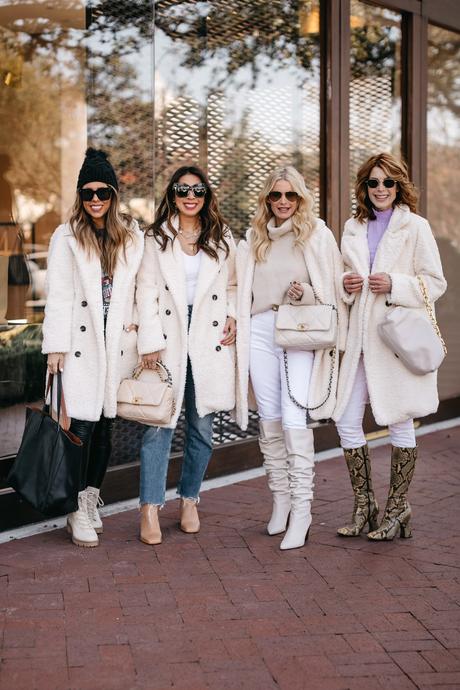 It's that time again... CHIC AT EVERY AGE . We're showing you ways to wear the chic winter white coat.
For those of you that have just tuned in, this fab collab is exactly how it sounds... a chic chick in her 20s, 30s, 40s, and 50s shows you how to style a piece in their own way. I'm working with some of my FAVORITE gals in Dallas and Fort Worth!!
The 20-something // Natalie of The Fashion Hour
The 30-something // ME!
The 40-something // Heather of
The 50-something // Cathy of The Middle Page
Photography // Beckley & Co


WAYS TO WEAR A WINTER WHITE COAT
Hello GlamFam! How are you doing? So many of our friends are family have been without power during this Texas Blizzard. What a crazy time! I hope that you are staying safe and warm. Chic At Every Age thought it would be pretty timely to feature our favorite white winter teddy coats during a time like this - this faux shearling piece has truly kept us so warm here in Texas.
Teddy coats have been around for quite some time, and I don't see them going out of style anytime soon. The amazing thing about a teddy coat is that there are so many different ways they can be worn! Whether you pair them with denim, leggings, joggers, skirts, or dresses, you will ALWAYS find a new way to style a teddy coat... and for years to come.
We thought it would be fun to showcase this faux shearling teddy coat that comes in two colors (white & camel). It's double-breasted meaning you can also wear it open proving its versatility even more. Best part? It's currently on sale for 40% making it less than $100! You know what this means... it's selling fast, so here is the same coat from Bloomingdales with more sizes. I went for a more simple look and wore a fitted white bodysuit, light wash denim, and some of my go-to beige booties.
THE STYLE Rx: Elevate your look with a Winter White Coat and stay warm.
Alright Fashionable Friends, let's chat about the outfits! It's always a fun surprise to see what everyone is wearing! I LOVE how Cathy brought a pop of color to the group with her purple turtleneck - she's always so colorful! And Heather looks so chic in her winter white ensemble.. you can never wear too much white and ivory! Natalie's look is also SO good with her graphic tee and cream combat boots - I'm digging the edgier vibes from her!
How would you wear this chic winter white coat?
Happy Friday GlamFam!! How are you doing? Texas has gone through a crazy winter storm! There is snow and ice everywhere, and many are without power or water. We were lucky to have both during the storm, and so the kids just had the most fun NOT being at school and sledding basically every day. I'm worried about the aftermath because broken pipes and flooding have ruined so many people's homes, businesses, and even some of the hospitals here. Please pray for those affected. I'm heading to work at the hospital this weekend and was told that everything is okay at our hospital. Since I don't like to end on a sad note, I'm supposed to get my 2nd COVID vaccine this weekend too! LOL! It was rescheduled from Valentine's Day with all the bad weather! WHAT ARE YOU DOING THIS WEEKEND?
Thank you so much for stopping by and supporting SOS! I truly appreciate it!
JOIN THE #SAMFAM // SIGN UP FOR THE NEWSLETTER BY CLICKING HERE.
CHECK OUT MY INSTAGRAM SHOP HERE TO SHOP ALL OF MY INSTAGRAM LOOKS!

stay glam, do good