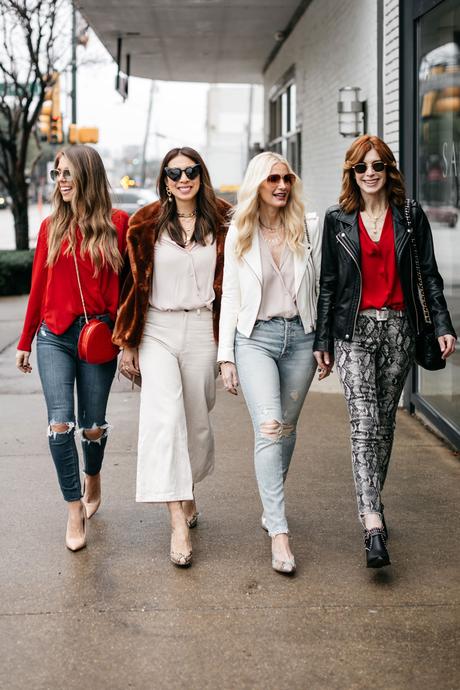 It's that time again... CHIC AT EVERY AGE . This week, we're showing y'all how to style this cute faux wrap top under $100 top that's perfect for Valentine's Day!
For those of you that have just tuned in, this fab collab is exactly how it sounds... a chic chick in her 20s, 30s, 40s, and 50s shows you how to style a piece in their own way. I'm working with some of my FAVORITE gals in Dallas!!
The 20-something // Natalie of The Fashion Hour
The 30-something // ME!
The 40-something // Heather of
The 50-something // Cathy of The Middle Page
Photography // Beckley Co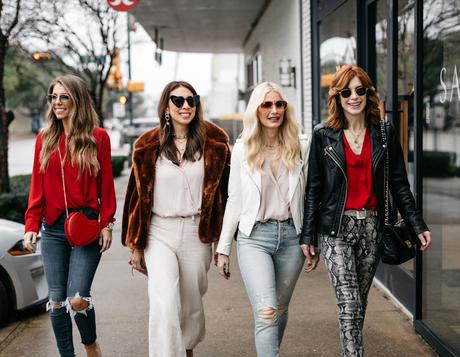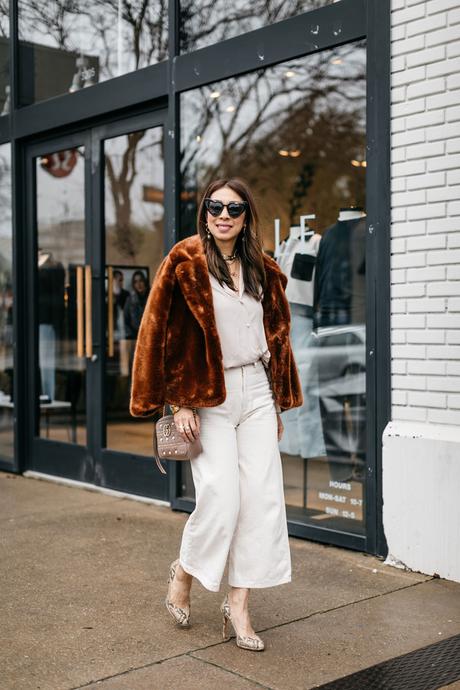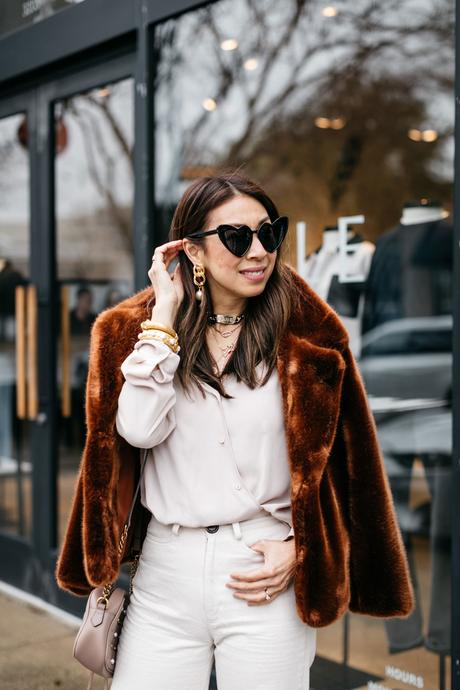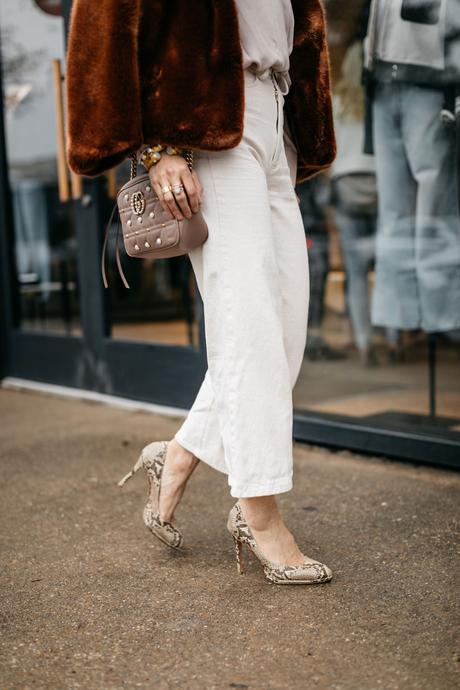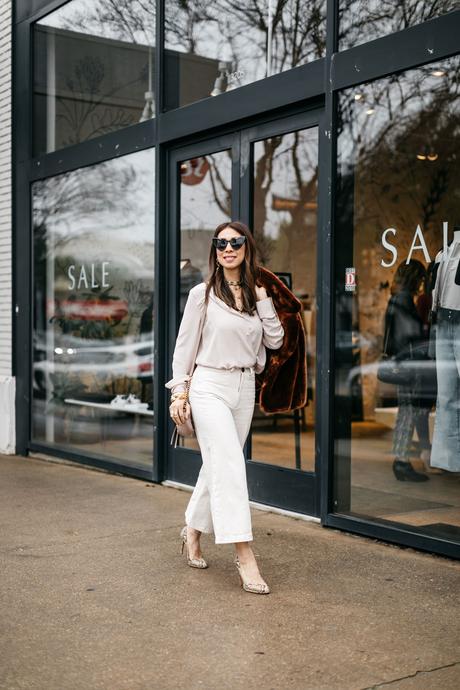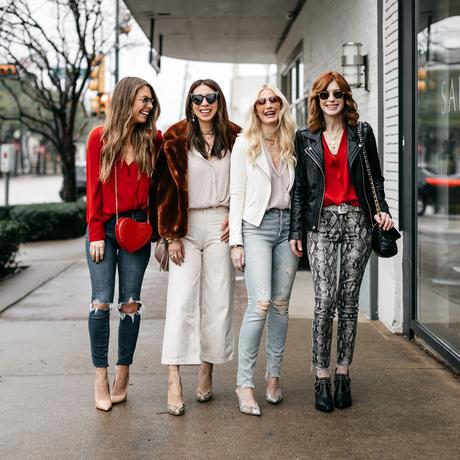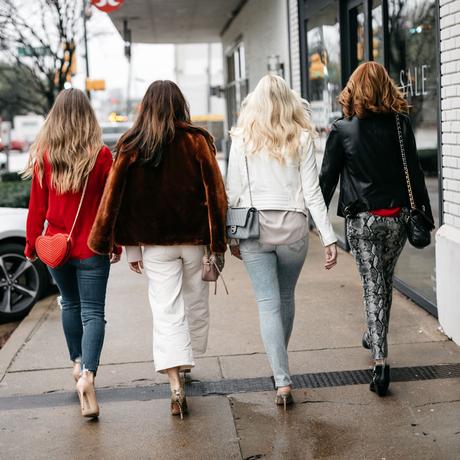 I LOVE Love, and February is one of my favorite months because of Valentine's Day! Anything that has to do with love or hearts is my thing. I mean, even my engagement ring has hearts on the side. YES, I am that cheesy when it comes to love. So when the gals suggested styling this top that's under $100 for Valentine's Day, I was a definite YES!
Y'all know my outfit of choice is a matched set! LOL! It's no surprise that I decided to pair this faux wrap top with coordinating cropped wide leg jeans. The top comes in 6 colors and is perfect for work to a night out. It's easy to wear with jeans or dressed up. BTW, it hits closer to my hips so I tucked in the front for a more flattering look.
I love love love these high rise jeans from one of my favorite ethical and sustainable brands, Tribe Alive. They are a true high rise on me (an 11″ rise) and are made of 100% upcycled denim. They did shrink because I washed them on normal or I've been eating too many snacks after the kids are in bed!! LOL! Oops! It maybe time for me to invest in another pair that fit a little looser! ;)
My heels are an oldie but goodies that I purchased from TJ Maxx when we first moved to Fort Worth in 2008. I was SO STOKED that these Coach beauties were discounted and mine. They are beautifully made and have lasted a decade! I love that everything comes back into fashion because snake print is IN and I get to wear them more often!
Leave it to Texas to have such confusing Winter/Spring weather! I top off my outfit with a fabulous faux fur jacket because we never know if Valentine's Day is going to be chilly or not. That's one of the tricks to elevate an outfit that I mention in my mom outfits post! This is a gorgeous deep brown faux fur jacket that I snagged during a Zara sale.
THE STYLE Rx: Keep it simple with a fabulous faux wrap top. These are flattering on all shapes because of the cut. Pair it with jeans and heels for an easy date night look!
Now, let's chat about what the gals wore!
Cathy was red hot with her snake print jeans, moto jacket, and studded boots. She is looking so chic! Heather went with beautiful blush tones and distressed denim for a glam and edgy look. I'm always up for a head-to-toe tan look. Natalie looks holiday-ready in red and with that super cute heart-shaped bag!
HOW WOULD YOU WEAR THIS TOP?!
Happy Wednesday Y'all! This is the first week of being almost back to a "normal" schedule with Mr. S driving himself back to work. I have some fun meetings and school meetings scheduled, but what I really need to do is tackle the house. I am not even joking when I tell you it is literally craziness in a BIG PILE of random junk at our home. Furniture was "rearranged" from Mr. S using a walker and being on crutches, and it's been a monster to tackle. However, I am feeling the empowered to GET THINGS DONE so I will step to it!
Can't wait to share the other Valentine's Day inspired blog posts this week!
♥︎ ♥︎ STAY GLAM, DO GOOD ♥︎ ♥︎
Thank you so much for stopping by and supporting SOS!
JOIN THE #GLAMFAM // SIGN UP FOR THE NEWSLETTER BY CLICKING HERE.
CHECK OUT MY INSTAGRAM SHOP HERE TO SHOP ALL OF MY INSTAGRAM LOOKS!

stay glam, do good