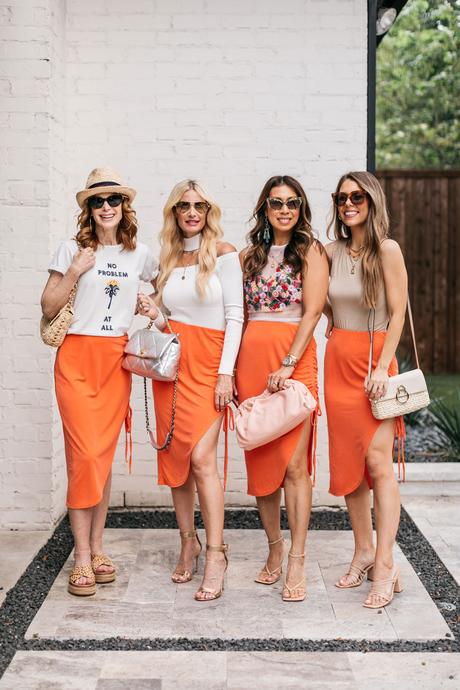 It's that time again... CHIC AT EVERY AGE . This week, we're sharing how to style a ruched skirt! It's so cute, and I love that's less than $50.
For those of you that have just tuned in, this fab collab is exactly how it sounds... a chic chick in her 20s, 30s, 40s, and 50s shows you how to style a piece in their own way. I'm working with some of my FAVORITE gals in Dallas!!
The 20-something // Natalie of The Fashion Hour
The 30-something // ME!
The 40-something // Heather of
The 50-something // Cathy of The Middle Page








HOW TO STYLE A RUCHED SKIRT
Hello GlamFam! Remember when I talked about knitwear in this post? It's everywhere for the season, and this bright ruched skirt was a fun variation of the dress. It's perfect to travel with and so lightweight for warmer weather. Plus, it's less than $50!
Ruching adds interest to any clothing item, and the side ruching and ties are a fun and flattering addition to this skirt. The ruching is adjustable with the ties. Plus, the bright coral color screams SUMMER! By the way, the skirt comes in five different colors if you prefer neutrals (green, tan, black, yellow, and coral). The material is super soft which feels like pajamas, and the elastic waistband makes it easy to slip on and off.
THE STYLE Rx: When wearing a slim silhouette on the bottom, balance it out on top with a looser top like a tee. You can also wear a tighter-fitting top for a body con look! It's all about what you feel comfortable in!
By the way, I ordered size S so it wouldn't be so clingy, but it still shows panty lines. I meant to wear my shapewear for a smoothing effect!
I paired it with a floral beaded crop top, green earrings, strappy sandals, and a pink clutch to go for a tropical look!. Take me on vacation, please! This would be such a fun dinner date outfit. I wanted to be bright and colorful, but this skirt would be gorgeous with neutrals like tan/beige also as seen with the other gals. Plus, you must check out how Cathy wore her skirt with a tee!
Let's chat about what the gals wore! Cathy is also vacation-ready in a fun graphic tee and hat! I love her happy look! Heather is stunning in that off-the-shoulder top and gold sandals. Natalie pairs the skirt beautifully with neutrals, and her look is so good!
HOW WOULD YOU WEAR THIS SKIRT?!
Happy Tuesday GlamFam!! We had a blast on our California vacation, but I'm nervous about getting the kids ready for school which starts TOMORROW!!! Today, we brought Little M for a hearing evaluation. My sweetheart has had trouble with his ears since he was a baby and still has a hole from a tube in his right ear. Hopefully, we will get that sorted out! And my baby girl starts Kindergarten tomorrow. She says that she isn't ready, but she is AMAZING and I know she will crush Kindergarten. There is another Chic at Every Age post coming out of Friday so stay tuned!
Thank you so much for stopping by and supporting SOS!
CHECK OUT MY INSTAGRAM SHOP HERE TO SHOP ALL OF MY INSTAGRAM LOOKS!
// STAY CONNECTED //
HOW TO STYLE A RUCHED SKIRT
stay glam, do good