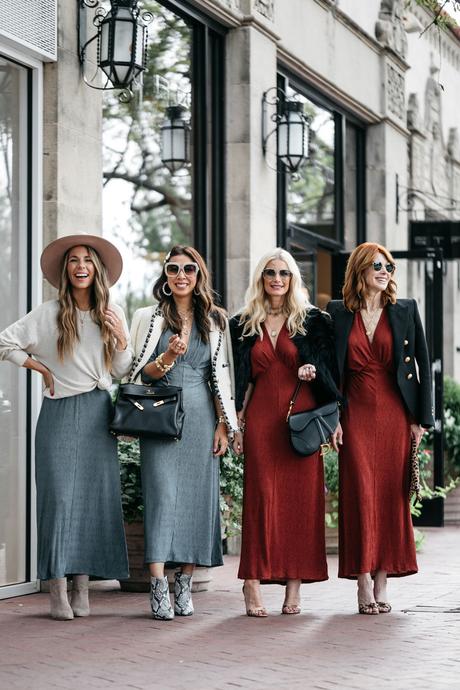 It's that time again... CHIC AT EVERY AGE . This week, we're showing y'all how to style the best midi dress under $60!
For those of you that have just tuned in, this fab collab is exactly how it sounds... a chic chick in her 20s, 30s, 40s, and 50s shows you how to style a piece in their own way. I'm working with some of my FAVORITE gals in Dallas!!
The 20-something // Natalie of The Fashion Hour
The 30-something // ME!
The 40-something // Heather of
The 50-something // Cathy of The Middle Page
Photography // Beckley Co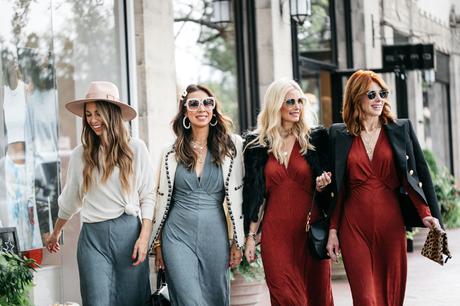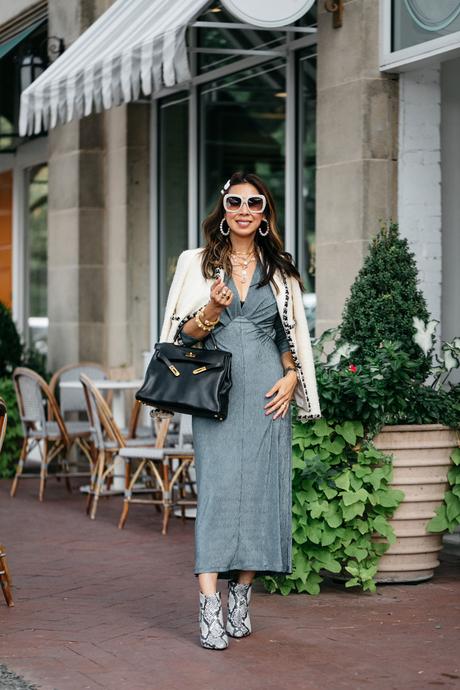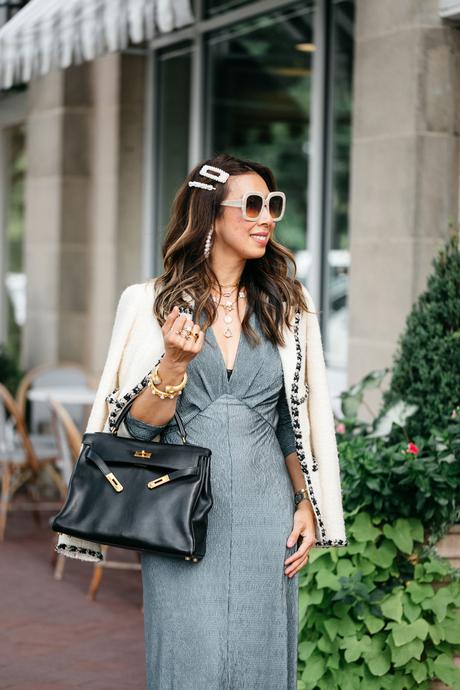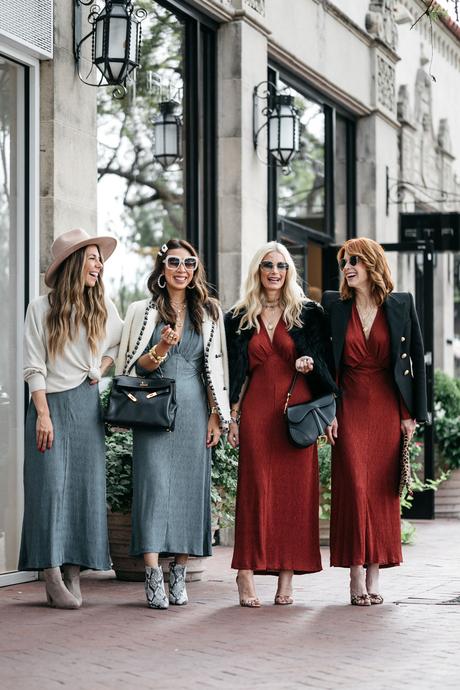 You know I'm all about the dress. It's easy. You look like you made an effort even when you didn't. What's so fabulous about this dress is that it's under $60 and you can style it so many ways which are perfect for Fall! I always love seeing what the gals come up with when we meet!
One of my favorite ways to "winterize" a dress is by adding a jacket and wearing booties. That's exactly what I did with this dress! I'm so drawn to winter white that I reached for a cream blazer and paired it with snake print booties. They say, "Pearls make the girl"! I wore my favorite pearl hoop earrings (found a dupe), pearl hair barettes, and bracelets.
I love that this easy dress that comes in two colors - a slate blue and rust color and is $59. It's made of a crinkly textured material which falls nicely. Of note, it does show panty lines easily so keep that in mind. Also, I wore the wrong bra to the shoot and was wearing my lace bralette. I read some reviews about the bust area ballooning out, but I didn't find that to be the case. It's just a little low cut so you can see my bralette peeking out.
THE STYLE Rx: Find a flowy midi dress to get you through the Fall Transition. Wear it now with sandals, and wear it later with a jacket and booties!
Now, let's chat about what the gals wore!
Cathy wore one of my favorite black blazers over her jacket and fabulous snakeskin slides. Heather was super glam in a feather jacket and looks like she's ready for a night out on the town! I felt like a character out of Gossip Girl with my oversized sunglasses and barettes, but I liked it!! LOL! Natalie wore a sweater over her dress which is SO CUTE! I love it with the hat and booties!
HOW WOULD YOU WEAR THIS DRESS?!
Happy Wedneday Y'all! So sorry about the late post! This was meant for last week, but it was truly a doozy last week. I was still playing catch up from Baby M being sick the week before, and I had THREE photoshoots last week. So things just didn't get done. I was so happy to do NOTHING last weekend. It was good that we had nothing planned because the Littles and I got a GI bug on Saturday. Womp Womp. :( Anyhow, we were basically back at it on Sunday.
This week, I've been on cleaning mode (and continued catch up). Our house is driving me INSANE and I've been going through everything like a crazy woman! It's probably good because I usually end up keeping things since I'm so sentimental, so this state of mind is fierce and perfect for editing! This weekend, I'm headed out of town for a Girls' Trip to the Lakehouse. I'm lucky that Mr. S feels good enough to help with the kids this weekend!
What are you up to this weekend?
♥︎ ♥︎ STAY GLAM, DO GOOD ♥︎ ♥︎
Thank you so much for stopping by and supporting SOS!
JOIN THE #GLAMFAM // SIGN UP FOR THE NEWSLETTER BY CLICKING HERE.
CHECK OUT MY INSTAGRAM SHOP HERE TO SHOP ALL OF MY INSTAGRAM LOOKS!