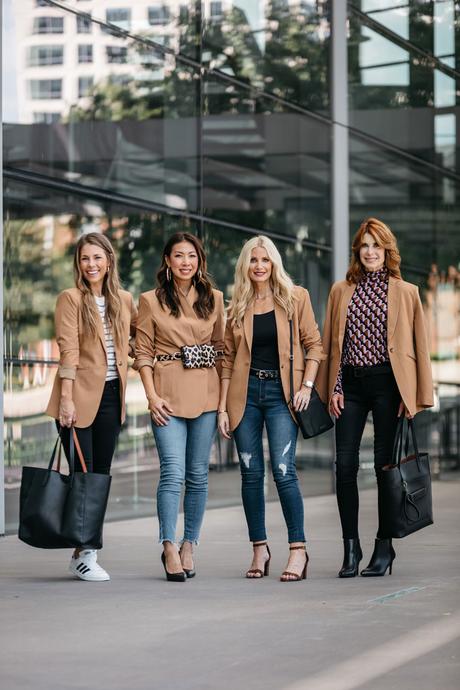 It's that time again... CHIC AT EVERY AGE . This week, we're so excited to share Fall Styles from our month long curated collection at The Local Look with JCPenney! We're also hosting an event to showcase our favorite pieces and invite you to shop with us on October 13th at Stonebriar Mall!
For those of you that have just tuned in, this fab collab is exactly how it sounds... a chic chick in her 20s, 30s, 40s, and 50s shows you how to style a piece in their own way. I'm working with some of my FAVORITE gals in Dallas!!
The 20-something // Natalie of The Fashion Hour
The 30-something // ME!
The 40-something // Heather of
The 50-something // Cathy of The Middle Page
Photography // Beckley Photo

SHOP WITH US EVENT - FALL STYLE
We are so excited to host a Shop with Us Event at JCPenney inside the Stonebriar Mall on October 13th from 12-2pm . We'll be sharing our style tips and our favorite pieces from The Local Look we curated this month! There will be fabulous giveaways (3 x $100 Gift Cards and a Grand raffle for $250 Gift Card), small bites, and personal styling during the event! It will be a fun filled afternoon, and hope to see you there if you are in the DFW area!
CRAZY FOR CAMEL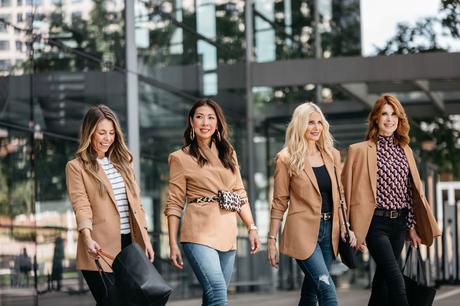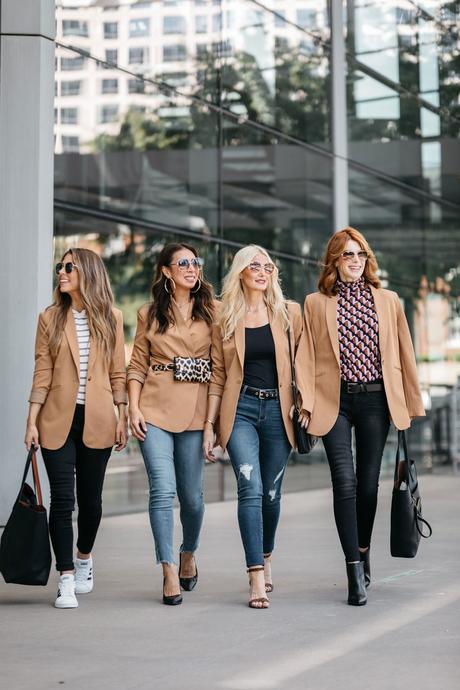 We had a chance to shop and style before some items were made ready for the public. It was such a fun and crazy day with the four of us at JCPenney in the dressing rooms. I found so many cute items and decided to show y'all an assortment of looks that could be worn casually or dressed up. Many of my looks were with Fall weather in mind, and we are still waiting for temperatures to drop! We decided on two different look for the four of us.
First up is this gorgeous and versatile camel blazer. I LOVE the color camel especially in Fall. I think it is SO CHIC to wear head-to-toe in this color.
Since the other gals were wearing it with jeans, I wanted to show y'all a different way to wear a blazer. BELTING a blazer is one of my favorite ways to change up a look. I've also done this in the past with wide leg pants instead of jeans for a more elevated look!
First, wear a tank or cami underneath in case the blazer opens (for modesty). If you are cool with a lace bra showing, then go for it! Then, wrap the first side close to your body and pull the other side over so they overlap. You choose whether or not to pop the collar. I always like to but that's the 90s girl in me talking!
PRO TIP: You may need to size up for more material when belting a blazer but make sure the shoulders still fit!
Last, belt it! I wore this fun leopard belt bag which helps to tie in the black pumps. Black and camel are one of my favorite color combinations and leopard is the perfect accessory for it. My Levi's jeans are a PERFECT length, and I love the distressed hem.
Lets chat about what the other gals wore!
Natalie is so sporty in a striped top, skinny jeans, and sneakers. That's a perfect running errands look! I'm hands-free with my belt bag! Heather looks super chic in her black and camel combo. Love her leopard sandals. Cathy looks great in that graphic print turtleneck top, black jeans, and booties.
COZY IN CARDIGANS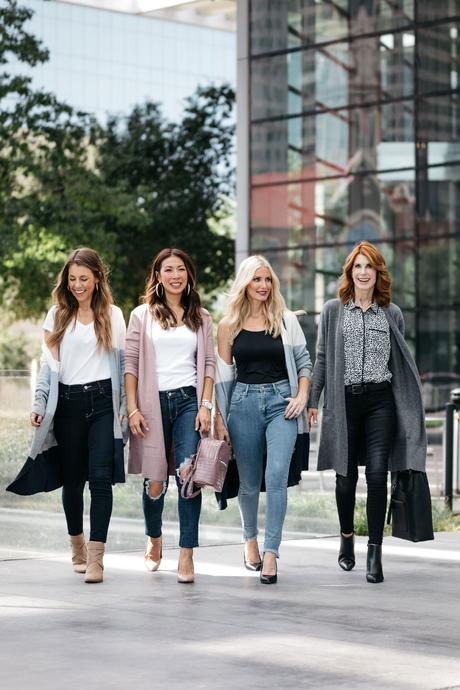 This long cardigan was another fun piece we decided to style since they are a easy to wear piece!
It comes in four different colors! I went for simple jeans and tee look and accessorized with nude heels and a pink matching croc embossed backpack. Blush pink is one of my favorite colors, and I consider it a neutral almost like beige. By the way, my jeans are a tad too long, but I didn't have time to cut them or alter them.
PRO TIP: Tuck skinny jeans UNDER for a quick hem when you're short on time!
Now, lets discuss what the gals wore!
Cathy's look is a great business appropriate look! I love the button up collar and her tote. Heather looks great in accessorizing with black heels, a tank, and her bag. And Natalie is Fall Ready with her tan booties!
WHAT I WORE
Now, here's where I went a little crazy, but I LOVE layering for Fall! As I've mentioned before, I start my outfits based on what accessory I want to wear!
GRAPHIC TEE + BLAZER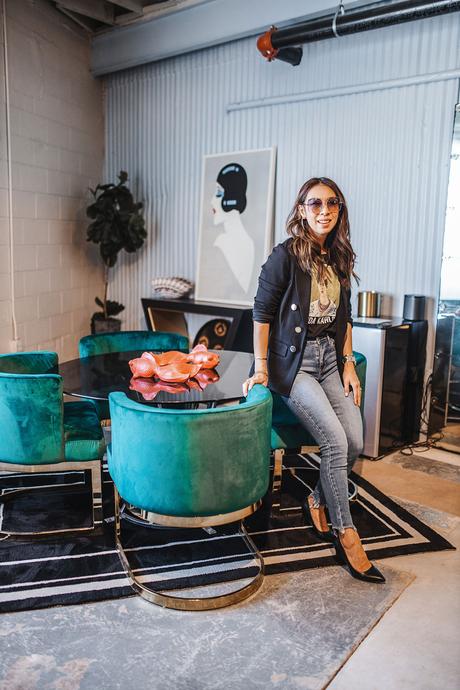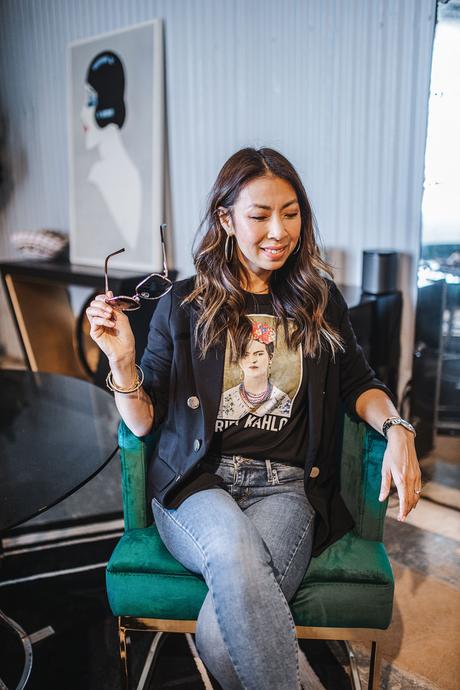 When I saw this Frieda Kahlo tee, then I had to style an outfit around it! It's a long sleeve tee and would be so fun with a long maxi skirt and booties for Fall. I decided to go for a dressy casual look with a blazer, jeans, and heels! If graphic tees aren't your thing, just switch out the tee for a cami.
The black blazer is a wardrobe staple, and I love this one with gold button detailing. Of note, it is meant to be worn open. Again, I love these jeans and have been wearing them at home non-stop. They only have the distressing on the bottom which makes them modern but appropriate to wear to many places.
MATCHED SETS + CAPE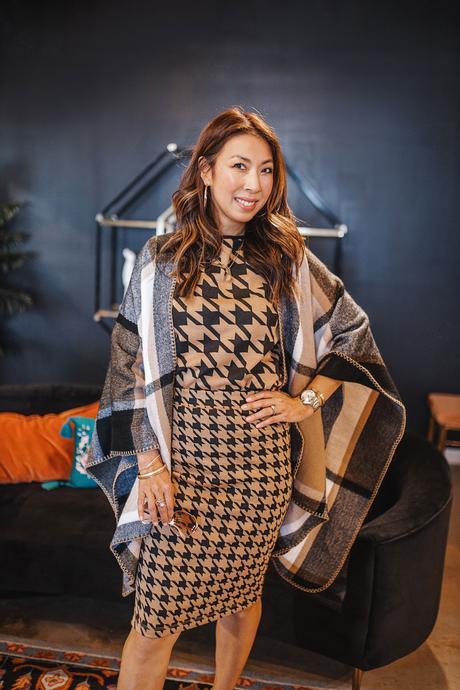 Y'all know I'm a fan of the matched set because it requires minimal effort but makes a max impact! I found two different matched sets and accessorized with capes!
The first is this tan and black houndstooth skirt set. I love the juxtaposition of the larger and smaller print together, and this set will definitely been worn to work! I threw a neutral plaid cape over the outfit for a fun way to keep it warm since it's short sleeves. The awesome thing about matched set is that you can wear each piece individually! Wear the top with black pants or the skirt with a white blouse!
In my Instagram Stories, I wore the matched set with the camel blazer over my shoulders and loved that look too!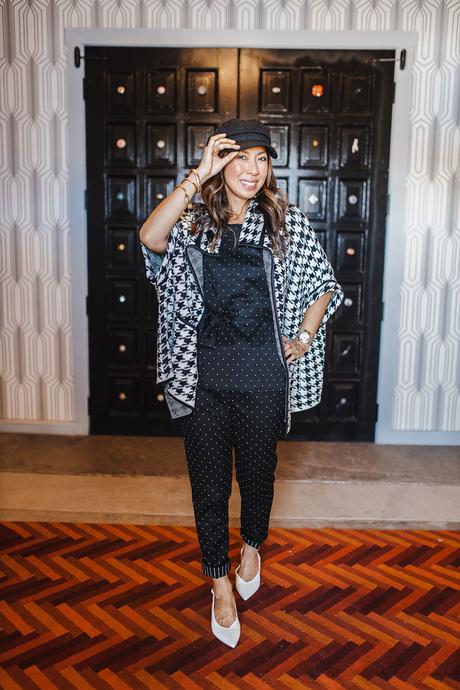 The second outfit is a black and white polka dot pant set. This top is sleeveless and comes with a tie belt. The pants are a tapered leg. They were a bit too long so cuffed them and thought the stripes were so cute. I topped the set with a houndstooth cape and tweed newsboy cap for a fun colder weather look. White slingback kitten heels finished the look! You can see how I styled the houndstooth cape with jeans in this post!
WORK IT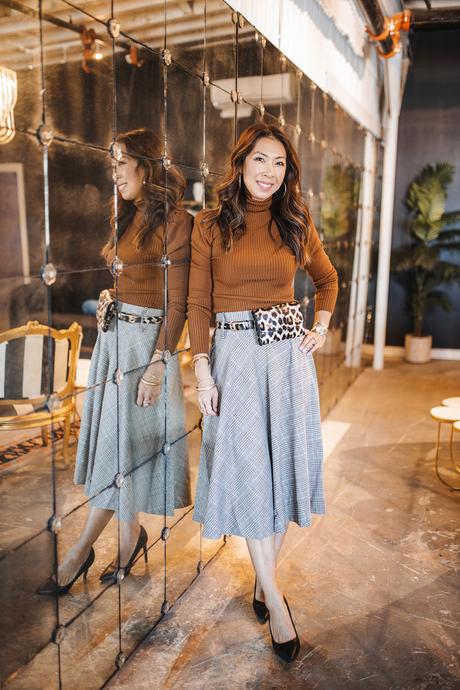 This is a very simple outfit, but I love the classic lines. The brown turtleneck is going to be heavy rotation this season, and I love the slightly puffed sleeves. It will be so amazing with a pair of flare jeans. The midi skirt comes with a belt (which I changed out with the leopard belt bag) and has metallic threads running through it. It's super gorgeous!
JENNY FROM THE BLOCK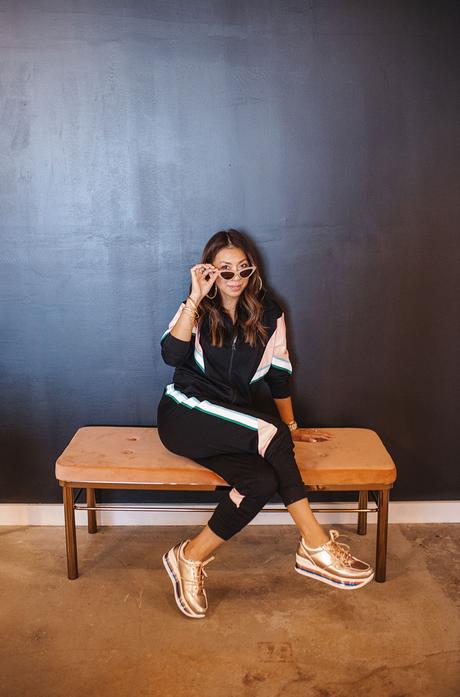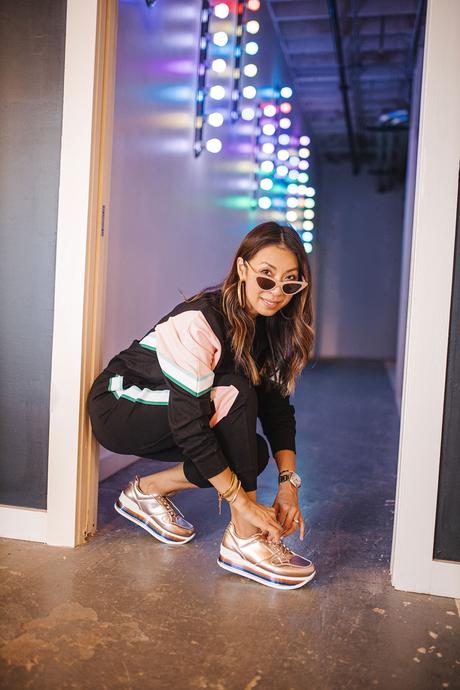 This last outfit is one that makes me laugh and smile, mostly because of the rose gold and rainbow soled sneakers! I love wearing track suits at home because they are comfy but still look put together. This was a total blast from the past, and I TRULY LOVE it! Just for fun, I added some cat eye glasses and large hoops to the mix for a J Lo vibe!
Alright GlamFam, which is your favorite outfit?!

Happy Friday Y'all! This month is FLYING by and I cannot believe we are mid-October already. Fall Season is always so busy and seems to get busier as the kids get older. This weekend is Texas vs OU weekend so Dallas will be crazy. We are also hosting our event ~ Stop by if you can! Otherwise, we are going to chill at home. What are you up to this weekend?
♥︎ ♥︎ STAY GLAM, DO GOOD ♥︎ ♥︎
Thank you so much for stopping by and supporting SOS!
JOIN THE #GLAMFAM // SIGN UP FOR THE NEWSLETTER BY CLICKING HERE.
CHECK OUT MY INSTAGRAM SHOP HERE TO SHOP ALL OF MY INSTAGRAM LOOKS!