This post is sponsored by Rachel Zoe. Thank you for supporting brands that make this blog possible. All opinions are my own, and I only work with brands that I love!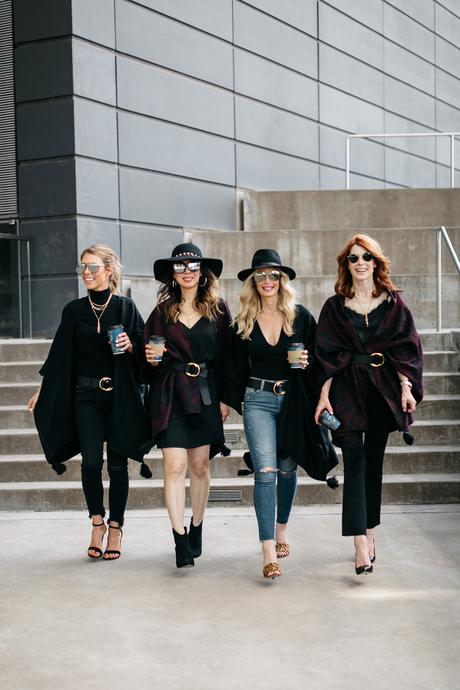 It's that time again... CHIC AT EVERY AGE . This week, we're partnering with Rachel Zoe to showcase the Fall Box of Style! Read on to see how you can get over $400 worth of product curated by Rachel Zoe for UNDER $75 using code CHIC25!
For those of you that have just tuned in, this fab collab is exactly how it sounds... a chic chick in her 20s, 30s, 40s, and 50s shows you how to style a piece in their own way. I'm working with some of my FAVORITE gals in Dallas!!
The 20-something // Natalie of The Fashion Hour
The 30-something // ME!
The 40-something // Heather of
The 50-something // Cathy of The Middle Page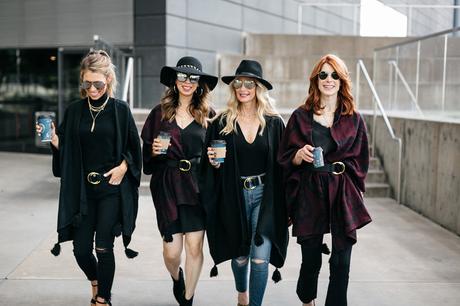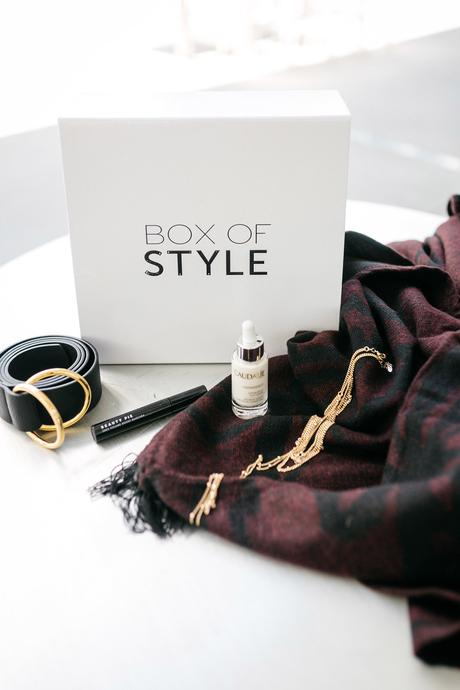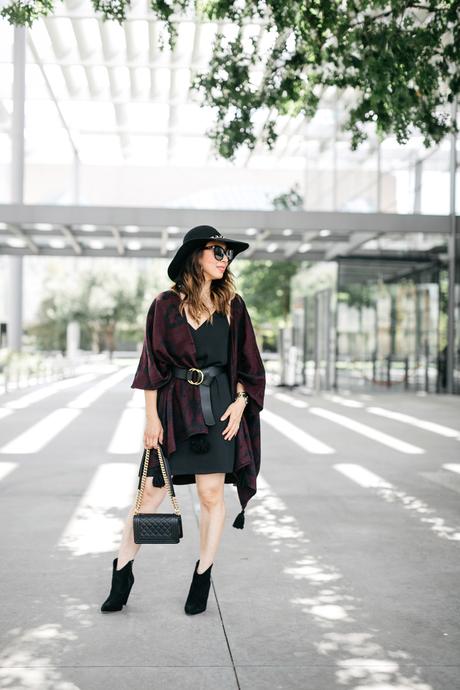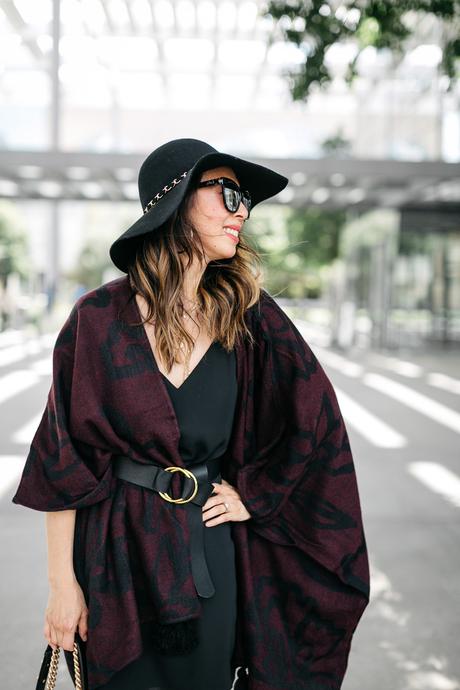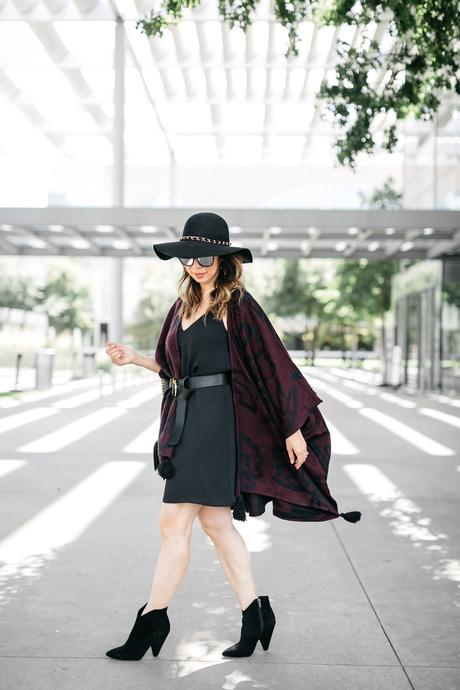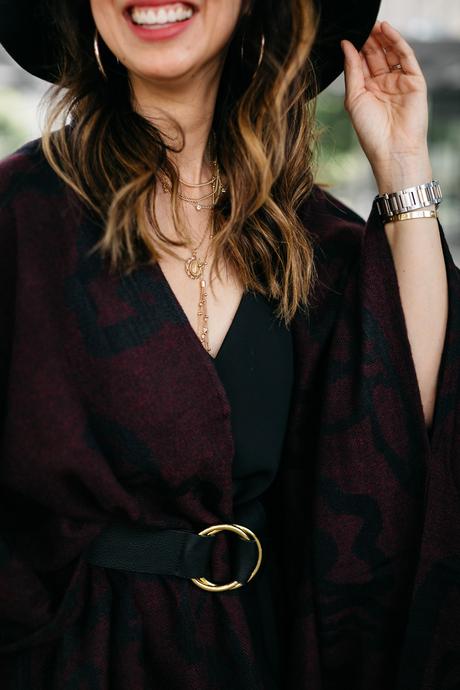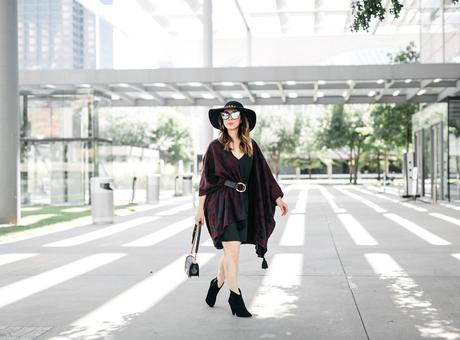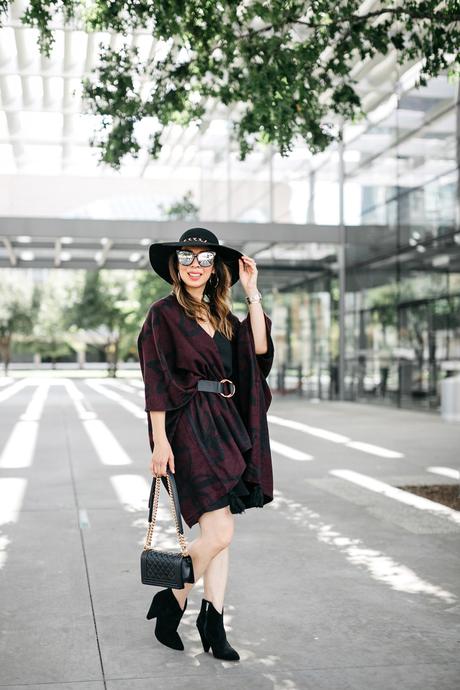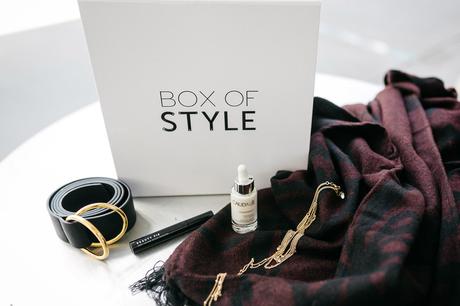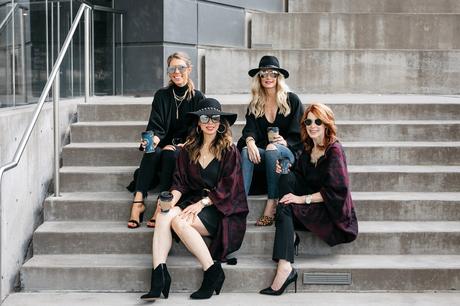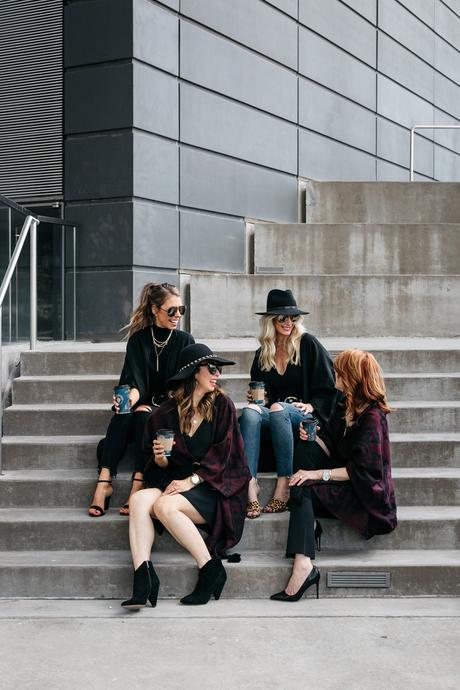 Do y'all remember how EXCITED we were to partner with Rachel Zoe for the Summer Box of Style?! Well, the FALL Box of Style is also absolutely AMAZING, and we can't wait to show you these must-have picks from Rachel Zoe to keep you chic this Fall.
WHAT'S IN THE FALL BOX OF STYLE? IT'S FIVE FALL-TASTIC PIECES! ($400 VALUE FOR LESS THAN $75)... AND EVERYTHING IS CURATED BY RACHEL ZOE HERSELF, SO YOU KNOW IT'S AMAZING!
Cleobella Sevigny Capelet // (retail $228) This luxe bordeaux capelet is the perfect topper for anything from dresses to jeans. I'm a huge fan of kimonos, and this is basically a winter version so you can think of that when styling it. The bordeaux color is reversible (just remove the tag) for a different look, and the tassels give it a fun detail.
This is my personal favorite in the Box of Style. I love that I can throw it over a tee and jeans and look totally chic but still be comfy. With the gals, I went for a dressy look wearing the capelet over a black slip dress and half-belted it by threading it through one of the sleeves and around my back. It made for a cool asymmetric look! The floppy hat and black booties finish the look for a fab and easy Fall look.
Just a little bit about Cleobella - They are a California based company that uses artisans and small factories in Bali to handmake items and create sustainable incomes. They also give a percentage of sales to empower women in Southeast Asia through CARE.org.
B-Low the Belt Camille Wrap Belt // (retail $70) Have you seen all the belts this season? They are going to be one of your most-loved accessories, and this wrap belt is SO functional because you can wear it at your true waist or lower on the hips. Hooray for all-in-ones!
I wore it on my true waist and did a knot with the extra tip of the belt. I cannot wait to wear this over blazers too! Plus, this is totally on-trend with the 80s revival.
Ettika Chloe Tassel Necklace // (retail $80) Can we just stop for a second to admire how cool this necklace is? It gives the look of 4 layered necklaces but it's only ONE! I LOVE that it's so glamorous but simple at the same time. It is an 18K gold-plated necklace that also has a 4″ extender so that you can wear it lower on the neck.
I'm a HUGE fan of layered necklaces lately and love how this piece makes my life easy. I wore it layered with my Miraculous Mary necklace for an extra little pop, but this necklace is so elegant on its own.
Beauty Pie Uber Volume Boost Mascara // (retail $24) Beauty addict here, and I love learning about new beauty brands. When I found out that the Box of Style included a volumizing mascara, then I was over the moon! It has a multi-length wand (short and long) which allows you to get every lash easily (top and bottom). The volume is buildable, and I am usually wearing a minimum of two coats of mascara.
Plus, you get a code for a free trial membership to Beauty Pie! Long story short, they are a buyer's club for beauty addicts where you get access to makeup and skincare from the world's leasing cosmetics lab at "no middleman, no markup prices". When I got on the site, I seriously spent WAY TOO MUCH TIME on there shopping around.
Caudalie Vinoperfect Radiance Serum // (retail $79) This is praise hands emoji worthy! This clean beauty milky white serum contains viniferine, a natural extract of grapevine sap used to treat dark spots. I've used this for about two weeks, and no breakouts here since it's also oil-free. I'm really excited to see the long-term effects on my sun spots and age spots because it has AMAZING ratings on decreasing dark spots.
By the way...
YOU CAN BUY MORE AND SAVE MORE IF YOU PURCHASE THE ANNUAL SUBSCRIPTION FOR ALL FOUR BOXES OF STYLE FOR $350 (SAVING $50).
As a VIP member, you would get an Anniversary Gift with your 4th Box. That's a whole year of GLAM coming to your doorstep!
Everyone has been so busy during the Summer with vacation and travel, so it was fun to get together for a "pre-Fall" coffee with the gals. Little M went with me during our shoot and was a good little helper (eating snacks and playing with his cars). I love how fabulous everyone looks in the capelet!
Cathy wore her bordeaux capelet over a black cami and flare pants with sleek heels. She belted the capelet to make a cool cocoon top. Heather threw the black version over a body suit and jeans with a black fedora for an ultra chic look. Her leopard heels are so fun! I wore mine asymmetrically belted over a slip dress with a wide brim hat and booties for a boho feminine look. Natalie was a monochromatic maven in all black. I love how the gold belt buckle and necklace stand out against her clothes.
And we are so excited to share a special discount code, CHIC25, for our lovely friends and readers!
Y'all, that's $400 worth of style finds for less than $75!!!
Happy Friday Friends! Hope y'all had a wonderful week! We are still combating some kind of sickness or sinuses over here! Goodness! We made it through the second week of school. I tried pre-making a variety of breakfast muffins which backfired. Kids didn't like them. LOL! Anyhow, the weather is getting cooler so I'll be busting out my Fall Transition pieces! What are y'all up to this weekend?
Thank you so much for stopping by and supporting SOS! I truly appreciate it!
JOIN THE #SAMFAM // SIGN UP FOR THE NEWSLETTER BY CLICKING HERE.
CHECK OUT MY INSTAGRAM SHOP HERE TO SHOP ALL OF MY INSTAGRAM LOOKS!