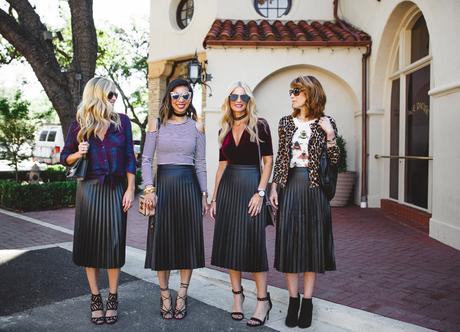 It's that time again... CHIC AT EVERY AGE . This week, we bring you the PLEATED MIDI SKIRT!!
For those of you that have just tuned in, this fab collab is exactly how it sounds... a chic chick in her 20s, 30s, 40s, and 50s shows you how to style a piece in their own way. I'm working with some of my FAVORITE gals in Dallas!!
The 20-something // Brooke of One Small Blonde
The 30-something // ME!
The 40-something // Heather of
The 50-something // Cathy of The Middle Page
Photography // Mary of So Then They Say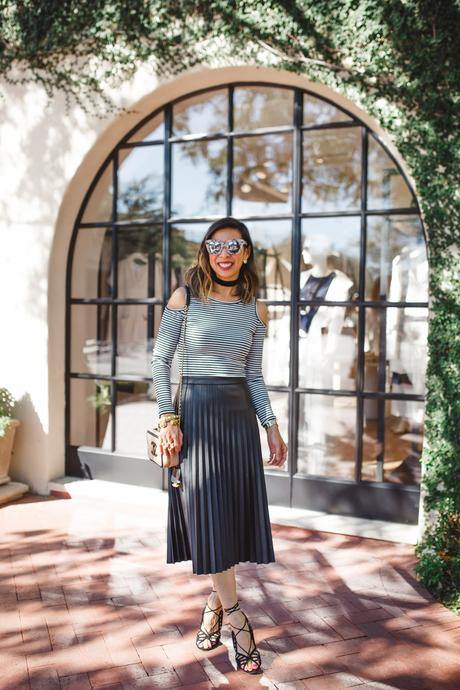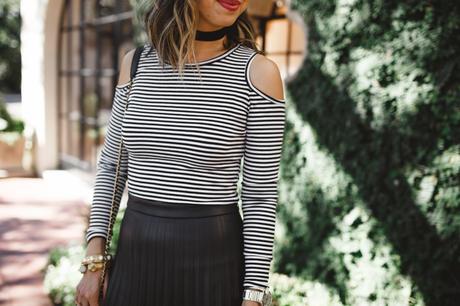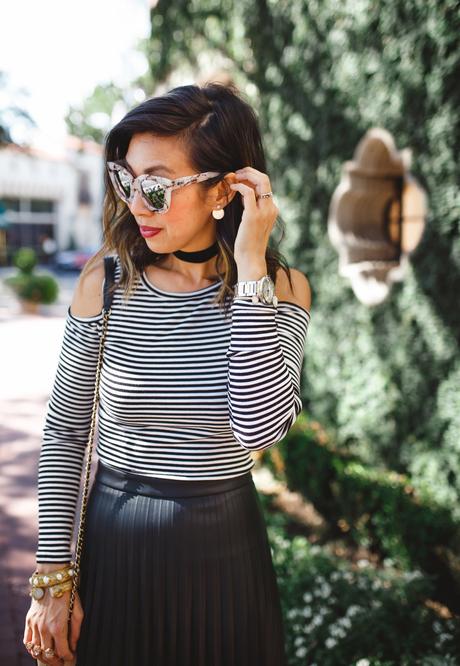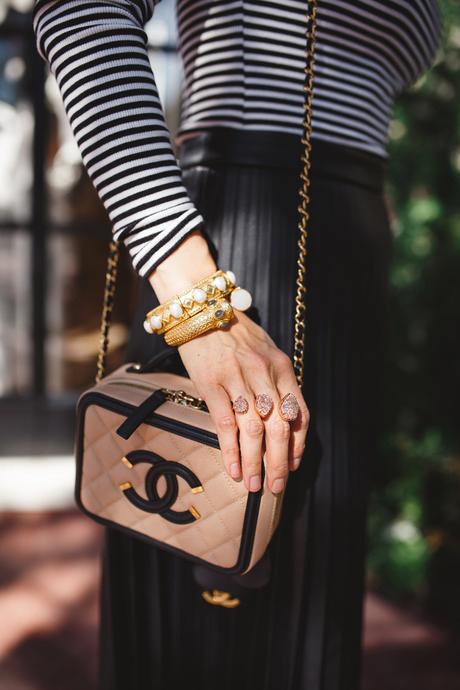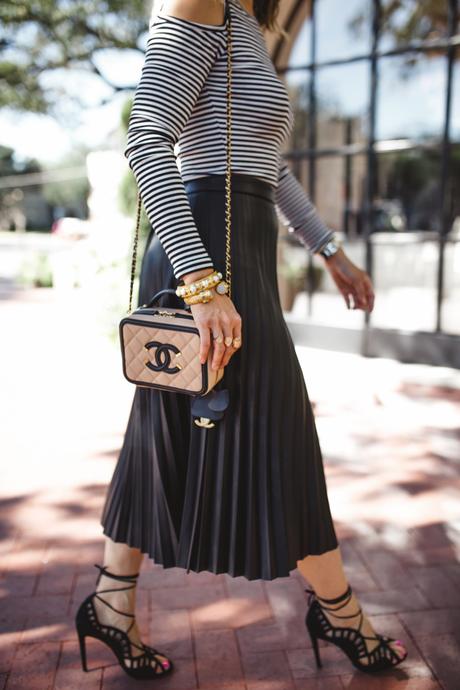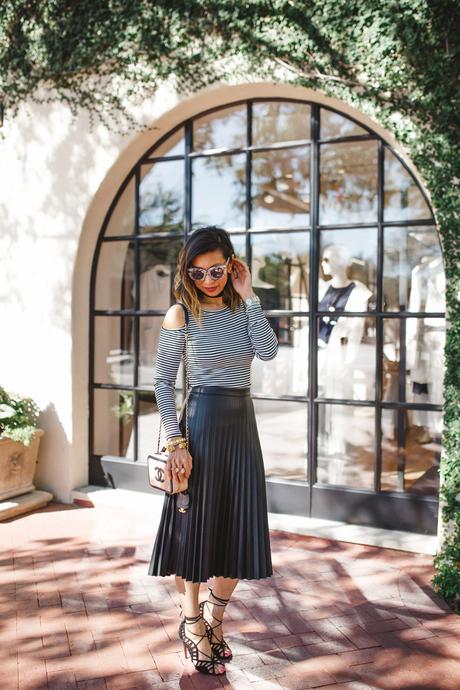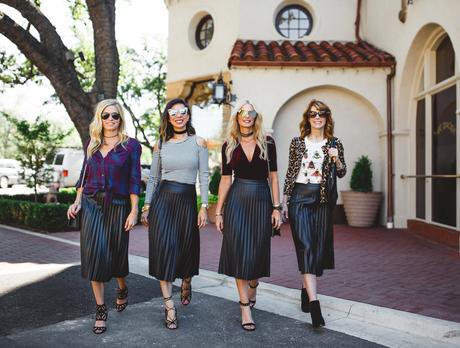 I was excited and nervous when Cathy picked this faux leather pleated midi skirt to style! It was such a cool piece, but what would I wear it with?! My week was really crazy leading up to our photo shoot so I pulled three different looks. I didn't have a chance to try on things before our meeting and decided on this cold shoulder striped top and choker at the last minute. It's a super cute find from Macy's Backstage, as previously mentioned on Instagram.
My other options were a Rolling Stones graphic tee and rhinestone statement necklace or a bodysuit and leather moto jacket. I liked the way it turned out especially for a spontaneous "unseen" outfit.
THE STYLE Rx: A pleated leather midi skirt is such a cute and versatile wardrobe piece. As you can see above, it is an elegant look on everyone and suits our different body types!
Cathy is darling in a bee tee (that benefits the bees!) and leopard cardigan! I LOVE Heather's velvet bodysuit and need to get my hands on that STAT!! And I love the unexpected pairing that Brooke did with a plaid button up tied at the waist - so casual chic!
P.S. Hope everyone's week is going well! My sweet kitty cat of seventeen years is not doing well, so my heart is breaking into little pieces right now. I know that's a part of life, but it makes me so sad. :( My other sweet cat passed two years ago when she hit the seventeen-year mark too.
P.P.S. Shopbop is having an amazing SALE right now. You can save up to 30% using code MAINEVENT16. I LOVE shopping from them because Amazon Prime members get free 3-day shipping. (It's normally 2-day shipping but it looks like they are doing 3-days for the sale probably due to high volume.)
GET MY LOOK
pleated leather midi skirt NORDSTROM
cold shoulder top MACY'S BACKSTAGE c/o { LOVE this one}
earrings BEEHIVE { similar for $20}
choker VANESSA MOONEY
ring KENDRA SCOTT c/o
bracelets JULIE VOS, JULIE VOS c/o
lace up sandals AQUAZZURA { similar and similar for less ON SALE}
vanity bag CHANEL
sunglasses QUAY