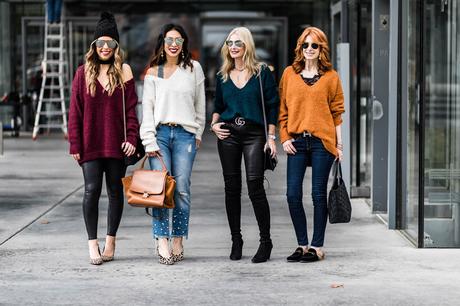 It's that time again... CHIC AT EVERY AGE . This week, we're styling an OVERSIZED SWEATER!
For those of you that have just tuned in, this fab collab is exactly how it sounds... a chic chick in her 20s, 30s, 40s, and 50s shows you how to style a piece in their own way. I'm working with some of my FAVORITE gals in Dallas!!
The 20-something // Natalie of The Fashion Hour
The 30-something // ME!
The 40-something // Heather of
The 50-something // Cathy of The Middle Page
Photography // Marrica of Marrica Evans Photography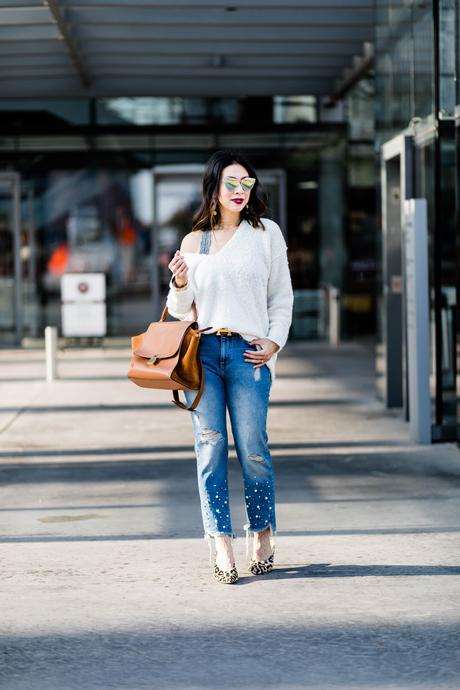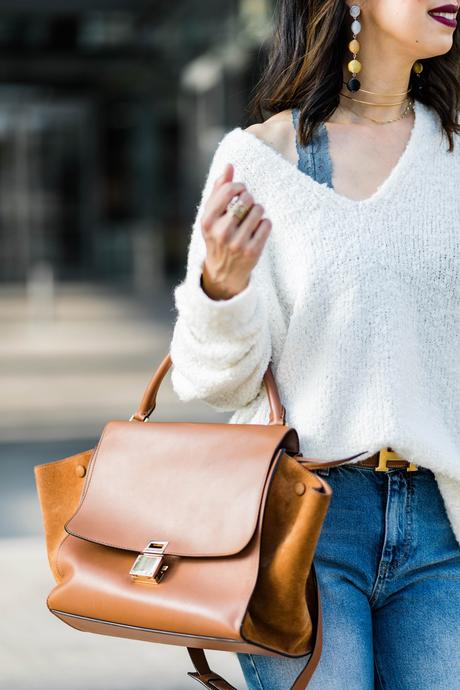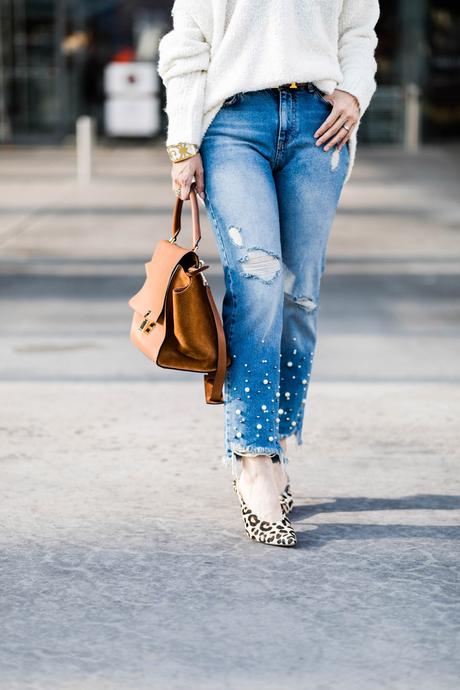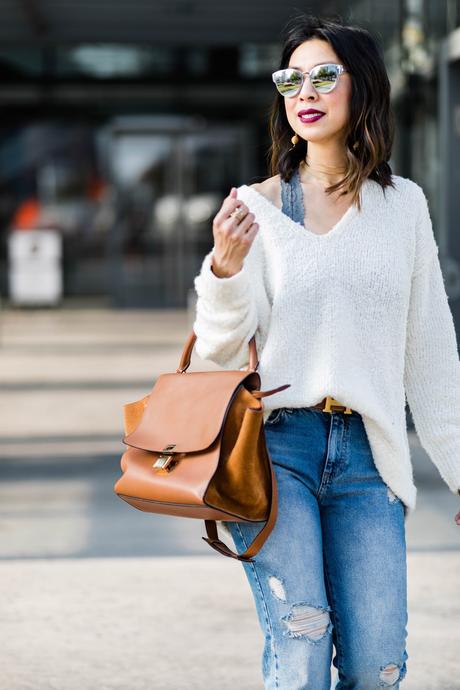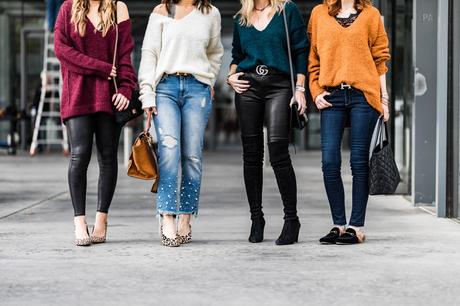 So, I LOVE sweater weather, but I only have a FEW truly oversized sweaters. Most of my sweaters are turtlenecks or a more slim silhouette so this was fun and a challenge. BTW, I tried a new lipstick color, and I totally look like a vampire-goth-emo kid! OMG! Why did I think it was a good time to try this?! LOL! Oh well, you live and you learn! As you look at the pictures, just try to ignore my lips/face and pay attention to the clothes!
Oversized sweaters are such a nice luxury to put on when it's cold - warm, cozy, and usually super comfy. If you're looking for a really versatile one, then this Free People sweater would be a great choice! Even though it's bulky, you can accentuate your waist by half tucking it (like Cathy, Heather, and I did). I chose a cream (neutrals for the win, right?) and decided to pair it with pearl embellished jeans, leopard heels, and a brown handbag to tie it all together.
THE STYLE Rx: Add some cozy to your wardrobe this Winter with an oversized sweater! Pair it with leggings and boots/ booties for an easy casual look. Glam it up with jeans and heels. Or wear it with a denim mini skirt and OTK boots for a retro chic look.
The gals looked great in this oversized sweater. Cathy's sweater is the perfect color for her hair, and I love the way she wore a lace cami under it, skinny jeans, and those fur slides. Heather looks amazing in that deep green color with coated jeans and OTK boots. OH MY GOSH! How cute is Natalie?! Can you believe she just had a baby? Wine is definitely her color and LOVE how she wore it with a pom pom hat, over leather leggings, and also with leopard heels. Great minds, you know!
FIT DETAILS: Just an FYI, I ordered size XS in the sweater, but it is an oversized fit. It's a pretty deep V-neck which is why I have a lace bralette under because the shoulders tend to fall off. Just wanted to let you know about the shoulders so you wouldn't be surprised or annoyed if you get it. Also, I got the lace bralette in size XS (bra size 32c~34a). The pearl jeans are rigid denim (100% cotton) so be aware when ordering. I took my normal size 26.
Happy Friday Loves! I can't believe it's December!! This is SERIOUSLY when the craziness starts! I've been trying to organize and declutter (if you watch my Instastories) and trying a Nekter 3-Day Cleanse this weekend. #CleanseNewbie I've never done one, and I'm hoping it will help me kick-start the way to healthier eating. (If you've ever done one, then let me know how it went in the comments!) I've been craving bad foods lately and TOTALLY INDULGING.
As mentioned in this post, my stress levels, skin, and everything are out of whack. I HAVE been getting more sleep and wanting to get to bed because of our new Tomorrow Sleep mattress (as seen here). That's only ONE of many things that I should be doing!
We are also going to take family pictures this weekend! HOORAY! We don't have any proper photos with Baby Girl, and Mr. S wanted to get some done for Christmas photos. Wish us luck! LOL!
GET THE LOOK
sweater FREE PEOPLE (on sale!, also here)
necklaces ARGENTO VIVO ( love this), STELLA & DOT
earrings BAUBLEBAR c/o
belt HERMES ( pre-owned)
lace bralette FREE PEOPLE (these are the BEST!)
jeans FREE PEOPLE (on major sale!)
heels CLUB MONACO {sign up for their newsletter to get 15% off, look for less}
sunglasses DIOR { look for less}
bag CELINE { pre-owned}