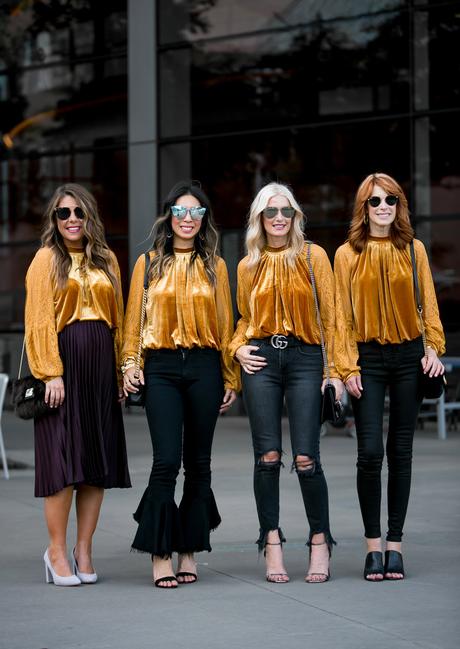 It's that time again... CHIC AT EVERY AGE . This week, we're styling a MARIGOLD VELVET AND LACE TOP!
For those of you that have just tuned in, this fab collab is exactly how it sounds... a chic chick in her 20s, 30s, 40s, and 50s shows you how to style a piece in their own way. I'm working with some of my FAVORITE gals in Dallas!!
The 20-something // Natalie of The Fashion Hour
The 30-something // ME!
The 40-something // Heather of
The 50-something // Cathy of The Middle Page
Photography // Mary of So Then They Say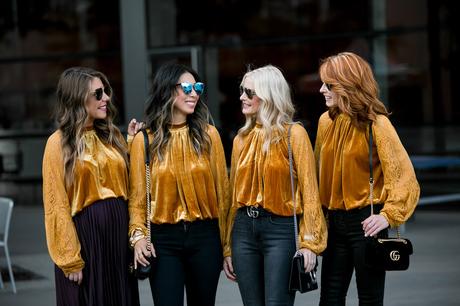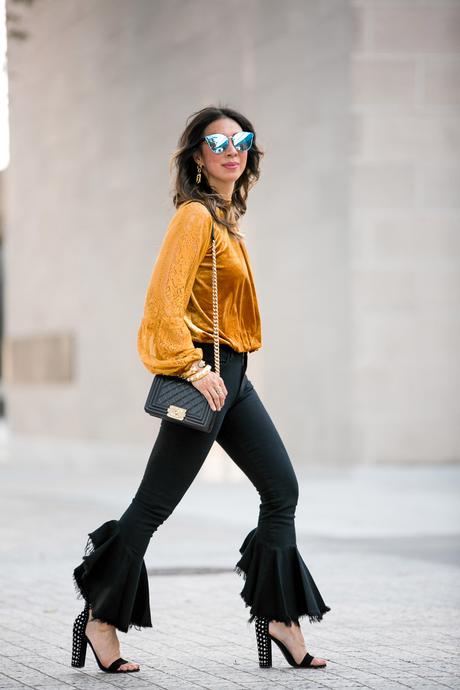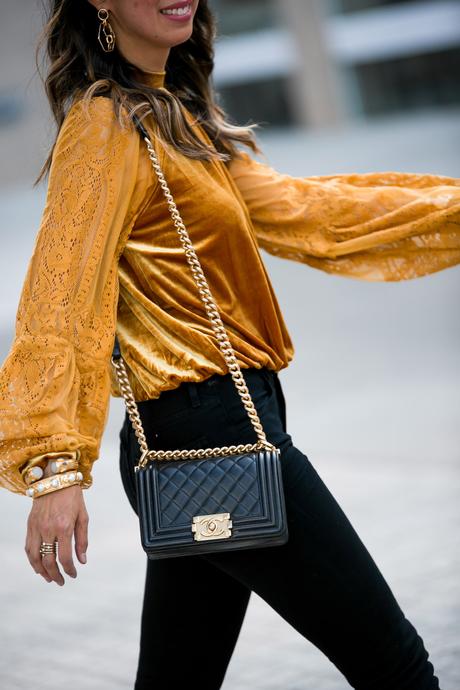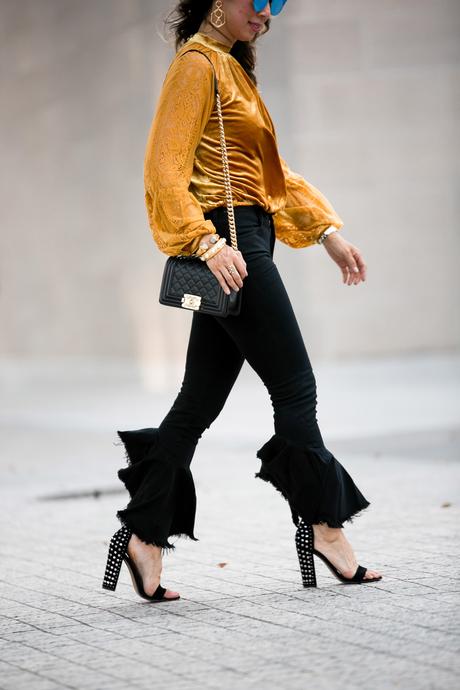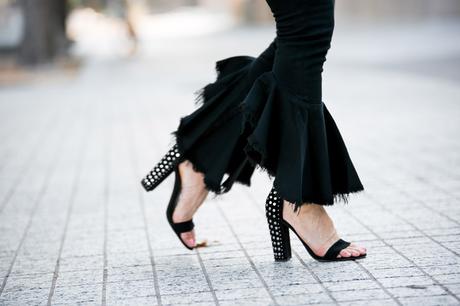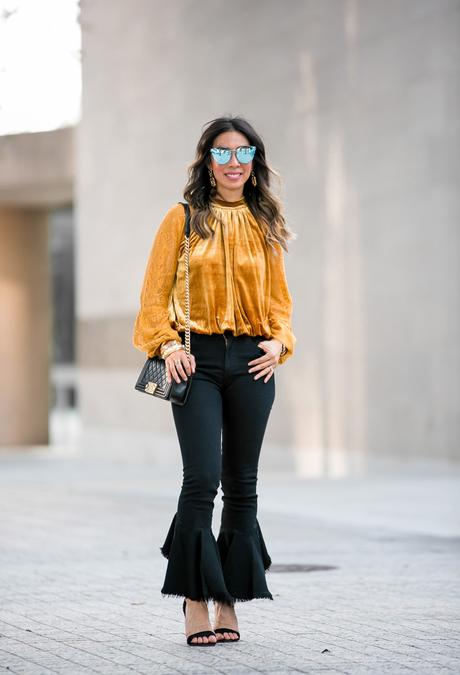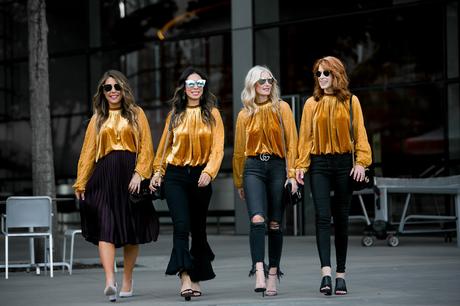 Marigold is one of THE COLORS for Fall! Although I love the color yellow, I usually reserve it for my home and NOT clothing! That being said, I do love these yellow hues for Fall in the luxe fabrics like velvet, lace, and wool. Did you see how I styled this top last week for a From Grandma with Love post?
This Free People velvet and lace top is a new favorite, and I have been waiting for the weather to get chilly so it can be worn more. Initially, I wasn't sure about how to wear this color, but it surprisingly goes with so many things!
It's so funny because three of us wore the top with black! Cathy chose skinny jeans and slides. Heather wore a distressed pair of jeans with minimal heels. I chose these black ruffle hem jeans (OBSESSED after seeing them on Cathy and Heather) and studded sandals. Natalie paired her top with the prettiest bordeaux pleated skirt and a fuzzy bag! She really has the cutest bump style!
THE STYLE Rx: Get Autumnal with this season's hue of yellows and golds. You can wear it in small doses (like a top or accessory) or go bold with a major piece (like this puffer jacket).
FYI, the top has an elasticized waistband. It's helpful to know because it will likely sit right at your natural waistline which will determine what kind of bottoms to pair with it. I got it in size XS.
Marigold is also gorgeous when paired with blue (close to a contrasting color on the color wheel), so this top would be fab with a pair of blue jeans and booties for a casual look. Or you could wear this to work with a checkered or houndstooth blazer and black cigarette pants. You can also try the tonal route paired with shades of brown for a Fall Festive Look.
Have you embraced the yellows of Fall yet? And what would you wear with Marigold?
Happy Friday Loves. Hope everyone has had a lovely week. I'm so happy that the weekend is here, but I wish we had nothing planned. Instead, there is so much going on but at least we will get to visit with new and old friends.
I went to visit my friend who has cancer yesterday. She is still very positive, although the chemo makes her more fatigued. Please continue to pray for her - either that the experimental chemo works or for the miracle of spontaneous remission. She is very at peace with whatever outcome comes her way... I am just having such a hard time. I went to just chat with her, but she sent me home with some of her beautiful scarves to care for until she would come to get them. That really blind-sided me and made me cry... almost as if she was saying goodbye. Leaving her house was so hard but I had to stay strong for her. Sorry to end this post on a sad note, but I am just being very real with y'all. Again, please keep her in your thoughts and prayers.

// other sunny-hued pretties //