tyling athleisure wear with a fun
This post contains affiliate links which means I receive a commission if you make a purchase using the links in this post.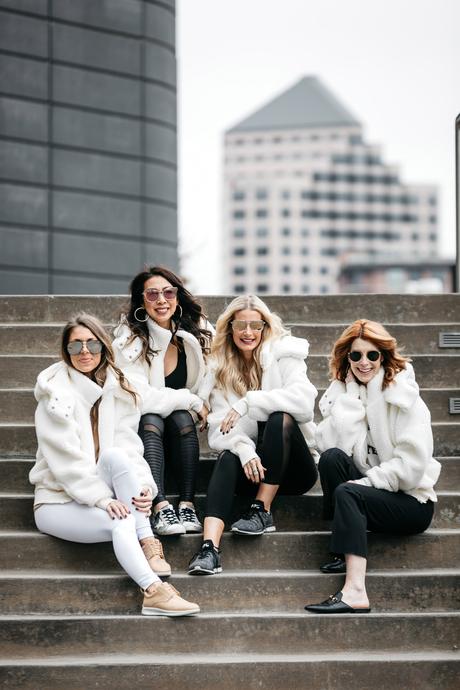 It's that time again... CHIC AT EVERY AGE . This week, we're s
teddy bear jacket
!
For those of you that have just tuned in, this fab collab is exactly how it sounds... a chic chick in her 20s, 30s, 40s, and 50s shows you how to style a piece in their own way. I'm working with some of my FAVORITE gals in Dallas!!
The 20-something // Natalie of The Fashion Hour
The 30-something // ME!
The 40-something // Heather of
The 50-something // Cathy of The Middle Page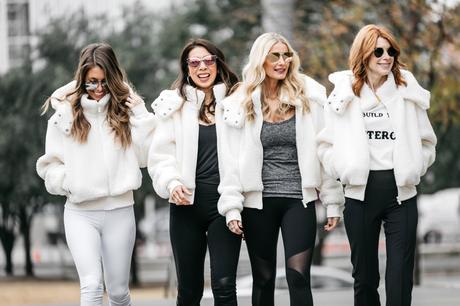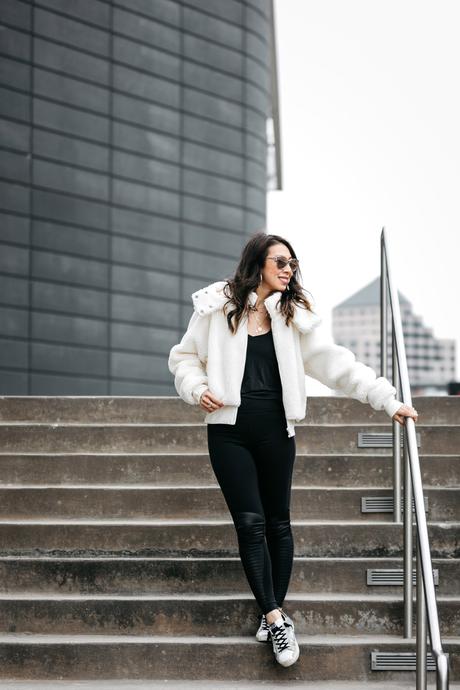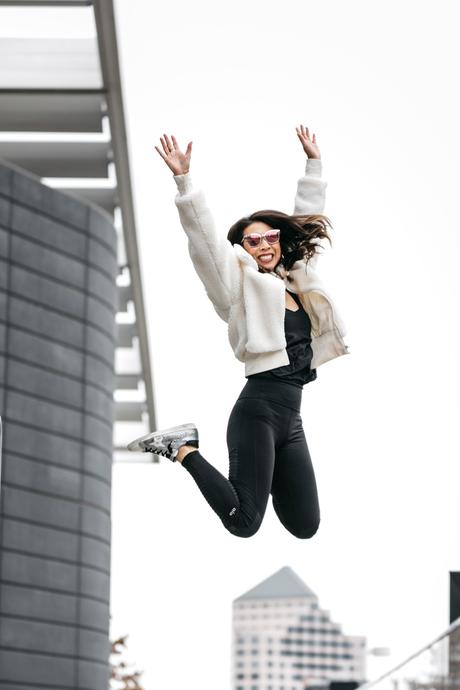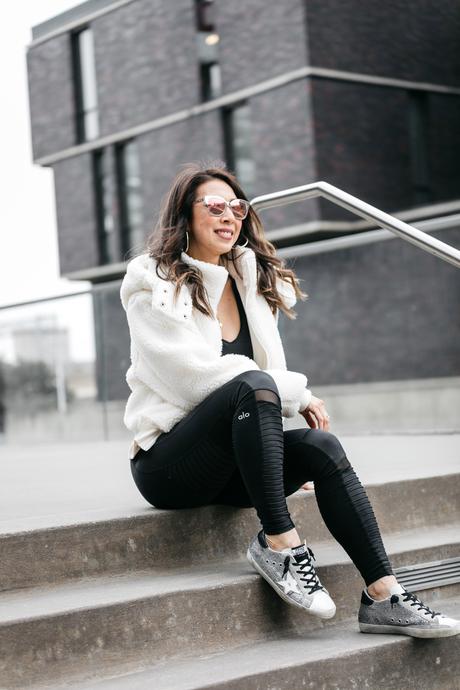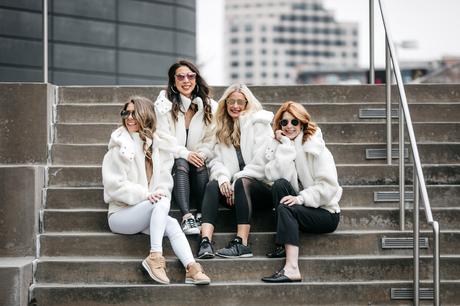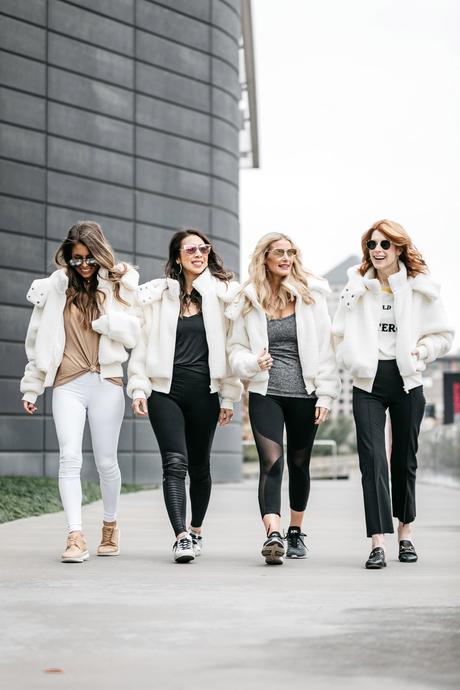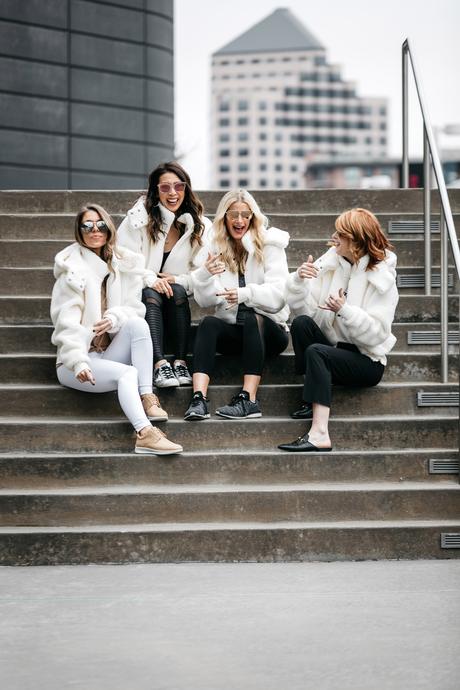 Happy Friday Glam Fam! You may have noticed that I changed by my blog design AGAIN!!! I just couldn't help it! The amazing couple at Bloom created the beautiful RUSTIC theme, and it needed to be on this blog STAT! If you notice anything that isn't working, please feel free to leave a comment! Anyhow, I digress! Let's get back to style.
When we picked out these hooded teddy bear jackets to style, I was so excited. I've been wanting to try one for awhile. This fabulous teddy jacket is from ALO Yoga and has a removable hoodie. It's so cozy and comfy, and I love that it's a cream color (and comes in three other colors)!
ALO Yoga has great quality workout pieces but their prices reflect that. I'm not going to lie. It's a bit on the pricey side. In fact, I wanted to hate it, but I LOVE it and decided to keep it. I wore this exact outfit to a Body Bar class the other morning. (Still working on getting out for different exercises but doing my situps, push-ups, and jumping jacks every morning.) I linked some look for less below.
A stylist friend of mine wears all black to work out! (She has styled Rihanna!) How genius is that?! Then, you never have to worry about matching AND you look slim. After she told me that years ago, I only add black pieces to my workout wardrobe! Makes it easy. I still have my other colors but don't have problems matching them to black!
THE STYLE Rx (aka Lazy Girl Glam Tip): Worn out by your workout gear? No fear! Just wear ALL ONE COLOR. Worry less about matching and more about your workout!
My moto leggings are ALO Yoga too! These are high waisted (suck in my tummy) and have a moto leg which give a basic black legging some extra oomph. I am such a cheapo when it comes to buying workout leggings because they are always around $100, but I figured it would be worth the cost-per-wear.
My black workout top is from Athleta. I tend to buy the tops with the built-in padded shelf bra and have a looser bodice. Then, it's an all-in-one and you're good to go! See, I'm all about ease. Mine is past season, but I linked a similar one.
Let's chat about what the gals wore shall we!
Cathy looks DARLING wearing athleisure with the jacket. Her graphic tee, pants, and loafers are SO FUN!! I just adore her whole outfit! Heather, Natalie, and I had the same idea with workout gear just in different shades - black, grey, and whites. Great minds! LOL!
Do you wear athleisure? It always makes me think on Ken Downing - he urges us to wear Starbucks Sequins instead of yoga pants to get coffee! LOL!
Happy Friday Y'all! I'm in Phoenix with my two best friends. Things have been so crazy at home that I almost decided to cancel but Mr. S encouraged me to go anyways. I know being with them will heal my heart and mind. (EABC and Shelley, I hope you don't read this part but if you do, you know I LOVE YOU!) There are a lot of personal things going on right now which is why the blog posts have gone back to being irregular, and I apologize for that. I am going to try my best to get content up for y'all, but I can't promise! Hope y'all have a fabulous weekend!
♥︎ ♥︎ STAY GLAM, DO GOOD ♥︎ ♥︎
Thank you so much for stopping by and supporting SOS! I truly appreciate it!
JOIN THE #GLAMFAM // SIGN UP FOR THE NEWSLETTER BY CLICKING HERE.
// FOLLOW ALONG //