This post contains affiliate links which means I receive a commission if you make a purchase using the links in this post.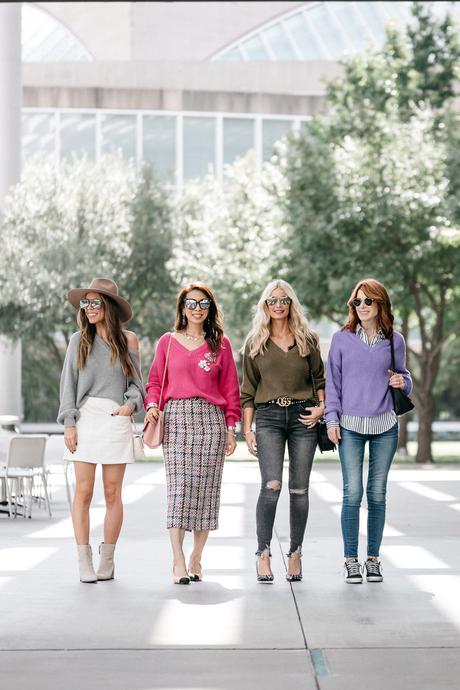 It's that time again... CHIC AT EVERY AGE . This week, we're styling this simple and comfy V-Neck Sweater !
For those of you that have just tuned in, this fab collab is exactly how it sounds... a chic chick in her 20s, 30s, 40s, and 50s shows you how to style a piece in their own way. I'm working with some of my FAVORITE gals in Dallas!!
The 20-something // Natalie of The Fashion Hour
The 30-something // ME!
The 40-something // Heather of
The 50-something // Cathy of The Middle Page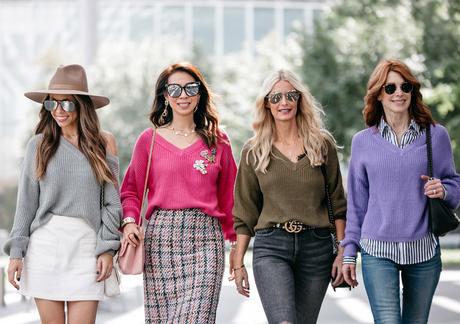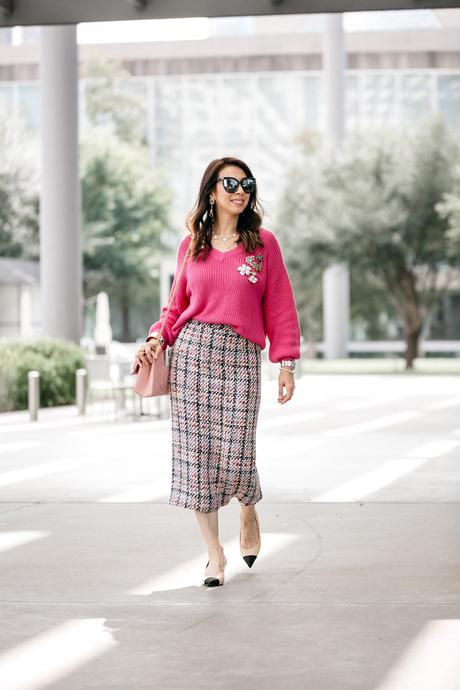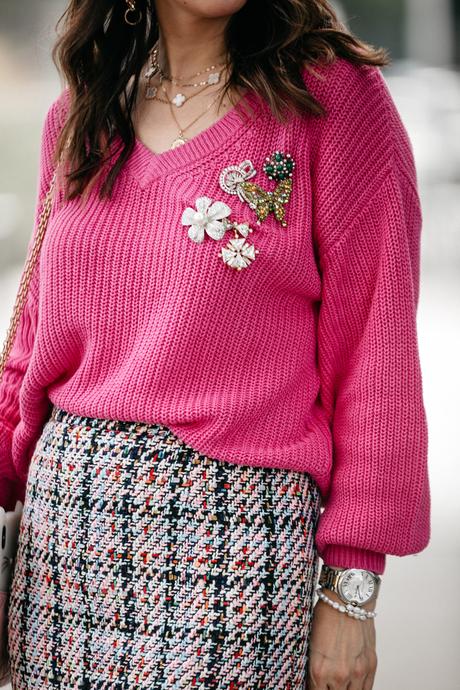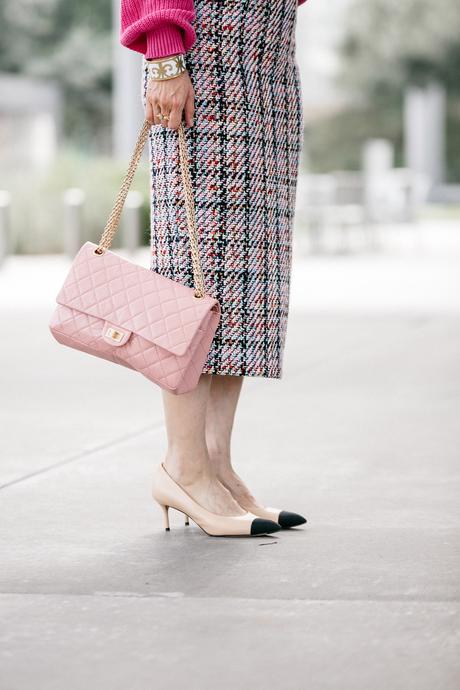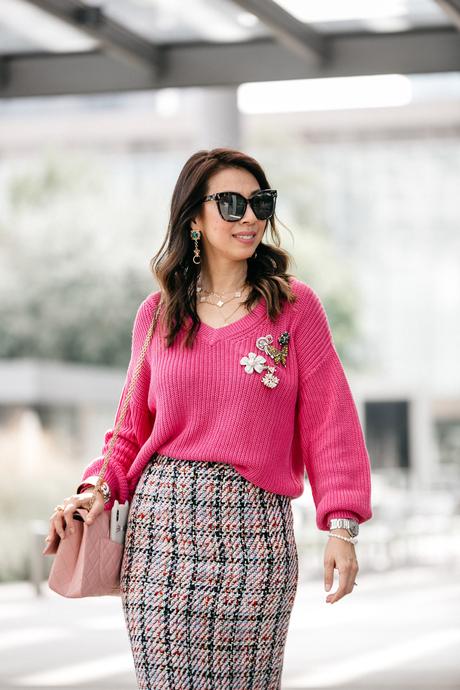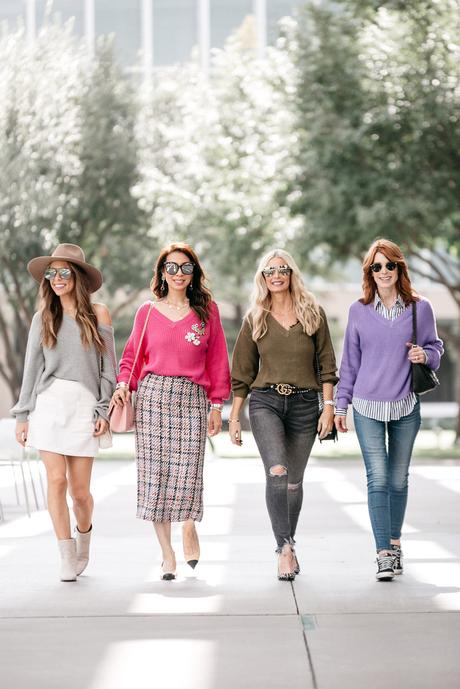 It's finally feeling like sweater weather so this post couldn't be more timely! I love love love winter, and any reason to wear a cozy sweater is fine by me!
We are all wearing these easy and comfortable V-neck sweaters that I love for so many reasons. 1) It's a basic V-neck sweater which means you can dress it UP or DOWN. 2) It's less than $40! (Yes, for real!) 3) It's made of cotton- MY FAVE! 4) It comes in FIVE different colors!
I decided to get "crafty" with this look and pinned a cluster of brooches close to my neckline for a fun and "glam" look. STYLE TIP: Use flat round cosmetic sponges to create a backing for the brooches so they have a good foundation and don't stretch out your clothes. I was in a rush and didn't use the sponges so you can see they are pulling on the sweater!
A tweed pencil skirt was a perfect pairing with that bright pink sweater for a Legally Blonde moment! LOL! It makes this sweater office ready, and I will be wearing this look to work. To finish it, I wore cap-toe pumps to tie the black and the pink together. After taking a look at my whole outfit in these pictures, I'm considering getting skirt hemmed to right above the knee. What do you think?
Now, let's chat about what the gals wore!
Cathy looks so great in that purple color! I love how she layered the sweater over a skirt with skinny jeans and sneakers. Heather is looking cool as always in army green with her cool jeans and studded heels. Those were DANGEROUS heels, and they should put a warning on them! LOL! I went for a preppy-ish pink look with the tweed skirt and cap-toe heels. Natalie is boho-cool in the hat, sweater worn off the shoulder, and skirt with booties! I love it!
How would YOU wear this sweater?!
Happy Friday Friends! We're gearing up for New York this weekend! I'm so excited to see all my relatives and the little ones have been talking about this trip NON-STOP! I cannot believe my Grandpa is turning 102!!! Wish us luck during our travels. That's always the most nerve-wracking part of vacations and trips.
Thank you so much for stopping by and supporting SOS! I truly appreciate it!
JOIN THE #SAMFAM // SIGN UP FOR THE NEWSLETTER BY CLICKING HERE.
CHECK OUT MY INSTAGRAM SHOP HERE TO SHOP ALL OF MY INSTAGRAM LOOKS!