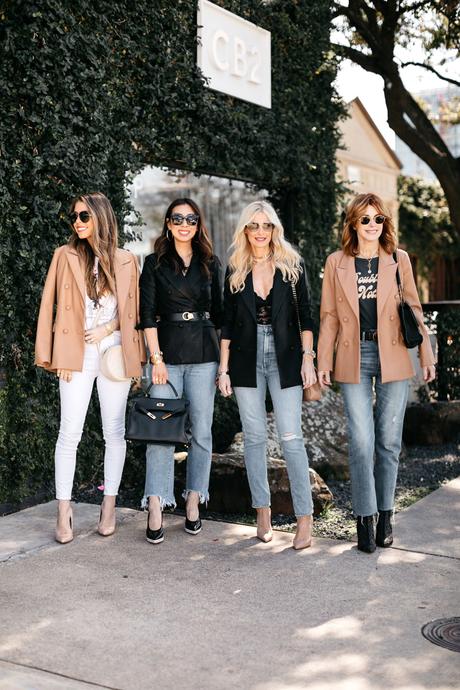 It's that time again... CHIC AT EVERY AGE . This week, we're SO EXCITED to show you how to wear a leather blazer which is a huge trend this season!
For those of you that have just tuned in, this fab collab is exactly how it sounds... a chic chick in her 20s, 30s, 40s, and 50s shows you how to style a piece in their own way. I'm working with some of my FAVORITE gals in Dallas!!
The 20-something // Natalie of The Fashion Hour
The 30-something // ME!
The 40-something // Heather of
The 50-something // Cathy of The Middle Page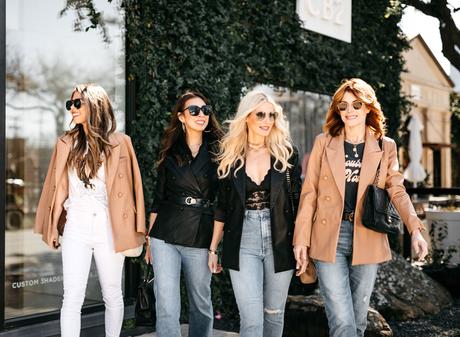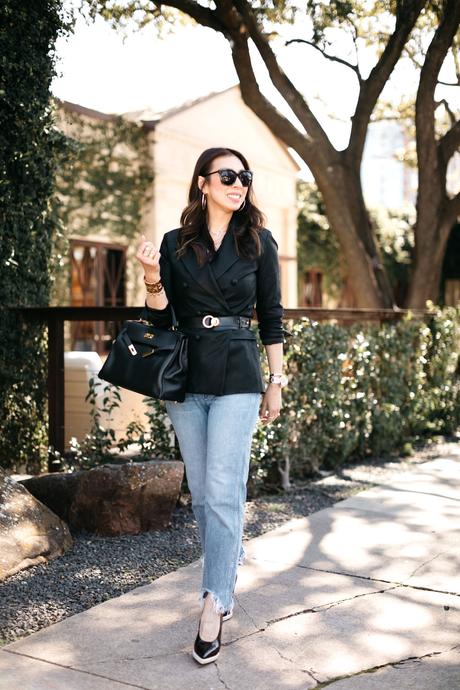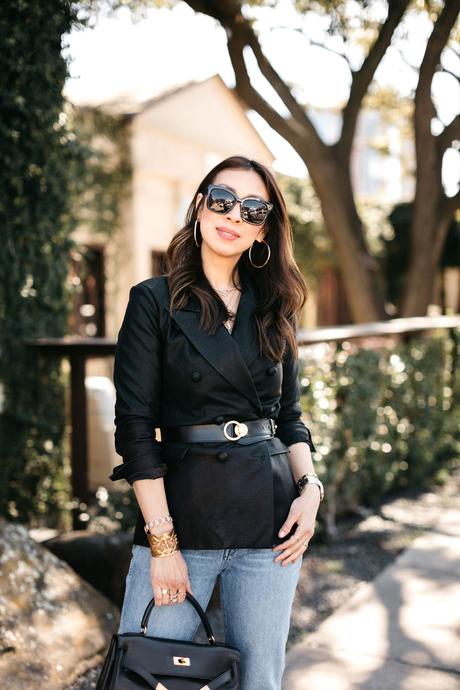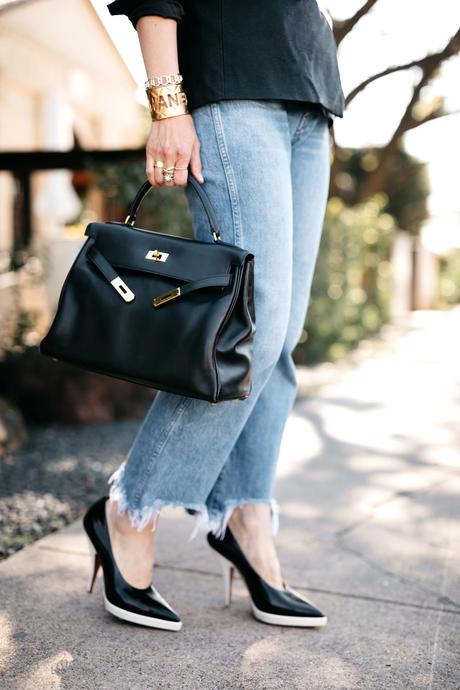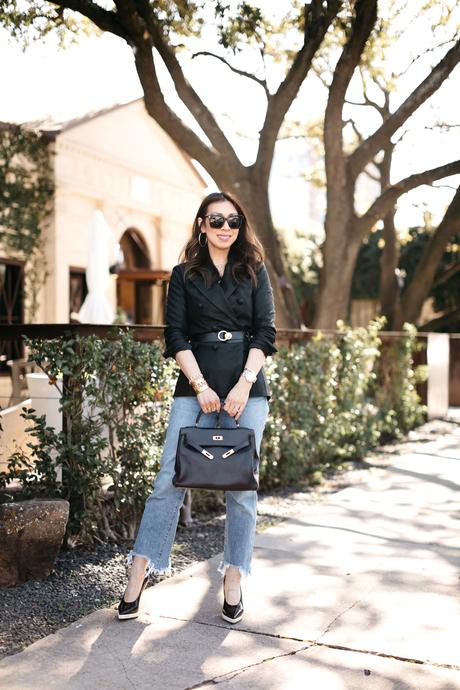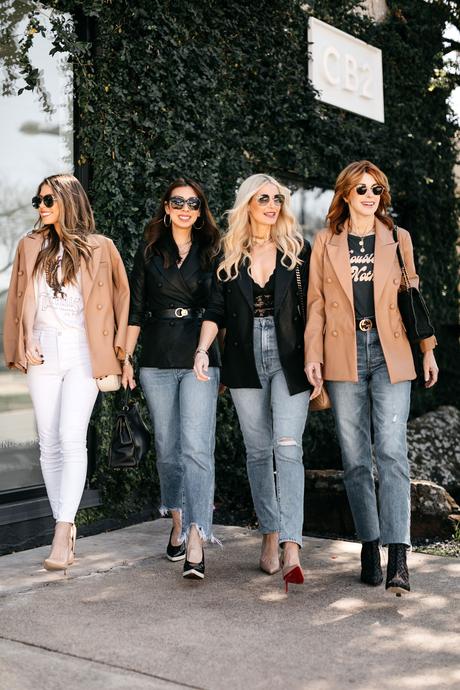 We didn't realize this was going to be our last Chic at Every Age shoot for a while when we were together in February. We actually had a SUPER FUN post scheduled for April Fool's Day but I guess it will have to wait for next year? Or maybe we'll do it when we can meet up again! It's crazy that we're all "at home" but cannot be together because of social distancing. Mr. S has been at work. Luckily, I am not scheduled at the hospital until the end of March. Who knows what will be happening at that point since things have been changing daily. As I mentioned previously, I want to provide some positive posts during this time... so let's get chatting about fashion!
Leather blazers popped up on the runways last year and continue to be a trend this season. Think of it as an elevated cool cousin to your regular blazer! You can wear it the same but it makes more of a statement!
Now you may be thinking... where do I wear this Sam? We are all social distancing! LOL! Well, I LOVE to get dressed up EVERY DAY for myself even though we are hanging at home! You can get dressed up to "go to work" at your home office. ( Remember this post?!) And if you have kids, then no worries! This blazer is EASY to clean! I'm not joking... I wear my vegan leather joggers ALL THE TIME, and that's a running joke between me and Mr. S - easy clean pants!
We thought it would be fun to showcase this vegan leather blazer that comes in two colors. I love that it's double-breasted, and you can also wear it open. Right now, it's on sale for less than $100! Of course, I LOVE belting blazers and went for my default. I wore it with a black belt over a cami and it gives the look of a fitted top!
THE STYLE Rx: Keep it elevated with a leather blazer! Wear it over jeans or a dress for an modern take on a classic look.
It's easy to wear with jeans! For a relaxed dressy look, I went for raw hem jeans, black heels, and a top handle bag. I have to rebuy those jeans because it was ruined when washed with something of Little M's. He has some black "blob" in his pocket that got all over the whole laundry load! :/
Let's chat about what the gals wore...
I LOVE love LOVE how Cathy paired a black tee and brown blazer together. It looks so CHIC! And Heather looks so sexy with her lace bodysuit and nude heels. That would be a fabulous date night IN look! I kept it simple with all black pair with raw hem jeans. Natalie's outfit is my FAVORITE with a white graphic tee, white jeans, and nude heels! I'm definitely copying her!
HOW WOULD YOU WEAR THIS BLAZER?! AND DO YOU ALREADY OWN ONE?
Happy Friday GlamFam! I hope everyone is staying healthy and safe during this interesting time. Today is my Grandfather's funeral in NY. I'm not sure how it will actually work with the restrictions in the state. My mom said they may go straight to the cemetery. My heart is sad for her because she can't be with her brothers and sisters at this time. We are trying to stay busy with the children while they're out of school. Mr. S asked me, "What if the internet goes down?" last night. We both laughed hysterically, but I was a little scared on the inside. LOL! Anyhow, I hope y'all are staying sane during social distancing. We are going to try FaceTiming some friends and family today.
Thank you so much for stopping by and supporting SOS!
CHECK OUT MY INSTAGRAM SHOP HERE TO SHOP ALL OF MY INSTAGRAM LOOKS!
// STAY CONNECTED //
stay glam, do good