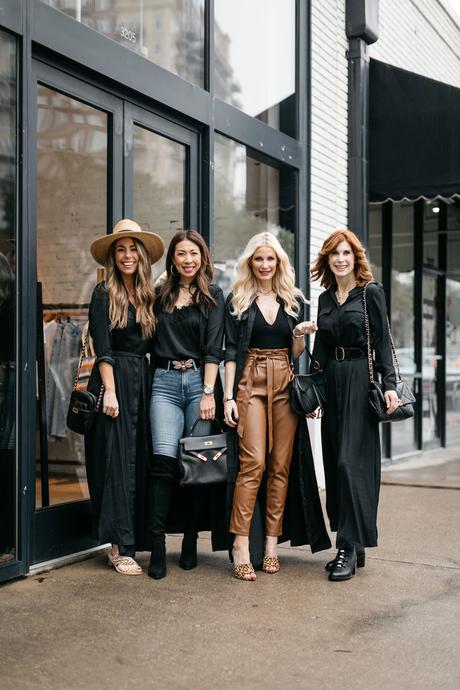 It's that time again... CHIC AT EVERY AGE . This week, we're showing y'all how to style a shirt dress four different ways!
For those of you that have just tuned in, this fab collab is exactly how it sounds... a chic chick in her 20s, 30s, 40s, and 50s shows you how to style a piece in their own way. I'm working with some of my FAVORITE gals in Dallas!!
The 20-something // Natalie of The Fashion Hour
The 30-something // ME!
The 40-something // Heather of
The 50-something // Cathy of The Middle Page
Photography // Beckley Co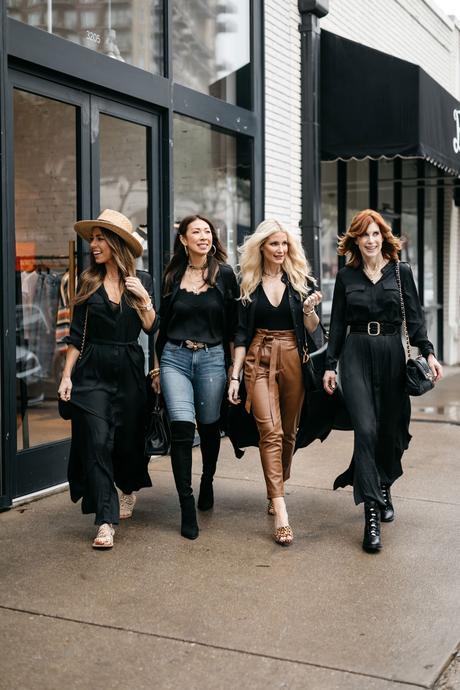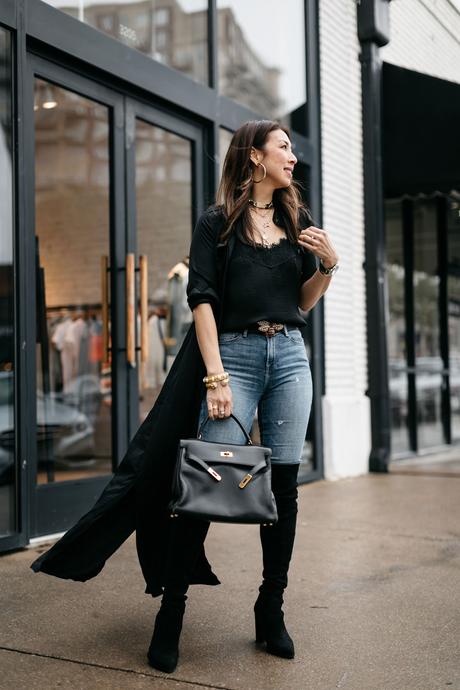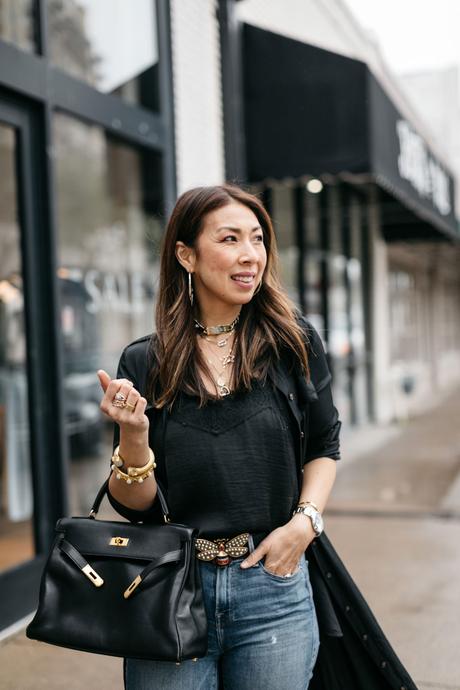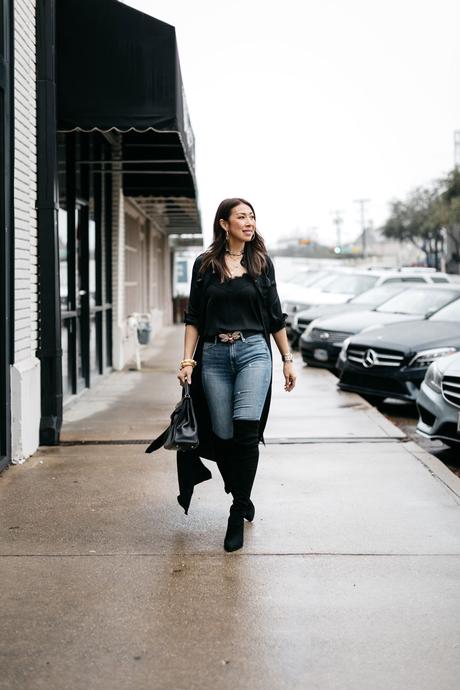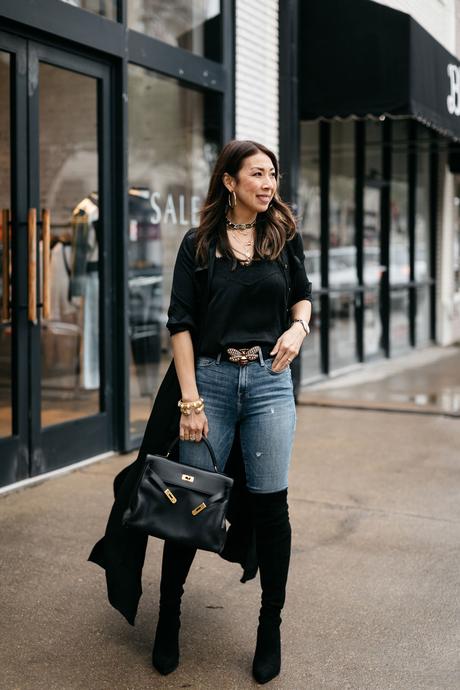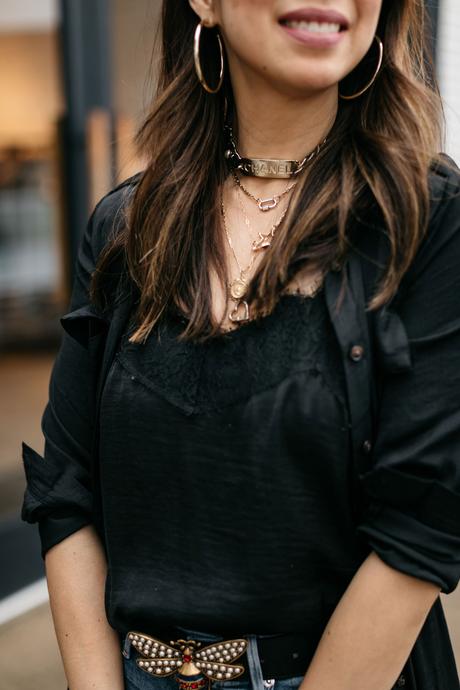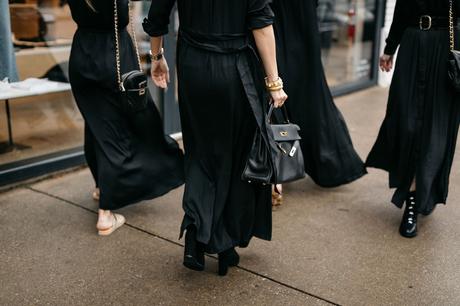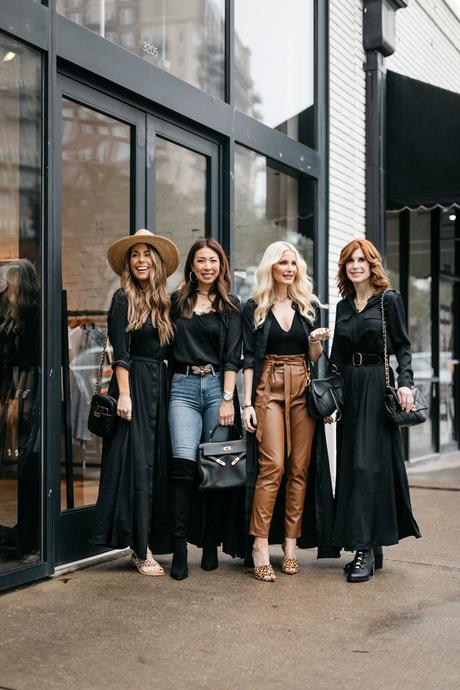 Every year, I start the decluttering process and go through my closet. And every year, I realize how much my closet staples get worn - A LOT!! Some of my most worn pieces are easy dresses like this black maxi shirt dress! And I love how the four of us styled it so different!
Truth be told, I ordered the wrong size in this dress which is why I wore it open like a kimono!!! LOL! However, that is a style trick I've done in the past like in this Instagram post and talked about it in this shirt dress blog post! That's what is so fabulous about shirt dresses! They can be worn multiple ways.
LOL! I almost look a little goth in these pictures especially with the black and my layers of necklaces!! I wore a lace cami, high waisted jeans, and over-the-knee boots for a "sporty" look! Oops! It would have been a more elevated outfit if I wore black or cream jeans. I was literally running out of the house to make the shoot on time and didn't really have time to try on the outfit before hand. C'est la vie! You live and you learn!
Here a fun backstory on the Chanel choker necklace that I'm wearing. It was a fun find while we were visiting Houston for Christmas break. I needed more Tata Harper facial cleanser so I ran to Neiman Marcus in the Galleria. Chanel just happens to be next door, so I ran in for a quick look and spotted some amazing accessories! Baby M was with me and she saw mannequins that were placed sitting on the the table. She told me AND the security guard that they were being "naughty" because you aren't supposed to sit on tables!! LOL!! It was so funny and SO cute!!
And back to the necklace... Virginie Viard, who happened to be Karl Lagerfeld's right hand woman, took over as artistic director and is reviving archival designs from the house. I'm LOVING IT ALL!! They are from the 80s and 90s which is my favorite era of Chanel jewelry, and I have tons of vintage pieces from that time!! I ADORE the nameplate necklace and have been wearing it NON-stop! If you are a fan of the 80s then this may be the time for you to invest in some Chanel jewelry. Just an FYI!
THE STYLE Rx: It's a New Year! Edit your wardrobe and keep the great staples that will work FOR you!
Now, let's chat about what the gals wore!
Cathy changed out the belt and wore the dress with combat boots for such a cool look! Heather wore her dress as a kimono too but with faux leather paperbag pants! I LOVE those and got a pair too! (That's the danger of having stylish friends!! We always like what each other is wearing!) I have been wearing the brown/black combo non-stop lately too! Natalie went for beachy boho vibe with a straw hat and fun leopard sandals which is so fun.
HOW WOULD YOU WEAR THIS SHIRT DRESS?!
Happy Friday Y'all! I happen to be in San Diego for CABI Scoop!! It is absolutely SO EXCITING to be a part of the Spring Launch and the positive energy of these amazing ladies is palpable!! My mom is a superhero for volunteering to help with Mr. S (who cannot drive but it going to work) and getting the two Littles to school. It's been A LOT lately!!
I'm excited to get home on Saturday and celebrate Chinese New Year! It is the Year of the Rat! My late father was a rat, and it really makes me miss him so much. I still think about him all the time!
What are you up to this weekend?
♥︎ ♥︎ STAY GLAM, DO GOOD ♥︎ ♥︎
Thank you so much for stopping by and supporting SOS!
JOIN THE #GLAMFAM // SIGN UP FOR THE NEWSLETTER BY CLICKING HERE.
CHECK OUT MY INSTAGRAM SHOP HERE TO SHOP ALL OF MY INSTAGRAM LOOKS!