This post is sponsored by That's What She Said Game. Thank you for supporting brands that make this blog possible. All opinions are my own, and I only work with brands that I love! Plus, we had UBER fun playing the game!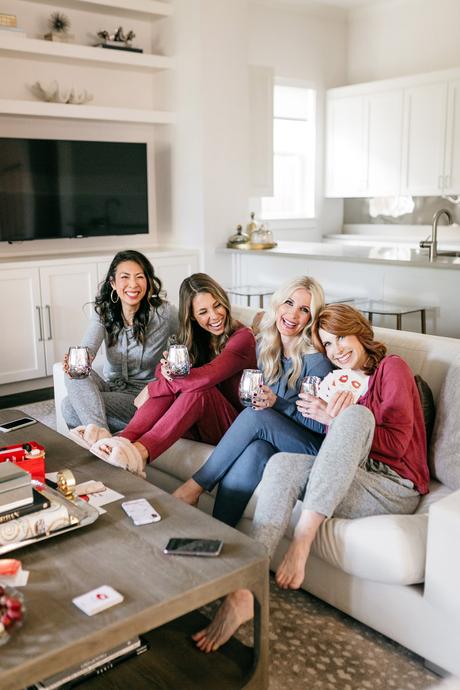 It's that time again... CHIC AT EVERY AGE . This week, we're wearing super comfy loungewear for a Girls Night In !
For those of you that have just tuned in, this fab collab is exactly how it sounds... a chic chick in her 20s, 30s, 40s, and 50s shows you how to style a piece in their own way. I'm working with some of my FAVORITE gals in Dallas!!
The 20-something // Natalie of The Fashion Hour
The 30-something // ME!
The 40-something // Heather of
The 50-something // Cathy of The Middle Page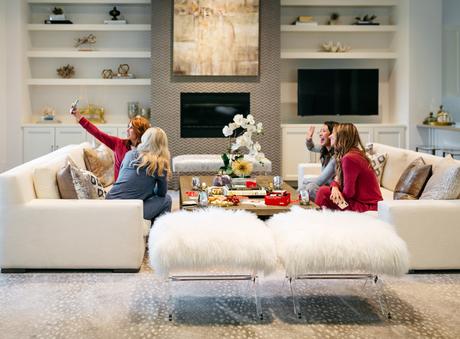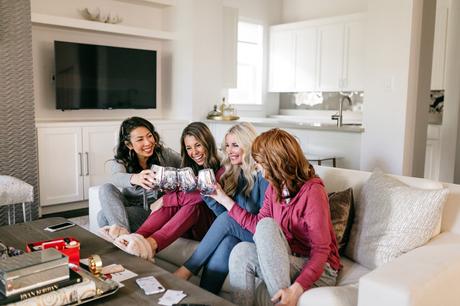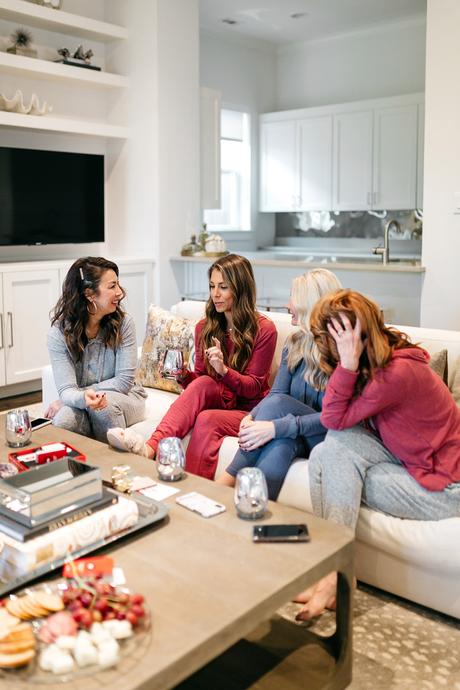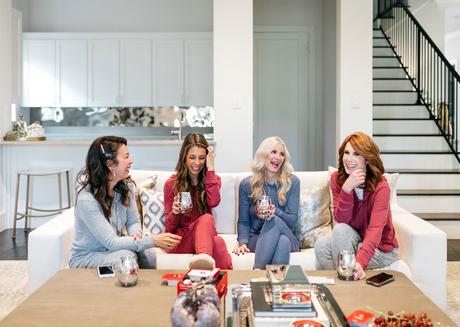 Happy Friday Friends! Whew!! This month has FLOWN by and I can't believe we're heading in Thanksgiving and Christmas! Whoa! Anyhow, we LOVE any excuse to get together and even MORE if we get to hang out in comfy clothes.
During this season, there is SO MUCH to be thankful for and I'm grateful to have these wonderful women in my life. I feel blessed to have met Cathy, Heather, and Natalie through blogging, and they have truly become my best friends. We are from different "generations" and all in different stages of our life which make for fun and sometimes crazy emotional times. It's a miracle that we are able to get together to do the Chic at Every Age shoots with all of the work and family activities going on.
When we got the That's What She Said game, it was a FABULOUS excuse to get together and have some Girls Night IN fun! I really miss the days of hanging with my gal pals so this was a special treat! And boy, did we have fun! Check out our video on Instagram for a little clip of what was happening!
Heather wanted to host Girls Night In, and it was a success!
Here are three must-haves for a fabulous Girls Night In!
Get comfy! We found some super soft and cozy loungewear to hang out in so we could relax and just chill! They are a matching hoodie top and joggers. It comes in three different colors - grey, blue, and maroon. Cathy did a mix-and-match with her set in maroon and grey! (I am wearing XS on top but should have gotten a size S)
TWO // Food and wine! Heather did a great finger food spread with cheese, crackers, salami, and grapes. Even if I've had dinner, I love to snack and always munching on something. Am I the only one always hanging out by the food? LOL!
Fun, FUN, fun! Game night is an EXCELLENT way to hang out instead of watching a movie and being glued to a TV monitor. You can talk, chat, laugh, and be completely entertained especially with a party-in-a-box like That's What She Said Game (definitely an ADULT game). It was hilarious to hear the questions, and we were CRACKING up at the responses. Think of it as a naughty version of Cards Against Humanity.
That's pretty easy right? I'll let you in on the REAL secret of a great Girls Night In... It's the GIRLS! Time and good friends are two things that become more valuable as you get older.
What are some other ways you've celebrated a Girls Night In??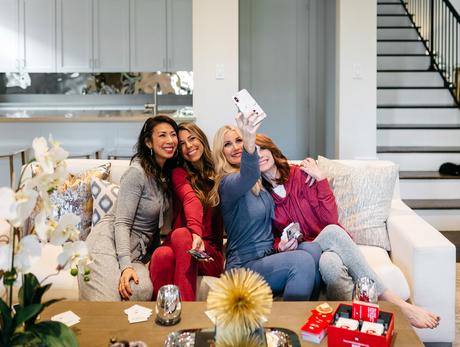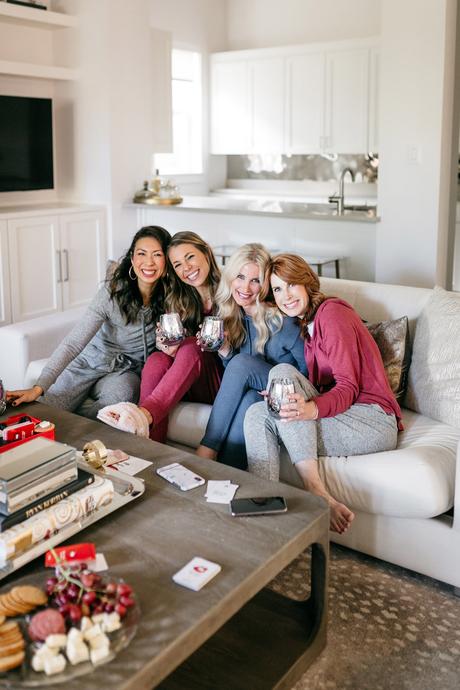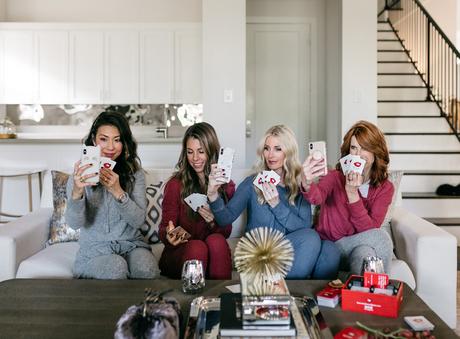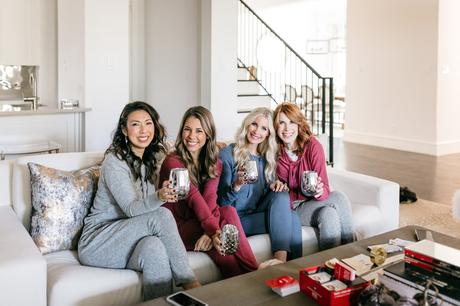 When you have those besties, what should you get them for the holidays?
Below are my top five gift ideas for your BFFs that are under $50 and won't break the bank!!

1 ) THAT'S WHAT SHE SAID GAME // My best friends and I played games ALL THE TIME growing, and we still get together and do it! It was the best bonding time especially when someone laughed Coca-Cola out of their nose. This is one of those ugly laugh face games, and the gals and I had a blast playing. No one laughed anything out of their nose, but we did hammer dance a couple of times! LOL!
2) GEMSTONE STUD EARRINGS // I don't know about you, but I've never met a woman that doesn't like jewelry. These fabulous gemstone studs are so pretty and unique! I also ADORE the moonstone ones (which are $60 so just a tad more). Hey, moonstone is supposed to be a healing crystal that manifests peace and harmony in the body. I guess I would pay $10 more for that! LOL!
3) JUICE BEAUTY PLANT ME A KISS PAIR // For your beauty lover friends, this mascara and lipstick duo is such a great pair AND it's non-toxic beauty. It's also perfect if you're wanting to test the waters on clean beauty. I LOVE their mascara and the rose pink lipstick, Sonoma, is named after Juice Beauty's new Sonoma farm!! If she is REALLY your bestie and loves makeup, then I would love she would LOVE this Colors of California set of 5 liquid lip shades. Just sayin'. ;)
4) MARBLE/WOOD PREP & SERVE BOARD // Everyone has one of those girlfriends who is the Martha Stewart of the bunch, and she would so appreciate this because of the functionality and beauty. Heck, I want to buy this for myself too to use as a cheese board!
5) NEST HOLIDAY CANDLE // This is my FAV.O.RITE candle and only comes out once a year so I literally stock up on it every year. It's the perfect BFF gift, hostess gift, MIL gift...You get the idea. It makes the whole house smell WONDERFUL!!!
Happy Friday Friends! My mom came in for a quick visit to help while I was in a fashion show yesterday, and Mr. S just headed out of town for a Boys' Weekend. We are going to be celebrating a Friendsgiving for the Littles with one of their buddies on Sunday. It's going to be so cute! I have no idea what we are planning, but I know it will be great! (Fake it till you make it, right?!) What are y'all up to this weekend?
Thank you so much for stopping by and supporting SOS! I truly appreciate it!
JOIN THE #SAMFAM // SIGN UP FOR THE NEWSLETTER BY CLICKING HERE.
CHECK OUT MY INSTAGRAM SHOP HERE TO SHOP ALL OF MY INSTAGRAM LOOKS!