This post is sponsored by SOMA. Thank you for supporting brands that make this blog possible. All opinions are my own, and I only work with brands that I love!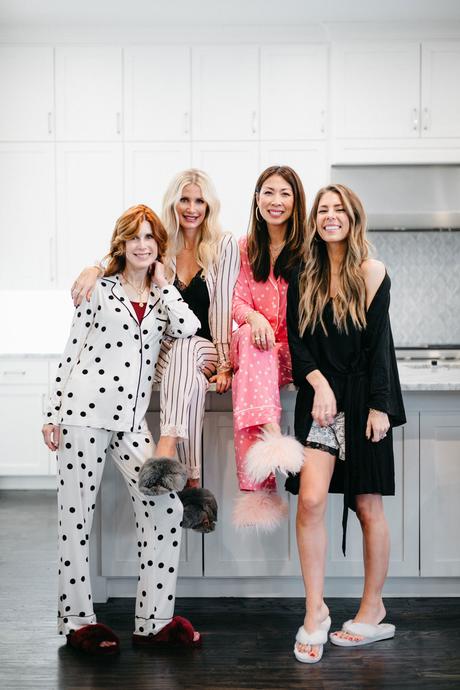 It's that time again... CHIC AT EVERY AGE . This week, we're SO EXCITED to celebrate a Galentine's Day Pajama Party for adults with SOMA!!
For those of you that have just tuned in, this fab collab is exactly how it sounds... a chic chick in her 20s, 30s, 40s, and 50s shows you how to style a piece in their own way. I'm working with some of my FAVORITE gals in Dallas!!
The 20-something // Natalie of The Fashion Hour
The 30-something // ME!
The 40-something // Heather of
The 50-something // Cathy of The Middle Page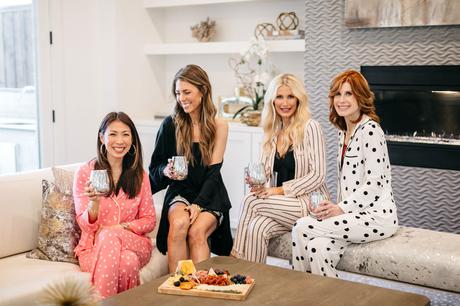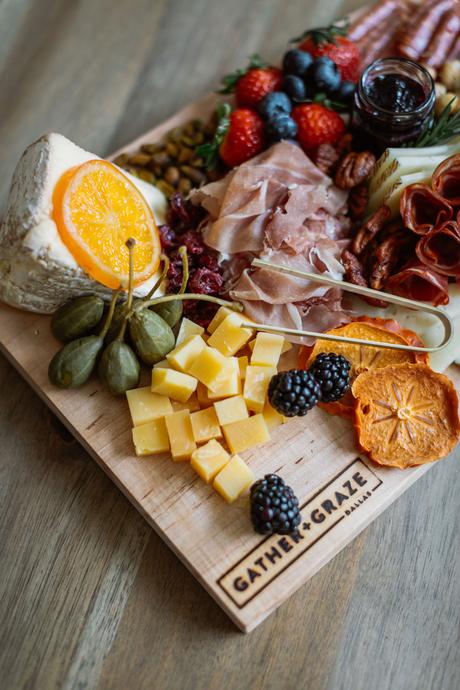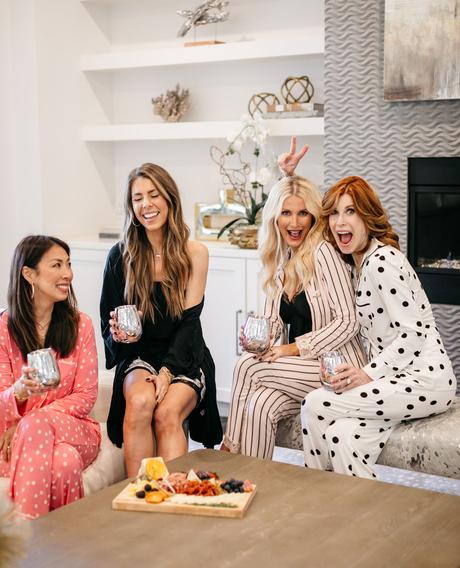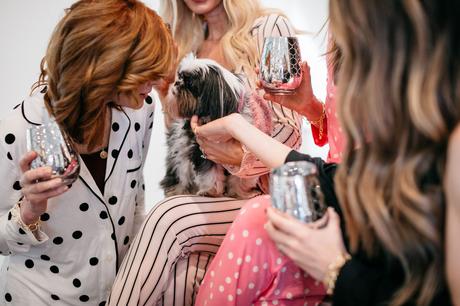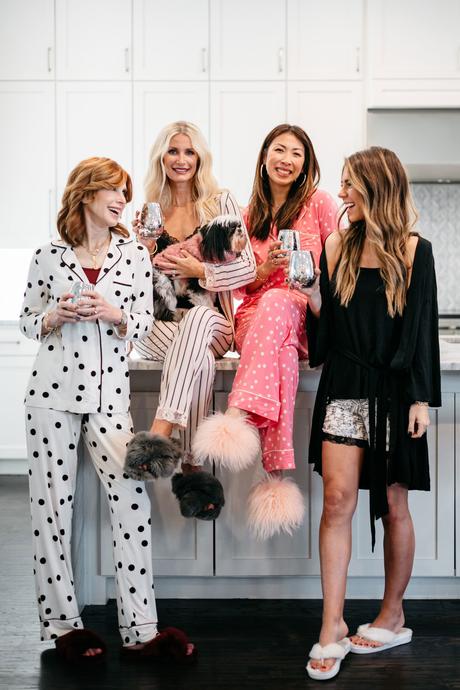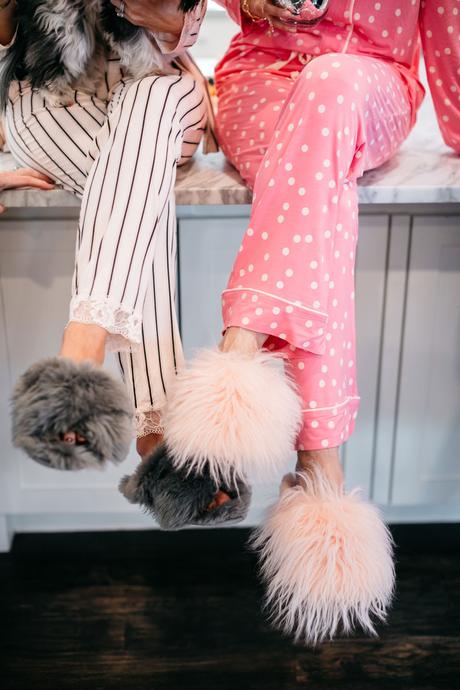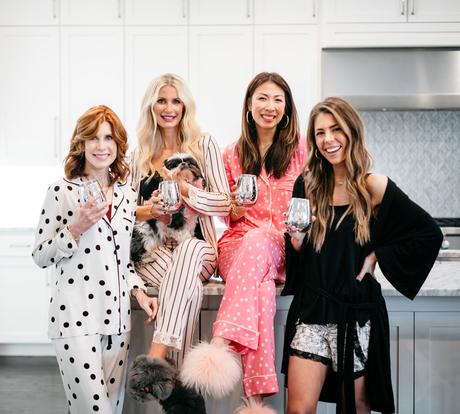 Girlfriend time is always MY FAVORITE!! Add in comfy PJs, and I am literally in Heaven!! We thought it would be SO FUN to have a fabulous Galentine's Day pajama party celebrating our friendship in our comfy SOMA Cool Nights PJs and stay IN!! I always have so much fun with these gals, and it fills my cup to be with them. Thank you Leslie Knope for creating a holiday where Ladies celebrate Ladies!!
THINGS NEEDED
It's may have been YEARS since your last PJ party so I'm sharing a few fun tips to celebrating your night in style AND fun!
GRAB YOUR COMFIEST PJs //

We are all wearing SOMA Cool Nights pajamas!! If you've taken a look at my social media, then you know that SOMA pajamas are my absolute FAVORITE PJs! They are so comfortable and still look so chic. These pink polka dot pajamas top + bottoms were an immediate "Add to Cart" when we were choosing for our Gals Night In. Could they be anymore festive?
BTW, if you are not familiar with Cool Nights Pajamas, then here's a quick low down. They are made of a super soft material that keeps you cool while you sleep. I LOVE that the pants come in 3 different inseams so you can choose the length depending on your legs! I am wearing the regular 30″ inseam and usually prefer 28″ inseam for my jeans.

BRING ON THE BITES //

Heather was so sweet to host at her house, and she grabbed a phenomenal charcuterie board from Gather + Graze!! I didn't bring my Lactaid (so no cheese for me), but everything else was SO YUMMY! I love the pickled olives (?). Whatever those little green things were was fabulous!
Or do something easy like pizza and popcorn! It's really more about the quality time with friends.
THINGS TO DO
WHAT WE WORE
We wore fabulous PJs of course! Cathy also wore polka dots but in a classic black and white combo. I love she wore her top open with a black cami underneath and her pop of red with those slippers. Heather's blush PJs are so sophisticated with the classic lines and beautiful lace back top. Her grey crossover slippers are so fun too! I was polka-dotted in pink with my super fun pajamas and extra fuzzy slippers. Natalie was super chic in her lace shorts and robe set! For some reason, I've never thought to wear a matching robe with the tank and shorts! SO SMART!
WHEN WAS YOUR LAST PJ PARTY?!
Happy Friday Y'all!! We have another birthday party and possibly an XFL football game this weekend! Amazingly enough, I've ordered the birthday gift ahead of time. Thank you Amazon! LOL! I'm trying to get all the things done in the house and feeling really good about it! Slowly but surely, I'm decluttering and organizing. I've told myself THIS IS THE YEAR for conquering the house!
Thank you so much for stopping by and supporting SOS! I truly appreciate it!
JOIN THE #SAMFAM // SIGN UP FOR THE NEWSLETTER BY CLICKING HERE.
CHECK OUT MY INSTAGRAM SHOP HERE TO SHOP ALL OF MY INSTAGRAM LOOKS!

stay glam, do good