This post is sponsored by Curateur. Thank you for supporting brands that make this blog possible. All opinions are my own, and I only work with brands that I love!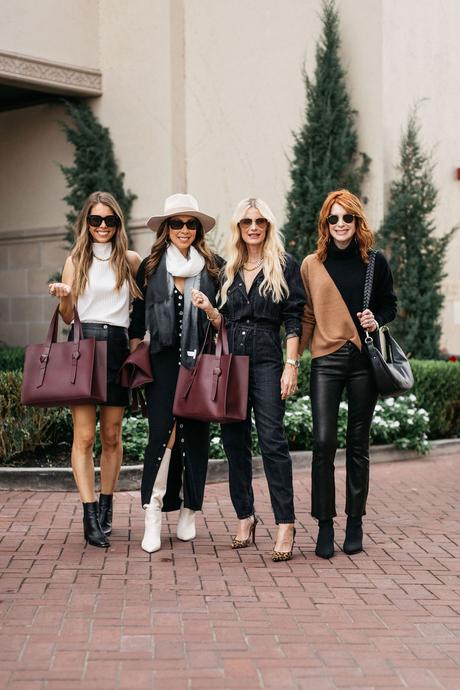 It's that time again... CHIC AT EVERY AGE . We're EXCITED to partner with Rachel Zoe to share about the Curateur Membership and what's in the WELCOME Box! If you aren't familiar with it, you are going to LOVE all the perks and benefits of being a member! Re ad on to see how you can get over $300 worth of chic luxury finds curated by Rachel Zoe for less than $40!
For those of you that have just tuned in, this fab collab is exactly how it sounds... a chic chick in her 20s, 30s, 40s, and 50s shows you how to style a piece in their own way. I'm working with some of my FAVORITE gals in Dallas and Fort Worth!!
The 20-something // Natalie of The Fashion Hour
The 30-something // ME!
The 40-something // Heather of
The 50-something // Cathy of The Middle Page
Photography // Beckley & Co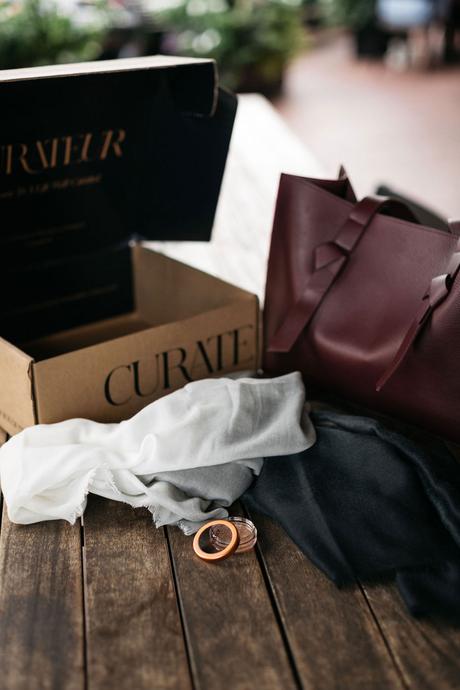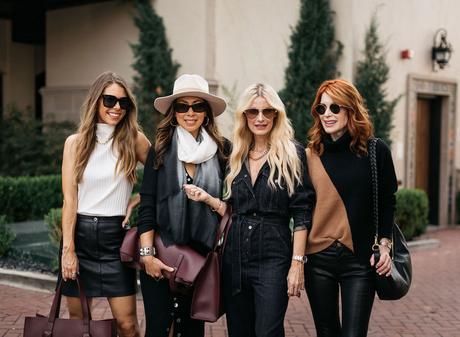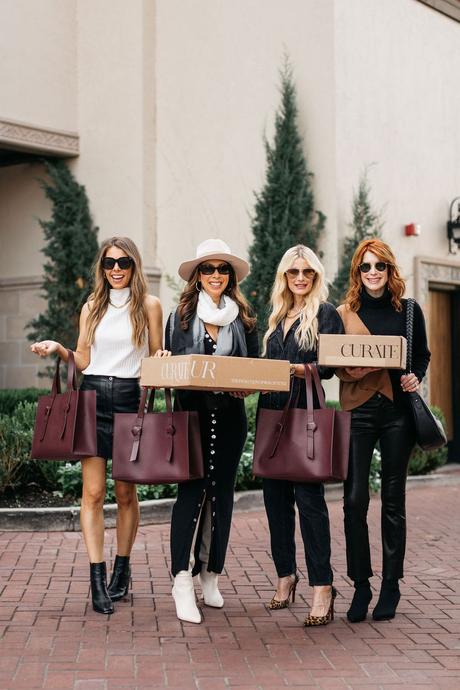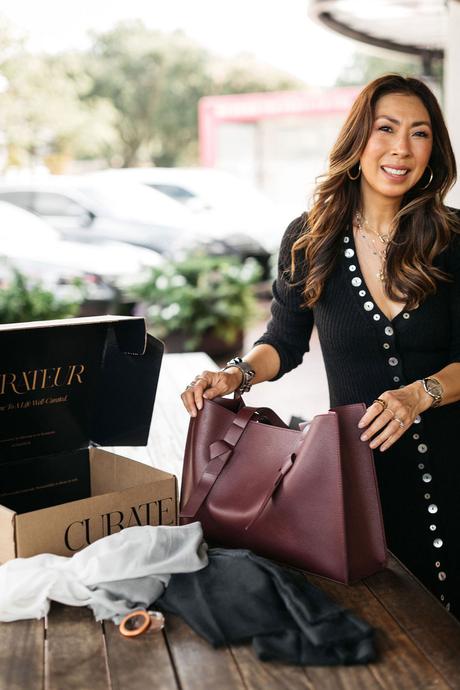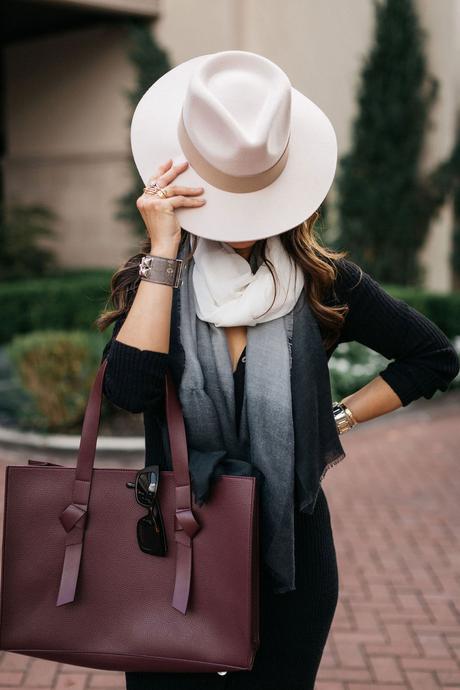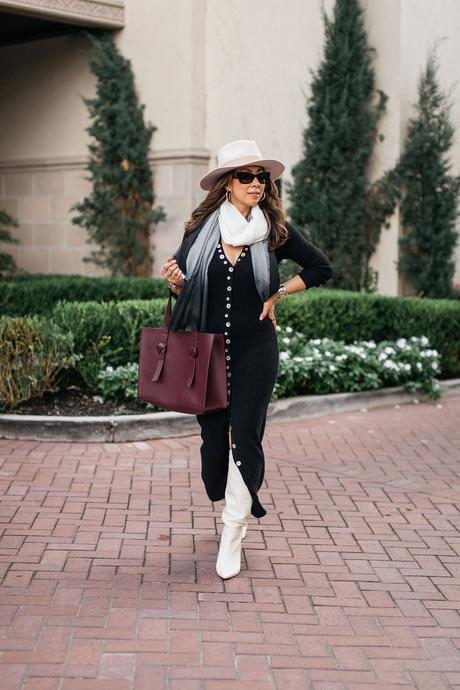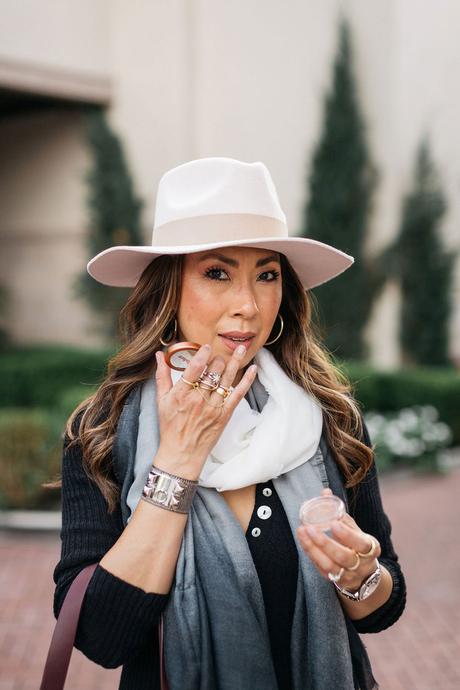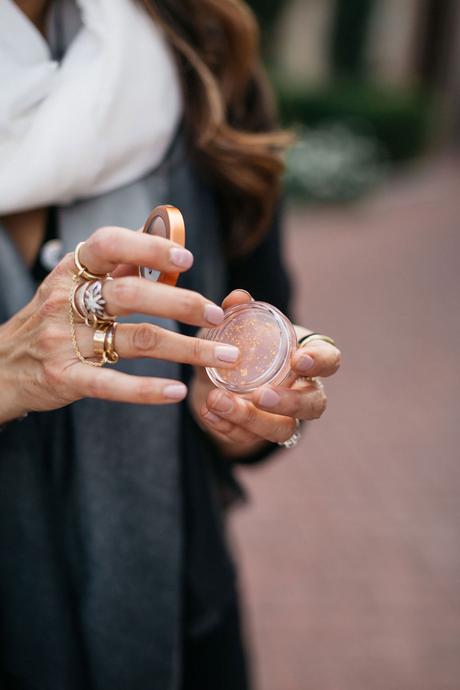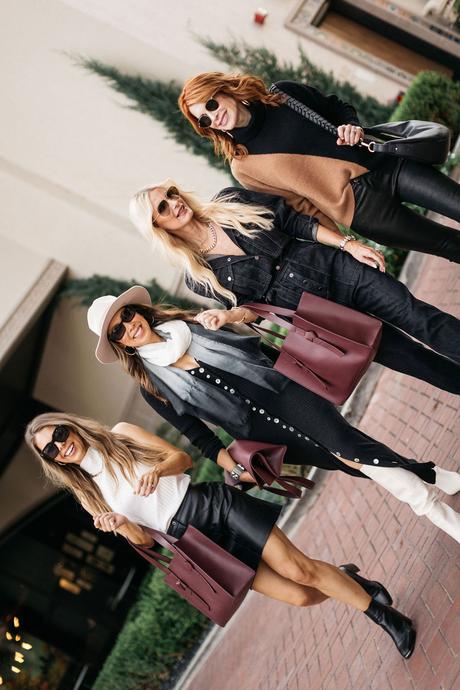 CURATEUR FINISHING TOUCHES WELCOME BOX
Hello GlamFam! Can you believe it's officially Fall? For once, the weather in Texas actually cooperated and temps dropped. The leaves are changing colors, and I'm ready for all the Fall feels. I'm not much of a Pumpkin Spice Latte gal, but it is good every once in a while. Anyhow, I'm excited to share what is in the Curateur Welcome Box edit curated by the queen of style, Rachel Zoe. There are four different ones - Elegant Essentials, Everyday Edge, Finishing Touches, and Skin Superheroes. You'll have to hop on over the gal's blog to read more about their Welcome box. I am sharing all about the Curateur Finishing Touches Welcome Box.
As a Curateur member, you have access to The Shoppe, a members-only marketplace featuring select Rachel-approved products for up to 60% off retail! Let me tell you about some of the fabulous items I've seen in The Shoppe! Rachel has personally curated items like a vintage Louis Vuitton Keepall Bandoliere 50 for $849 (retail $980) and an Oradina Cinque Terre 10K solid gold ring for $162 (retails $190). It feels like being part of an exclusive shopping club with Rachel-Zoe approved items!
Additionally, you have access to The Collective which unlocks bespoke offerings with exclusive partner brands with discounts for items like beauty, wellness, interior design, and home decor, and so much more. Some of the brand partners include names like Sakara, Havenly, Switch, Lawless, Alto, and so many others!
And members get access to exclusive Rachel Zoe Collection promotions. Personally, I love her collection as seen here and here. The Curateur team was so kind to share code CHIC for $10 OFF your first CURATEUR Welcome Box! It's perfect if you are thinking of joining Curateur for the first time!
WHAT'S IN THE CURATEUR WELCOME BOX? IT'S THREE AMAZING PIECES! ( OVER $300 VALUE FOR LESS THAN $40)...
AND EVERYTHING IS CURATED BY RACHEL ZOE, SO YOU KNOW IT'S FABULOUS!
RACHEL ZOE COLLECTION TOTE // (retail $115)
This chic and sophisticated burgundy tote is made of vegan leather and a perfect bag for running errands. It even fits a laptop. Another plus is the detachable interior pocket which snaps off to become a handy clutch. The gorgeous jewel color goes with everything Autumn/Fall and will carry you through to next season.
I LOVE this rich shade for the season and how the tote fits all the essentials plus so much more! The knot detail on the handle gives it fun interest. In some of the group photos, I'm showing you how I styled it as an oversized clutch by folding it in half! I know this tote will be used often this season!
CUSHNIE OMBRE SCARF //(retail $150)
This luxurious ombre scarf is the perfect collection of neutrals in ivory, grey, and black. It's super soft and oversized. One of the most amazing things is that it was exclusively designed by Carly Cushnie and Rachel Zoe. In case you aren't familiar with Carly Cushnie, she is the founder of CUSHNIE a luxury women's ready-to-wear and bridal brand. She creates for the modern women with clean, sculptural lines. The brand has been seen on influential ladies like Michelle Obama, Beyoncé, Gal Gadot, Lupita Nyong'o, Jennifer Lopez, and others.
I LOVE the versatility of scarves, and this one is so unique with the ombre design! It's the perfect neutral that pairs so well with black, white, or any color! I wore it around my neck, but it can be worn draped over the shoulders and belted for a shawl look!
ELALUZ 24K LIP THERAPY // (retail $28)
Elaluz was founded by global entrepreneur, Camila Coelho. Her mission is to bring clean luxury to all. I'm all about it and love this fabulous beauty essential. The intensely hydrating formula contains 24K gold (slows down collagen depletion), papaya seed oil (exfoliating enzyme), and acai berry (emollient full of antioxidants and vitamins). If anyone needs lip treatment, then NOW is the time!
This was one of my "empties" meaning I loved it so much that it was used until empty. It creates moisture on my lips without any stickiness, and I don't notice a smell. I use it EVERY NIGHT before bedtime and wake up with super soft lips. I use my ring finger to warm and apply it to my lips. This has been one of my favorite beauty products!
Check out my Instagram Stories Unboxing Video to get a peek of everything!
Now for my favorite part, let's chat about what the gals are wearing! It's always a fun surprise to see when we meet up! Cathy looks fabulous in a color block sweater with leather pants that go so well with her bag (part of her Welcome box). Heather is wearing an amazing denim jumpsuit with animal print heels that look wonderful with the burgundy tote. Natalie and I are both wearing shades of black and white which also go so well with the tote. For me, it tied in the gorgeous ombre scarf too!
What's your favorite piece in the CURATEUR WELCOME BOX? Mine are the tote and lip balm!
Happy Tuesday GlamFam!!
Thank you so much for stopping by and supporting SOS! I truly appreciate it!
JOIN THE #SAMFAM // SIGN UP FOR THE NEWSLETTER BY CLICKING HERE.
CHECK OUT MY INSTAGRAM SHOP HERE TO SHOP ALL OF MY INSTAGRAM LOOKS!

stay glam, do good