This post is sponsored by Curateur. Thank you for supporting brands that make this blog possible. All opinions are my own, and I only work with brands that I love!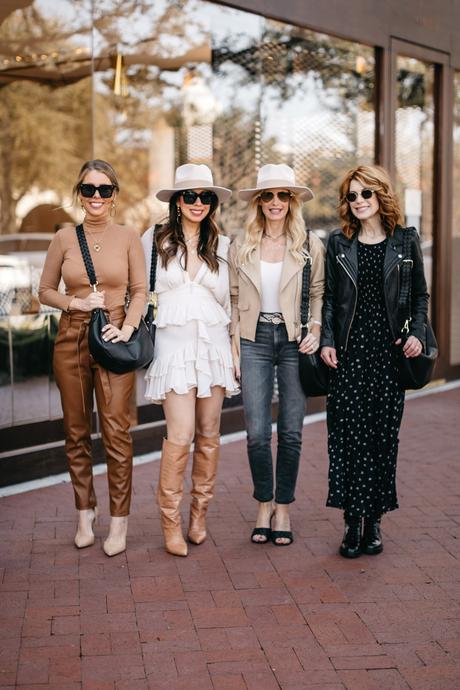 It's that time again... CHIC AT EVERY AGE . We're EXCITED to partner with Rachel Zoe again to tell you about the Curateur Membership and what's included in the Spring 2021 edit! It's the evolution of the Box of Style, and you are going to love it! Re ad on to see how you can get over $500 worth of chic luxury finds curated by Rachel Zoe for less than $75!
For those of you that have just tuned in, this fab collab is exactly how it sounds... a chic chick in her 20s, 30s, 40s, and 50s shows you how to style a piece in their own way. I'm working with some of my FAVORITE gals in Dallas and Fort Worth!!
The 20-something // Natalie of The Fashion Hour
The 30-something // ME!
The 40-something // Heather of
The 50-something // Cathy of The Middle Page
Photography // Beckley & Co









CURATEUR SPRING 2021
Hello GlamFam! I cannot believe it's already February even though January seemed to drag on forever. It's still chilly here, but I'm ready for Spring Fashion. And now that the Curateur Spring 2021 edit is available, it's giving me more to look forward to for the upcoming season. We are planning a driving trip for Spring Break and all of these pieces will be going with me on vacation. I can't wait to share the fabulous pieces curated by the queen of style, Rachel Zoe.
As a Curateur member, you have access to The Shoppe, a members-only marketplace featuring select Rachel-approved products for up to 60% off retail! And members get access to exclusive Rachel Zoe Collection promotions. Personally, I love her collection as seen here and here. The Curateur team was so kind to share code CHIC25 for $25 OFF your first curation of CURATEUR! By the way, this would be a lovely gift to yourself or a friend who celebrates a birthday in Spring. Just print the membership or send the email as a gift.
WHAT'S IN THE CURATEUR SPRING EDIT FOR 2021? IT'S FIVE AMAZING PIECES! ( OVER $500 VALUE FOR LESS THAN $75)...
AND EVERYTHING IS CURATED BY RACHEL ZOE, SO YOU KNOW IT'S FABULOUS!
Teressa Foglia x CURATEUR Lynn Hat // (retail $400)
This chic and sophisticated hat is one of the choice items, and it's almost an understatement to say that I'm OBSESSED with it. It's an ecofriendly (upcycled felt and fabric) hat with vegan suede band handmade in New York. The headband is adjustable for the perfect fit. Teressa Fogglia is a modern milliner based in Malibu, CA. Her milliner story began after purchasing a one-way ticket to Europe after heartbreak and staying a year. She took a milliner course in the South of France and the rest is history.
I LOVE this beautiful color and the substantial feel of the hat. It's a gorgeous creamy color and will definitely work in ALL SEASONS!! Today, I'm wearing it with a fun Spring dress and camel boots, but it would fabulous with floral print or even all black. Plus, this would elevate any winter white outfit.
Vita Fede Cassio Earrings // (retail $388)
These Vita Fede gold finished earrings are more than meets the eye. They are constructed of interlocking pieces that detach to create custom combinations! Vita Fede means "life" and "faith" in Italian, and the pieces are handcrafted by multi-generational artisan families around the world. In the words of the founder Cynthia Sakai, "Our goal is to create what we believe is true modern luxury."
I love anything multi-functional, and it's like having 7 earrings in one! They are perfect for every day (worn smaller) or to make a statement (worn longer). I wore them the long way so they would be visible under the hat but cannot wait to try the other possibilities.
Jules Kae Zola Bag // (retail $95)
Jules Kae is a brand that we've seen and loved before with Rachel's edit. Jules Kae is a female-owned and operated business born in NYC in 2016. The brand sources premier cruelty-free, PETA-approved vegan leather to ensure the longevity of their vegan leather goods.
This buttery soft, vegan leather moon-shaped bag has been so easy to use and carry around! You wouldn't believe it isn't real leather because the quality is amazing. The adjustable braided strap makes it easy to wear crossbody or on the shoulder. I've been wearing it NOW and love how easy it is to access and roomy inside. I use a bag organizer in it. Black is a fabulous neutral color and goes with black, brown, beige, and really any color. I love how it adds contrast with my beige/brown outfit in these photos.
Hugh & Grace Renewing Serum // (retail $90)
This clean beauty serum has so many good and great things about it. First, it contains amazing healing oils like Rosehip, Raspberry Seed, Meadowfoam Seed, Pumpkin Seed, Vitamin E, Blue Tansy, and a Custom Essential Oil Blend. Second, the combination of oils slows the appearance of aging, strengthens the skin barrier, and provides nutrients to stimulate collagen production and even skin tone. TO USE: Apply 3-10 drops to a cleansed face before bedtime. (I've been using 5 drops which covers my whole face.) It has a beautiful smell and absorbs so nicely in the evening. I cannot wait to see long-term results with this product!
I really resonate with this brand because it was started because of the couple's 14-year infertility journey. Hugh & Grace's mission is to reduce chemical body load. The brand is named after their miracle children, Hugh and Grace, born from surrogates. Hugh equates to Heart, Mind, and Spirit. Grace equates to Goodness, Generosity, and Love. All of their products are free of endocrine disrupting chemicals that are linked to infertility, autism, asthma, and more. I went on the same kind of journey when we went through our infertility and then started eating cleaner foods at that time then changed to clean beauty after Little M was born.
Illasmasqua Beyond Powder Highlighter // (retail $45)
I love trying new beauty brands with the Curateur edit and this one is a fun one! This highlighter blends flawlessly (I used my fingers to rub it in) and can be subtle or layered for a blinding effect. It looks iridescent but the color is wonderful and not too glittery (even though it looks that way). I've been using it to create a dewy look by applying it on the tops of my cheekbones, above the eyebrows, on the bridge and tip of the nose, and at the cupid's bow of the lips.
Check out my Instagram Stories Unboxing Video to get a peek of everything!
By the way...
YOU CAN BUY MORE AND SAVE MORE
IF YOU JOIN THE ANNUAL CURATEUR MEMBERSHIP FOR $350 (SAVING $50).
Icon Members get early access each season - first to select their choice item, first to purchase from The Shoppe, and first to have their curations ship. Icon Members also receive a special anniversary gift for renewing their membership.
Alright Fashionable Friends, let's chat about the outfits! It's always a fun surprise to see what everyone is wearing, and I had actually almost worn the same pants as Natalie!
What's your favorite piece in the CURATEUR curation?
Mine is the hat and earrings!
Y'all, that's $500 worth of style finds for less than $75!!!
Happy Friday GlamFam!! I am so happy for Fridays although this weekend! Little M is going to start guitar lessons. He got an electric guitar for Christmas, and music is always therapy (for me at least)! It's supposed to be cold, but we will likely still head to the park for some fresh air and nature since that keeps them in a good mood. WHAT ARE YOU DOING THIS WEEKEND?
Thank you so much for stopping by and supporting SOS! I truly appreciate it!
JOIN THE #SAMFAM // SIGN UP FOR THE NEWSLETTER BY CLICKING HERE.

CHECK OUT MY INSTAGRAM SHOP HERE TO SHOP ALL OF MY INSTAGRAM LOOKS!
stay glam, do good