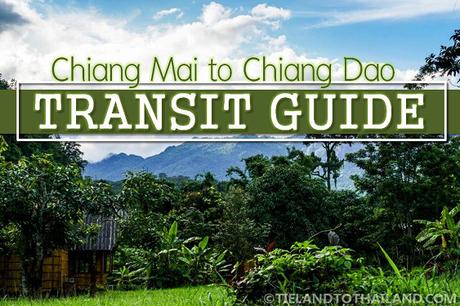 If you're looking to take a trip from Chiang Mai to Chiang Dao for a change of pace, luckily it's an easy ride. Once you navigate your way out of the city's traffic, you'll have a nice stretch of scenic views and beautiful hillsides as you make your way to this quiet little mountain town in the northern part of the Chiang Mai province.
How to Get from Chiang Mai to Chiang Dao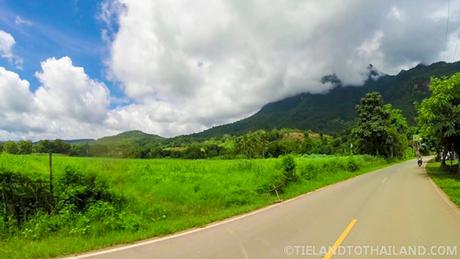 There are a few transportation options depending on whether you are able to drive yourself in Thailand or prefer to be driven. The trip is roughly 70km long (from the north side of Chiang Mai's Old City) and takes between one and a half to two hours depending on your speed and level of traffic.
Car or Motorbike
The trip to Chiang Dao is easily done by either car or motorbike because the roads are wide, well maintained, and with few curves and hills to overcome. You don't have to be a driving master as you would be to tackle the 700+ turns to get to Pai.
To get from Chiang Mai to Chiang Dao, depart from the Chang Puak Gate on the north side of the Old City's Square Moat. Follow Route 107 for roughly 70km and you will see mile marker signs in English for Chiang Dao. It's that simple!
If you are staying at the Nest 1 or 2, Malees Nature Lovers Resort, or Chiang Dao Hut, turn left at the major intersection marked by the yellow star on the map below.
If you plan to ride a motorbike, make sure to wear long pants and a jacket or else wear sunscreen on your arms, back of your hands, and on the tops of your legs. It's easy to get sunburned during the road trip.
Mini Van or Orange Bus from Chang Puak Bus Station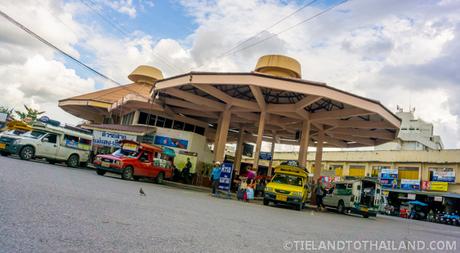 If you choose not to take a personal vehicle, there are air-conditioned mini vans and larger fan-only orange buses that make the trip daily from the Chang Puak Bus Station (สถานีขนส่งช้างเผือก) just north of Chiang Mai Old City.
You can contact the Chang Puak Bus Station at (053) 211-586 to confirm departure times and prices, although it may be best to get a Thai friend or your guesthouse's receptionist to make arrangements and book tickets for you in Thai.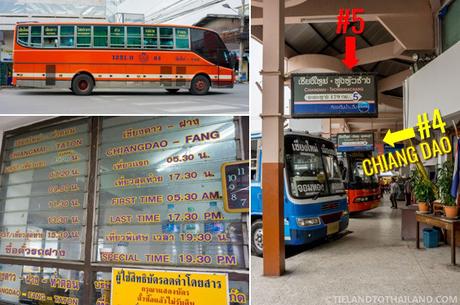 A one-way ticket for an orange fan bus costs 40 baht and it leaves roughly every 30 minutes from 5:30am to 5:30pm and again at 7:30pm. It departs from Platform 4 and Chiang Dao is the first stop along a route that will continue to Fang and then end at Taton. Purchase tickets in cash at the centrally located circular-shaped ticket booth located near Platform 4.
A one-way ticket to Chiang Dao in a VIP air-conditioned van is 150 baht. These vehicles leave every hour from 7am to 5pm and can be arranged by a separate company just a stone's throw behind the bus station. There is no obvious "VIP Van" sign in English and you have to walk past many parked red and yellow songtaews. You'll know you found the agency (in a little dimly lit mom and pop store) directly across from a cluster of white vans under the green awnings.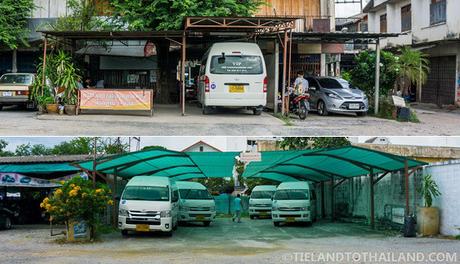 If all else fails, speak with the lady at the Information Desk (next to the ticket counter back at the bus station) and she can literally point you in the right direction.
Once you arrive at the orange Chiang Dao Bus Station, there is a motorbike rental about a kilometer away. It is directly left of the post office and costs around 400 baht per day.
Arrangements Made By Your Hotel
Some hotels are willing to help make transportation arrangements for you on your behalf. For example, the managers at the Chiang Dao Nest are happy to arrange for a direct pickup from your place of residence or hotel in Chiang Mai and will drop you off right at either Nest 1 or Nest 2. Prices are as follows (one way) and include a driver:
1550 THB for an air-conditioned van
1250 THB for an air-conditioned car
1050 THB for a songthaew