Cancel your New Year's Eve plans! The Chicago Riverwalk is hosting a brand new outdoor, public celebration called "Chi-Town Rising." Eventgoers can ring in the New Year with a major fireworks show, music headliners and of course, a countdown.
Chi-Town Rising will be held along the Chicago River between Michigan Ave and Columbus Drive, "older" portions of the Riverwalk. The midnight countdown will also feature a giant Chicago star rising into the night sky.
"The ascending star symbolizes our collective history of meeting challenges head-on and seeing opportunities in every new adventure," said John Murray, Executive Producer of Chi-Town Rising. "And it represents our aspirations rising to embrace the New Year."
As for the fireworks, they're expected to blow Navy Pier's Fourth of July show out of the water. Not an easy feat.
The experience aims to display Chicago as both a New Year's Eve and winter destination, and with attendance expected to exceed 100,000, they're well on their way. The event will be broadcast live on NBC 5 with a predicted viewership of over one million. Audiences can expect to see celebrity guests, music, highlights from the crowd, and the obvious firework & countdown celebration.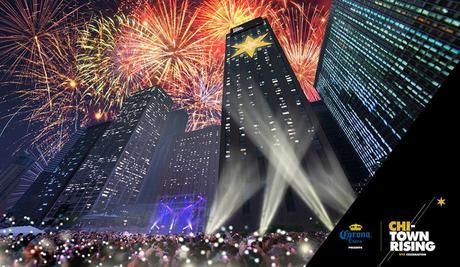 Photo Credit: Chi-Town Life Facebook Page
"We are thrilled to welcome a new tradition to our city, changing the way that Chicago and the Midwest celebrates New Year's Eve," said Murray, "Our line-up of festivities amidst the city's iconic surroundings will make for a truly unique holiday event, spotlighting Chicago as an exciting destination to ring in the New Year."
We're not gonna lie, we're thrilled too. You can learn more at chi-townrising.com/
Photo Credit: Telemundo Chicago