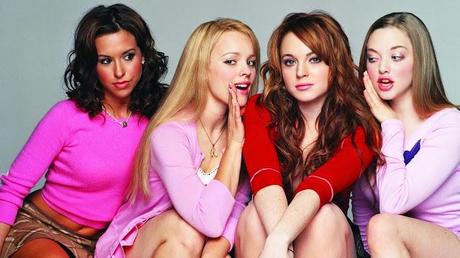 I hope you guys enjoyed all of the guest posts over the past few days! It has been so amazing to receive SO much support from all of my blogger friends over the past couple of weeks. The blogging community can be a tad "You can't sit with us!" at times, so I could not be more grateful to be surrounded by a truly great group of girls.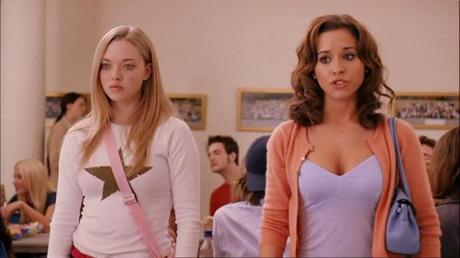 When Jena pitched the idea of a "Mean Girls" theme to me for this guest post I could not have been more excited (*I have her saved in my phone as Janis). She is probably one of the funniest slash down to earth people I have even encountered (especially in the blogging world), and her blog is one I read on the daily. Please check her out in all of her witty glory on her blog Chi City Fashion. 
JENA'S GUEST POST:

I 
realize I may be 9 years too late but who could pass up the opportunity to relive one of the greatest movies of all time --
Mean Girls
? I have to bring this up because when Ashley asked me to guest blog, the first thing I thought of was this fantastic film. Mostly because when I first met her, she (along with some other
fine blogger ladies
) decided that I looked like
Janis Ian
(and in trying to be nice, they meant Lizzy Caplan the actress). Of course I only know Janis as this...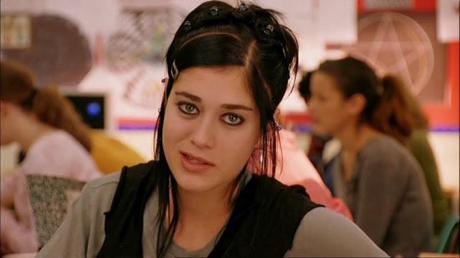 So naturally, I'm flattered.
Let's just say 2004 wasn't the best year for fashion, but at least we have iconic movies like
Mean Girls
to show us all the styles (and high school moments) we're not missing (or maybe we are?)
Like the first day of school…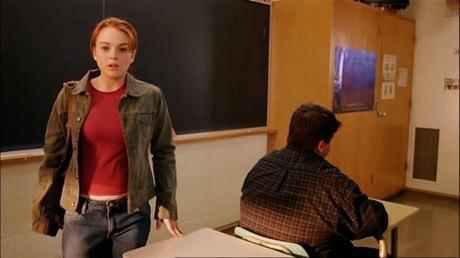 A time I wouldn't recommend wearing ill-fitting jeans, mixing crimson and olive, and making it appear your jacket might be your boyfriend's but in reality it's just two sizes too big (and not your cut).
When you feel forced to actually be friends with the first people you meet…just in case you don't make any other friends.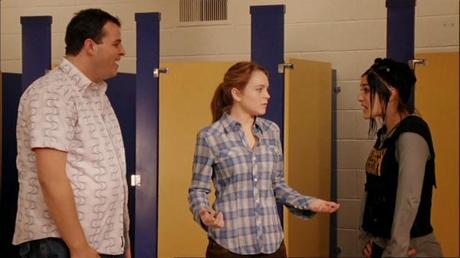 But at least now plaid is in the picture, which happens to be very on trend this season (Cady…such a trendsetter)
Then suddenly you are actually a part of the cool crowd but you're not exactly sure how you fit in with them.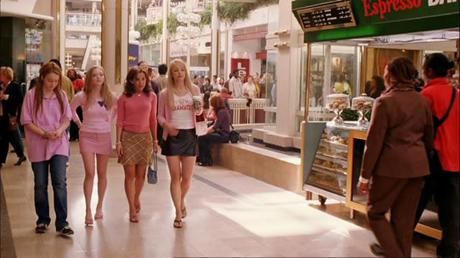 How can you even pick a best and worst dressed in this crew? Cady obviously isn't winning with that pink polo and jeans with gym shoes (one of my biggest fashion pet peeves). Karen's two shades of pink aren't all that terrible, although it does look like she's getting in the spirit for Valentine's Day. Gretchen's skirt is far from fetch (more like fugly) and Regina is just being a little bit dramatic. But let's all take a moment for the kitten heel thong sandals. RIP…never come back.
And when you're in the cool crowd, you're the one who can make anything happen.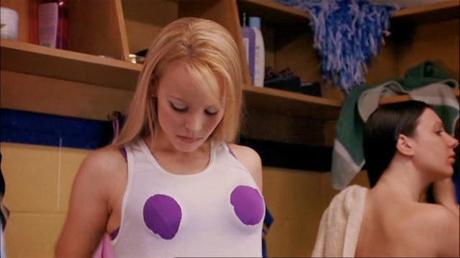 Literally…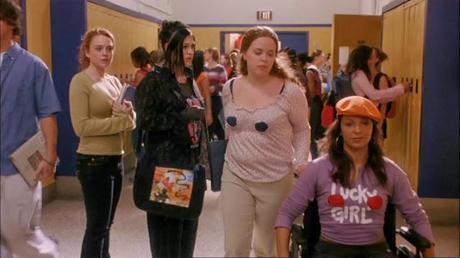 Is it wrong to compare Regina George to Olivia Palermo? They don't follow the trends…they set them (similar to Regina's relationship with candy cane grams).
And speaking of candy canes…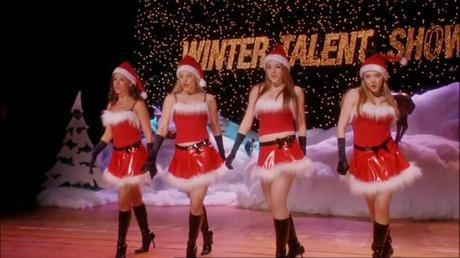 How has it taken us this long to realize Cady's talent show costume is significantly smaller than everyone else's? Is it because she replaced a fourth plastic we didn't know about who was not on the all carb diet?
Some things are better left unanswered. But you'll always have your friends for final approval of any important outfit.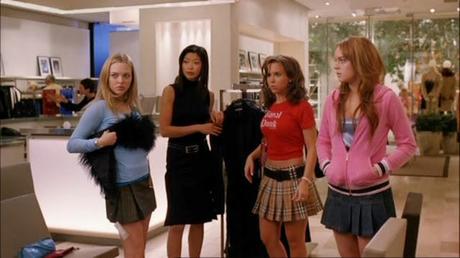 Even if your diet backfires and you no longer can fit into anything that the store carries. At least you have friends like Karen who's pretending this fur stole is bandeau top, Gretchen who really wants you to know she likes Burberry and Cady who never wants to be too overdressed or underdressed (as made apparent by her pleated mini skirt and juicy velour zip-up hoodie).
And when suddenly a friend gains a few lbs and you turn on them, there's room for a new Queen Bee (ideally it would be Beyonce but her rep said she was busy).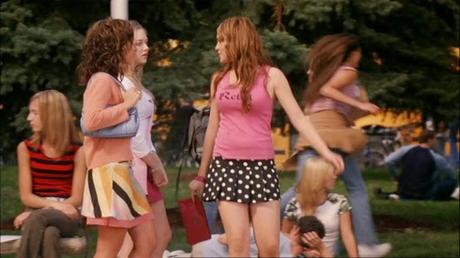 Now you can really show it all off in your Rebel tank and another classic mid-2000s pleated mini skirt.
Now that you're in charge, you call the shots…and you throw the parties.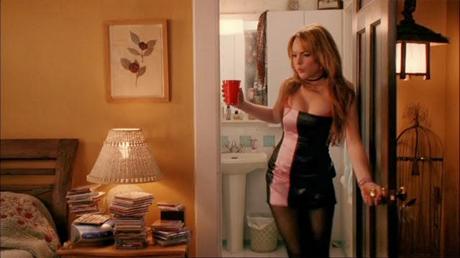 Cady's biggest dilemma throughout this entire movie is not who to be friends with or should she pursue Aaron Samuels but really…what should she wear for her first party as Queen Bee? Naturally, a too-tight tube dress (maybe from Wet Seal?) with a regular bra (not strapless, but pink to "match"), topped off with a black choker necklace. How middle millennium of you, Cady.
But then when everyone turns on you, you have to clean up and not look like a total skank (or fugly slut as we like to call it).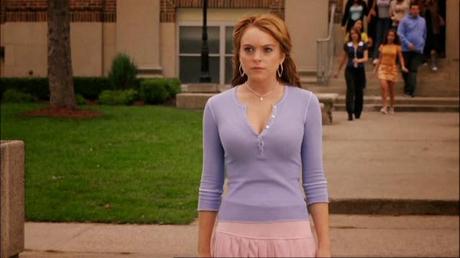 So mixing pastels (as well as another appearance by a pleated mini skirt) was the safe choice.
And once your fake friend gets hit by a bus and everyone thinks you pushed her even though you didn't, everything goes back to normal. But then you have to worry about this…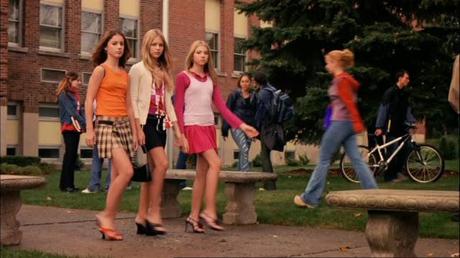 More. Heeled. Thong sandals.
PS. Be sure and check out twitter #SideSmileSaves for all of the latest info on Black Friday and Cyber Monday sales!


Photos via http://www.leavemethewhite.com/caps/thumbnails.php?album=221