[Rated:4.0/5]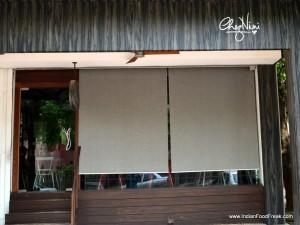 It was an invite by a friend to join him for lunch at Chez Nini; A European restaurant about which I have read and heard some mixed opinions. Not to be bogged down with anyone else's notion and anyway looking out for places to eat out while my wife was away at my in-laws, I immediately accepted. What I didn't know was that I will be witnessing the future of Indian restaurant industry.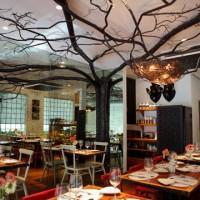 Away from the malls and the crowded Delhi market where parking can as much be a pain than traveling in a local DTC bus, the small but now happening Meharchand market comes as a much needed relief. The small 35-seater restaurant has minimal decor but a huge artificial tree coming from the corner and covering almost the entire ceiling caught my attention. Later, the beautiful trained chef-cum-owner Nira Singh told me about her dream of having a house which has a tree inside. Chez means 'at' in French while Nini is her pet name, meaning 'at Nini's house'. Things were quickly falling in place.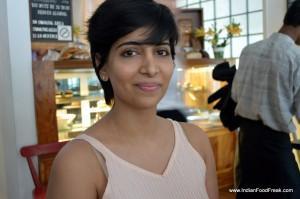 I was amongst the first one to reach, and Nira quickly came out from behind the kitchen to greet me, like I saw her greeting most guests. A welcome drink made with rose and soda was nice, and I could taste the real petals which was very soothing in peak Delhi summers.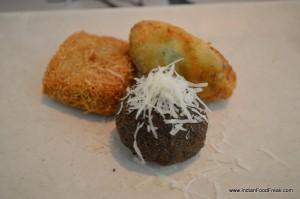 We were six of us soon and my friend, Avininder, mentioned that we are the select few who have been invited to do a tasting of some of the new dishes introduced at the restaurant. I knew it meant tasting lots of dishes but in small portions.  Starting with Croquets served with house spiced ketchup and creamy herbed emulsion – Zucchini Gouda, Arancini (fried rice balls), and salted fish, I knew we were in good hands. Arancini was just the right size and was filled with south Indian maata rice instead of regular Arborio rice. Maata rice is starchier than Arborio and absorbs much more liquid. My favorite amongst croquets was Zucchini –Gouda croquets with soft cheesy inside and crisp pastry.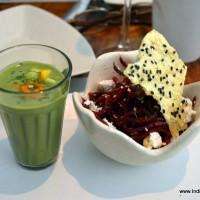 Next was green Gazpacho and Beetroot salad. The gazpacho had a lovely bite of sweet corn,  I would have liked it served chilled. The salad was fabulous with smoky flavours of feta delicately tingling the taste buds, with the crunch from dill and sesame cracker giving it more flavours.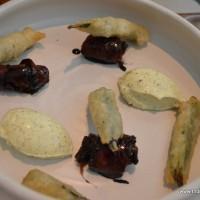 How wrong can one go with bacon wrapped dates? Here, she did not. The crisp bacon over sweet dates served with kasundi mayonnaise and tempura-like fried okra was creating harmony of flavours. Nira seems to be enjoying teasing us with just one piece of each and we fell to her game and kept craving and looking forward to what's next.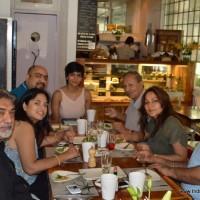 We asked her to take a little break and sit with us. All this time she was working like a super-woman. I could either see her behind the kitchen, taking orders, picking utensils, instructing her team, welcoming guests, talking to them over feedback and exchanging smiles. Perhaps, this would explain my opening statement of future of Indian hospitality. Come on, I have not seen owners picking up used utensils, or delivering dishes to customers. I am sure her pedigree of being born, brought up and studied in Montreal has lots to do with her temperament but then it is not a mean task to run such successful restaurant for a lady who is an alien to Indian culture and still learning to deal with the system.
If more of such owner-run restaurants set up shop in India, we are not far from getting a Michelin star. While cash rich people continue to employ talented staff who keep switching jobs for greener pastures, it is difficult to get sustained quality and of course the seal of quality.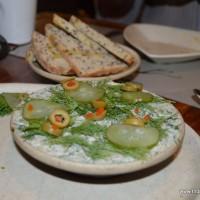 Next was smoked mackerel rillettes (almost like pate) served with in-house multigrain bread. We poured a little bit of olive oil which further accentuated the flavours from an otherwise fish which has a dry texture. By then I had shifted to beer from wine. I must mention that for a fine-dine restaurant, the alcohol prices are very competitive. Rs200 for a pint of Carlsberg beer and a glass of wine starting at Rs 450 per glass is extremely competitive.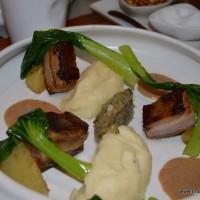 I have never been fond of Risotto, so while others enjoyed it I kept it on the side after eating shredded pumpkin which was on the top. Pork belly had a glazed crackling on top while inside was all meaty and soft, and if I had not eaten anything else, would have finished my entire meal on beautifully cooked Coq au Vin which was topped with carrot puree. The fresh market fish (Red Snapper) served on quinoa pilaf was flaky and perfect!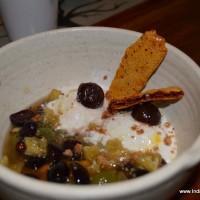 Finally, everyone was happily tummy-filled with the meal. We ate a spoon each of varieties of desserts – Fruit Gazpacho, Carrot Cake, Banoffee pie with sour cream ice cream and Sticky Coffee Pudding. I had fruit Gazpacho for the first time, but do not miss on this interesting dessert whenever you happen to visit.
The services, undoubtedly was efficient but wish the soiled plates were also changed on their own. Just like green gazpacho, wine was also served at a temperature which was tad higher than apt. Having said that, most restaurants fail to deliver when working on their full capacity, while Chez Nini in comparison was managing the show relatively very well.
Chez Nini is a welcome scene to Delhi's culinary scene. I was told by someone about the new French Pizza and beautiful duck burger it serves. After this eat-a-thon, these items will be certainly on my menu next time.
Ratings out of 5
Food: 4.0 | Ambiance: 4.0 | Service: 4.5 |Overall: 4.0
Meal for Two: Rs 2500 | Alcohol: Yes | Credit Card: Yes| Timing: 12 Noon – 11.30PM
Address: Chez Nini, 79 Meharchand Market, New Delhi | Telephone: 011-49050665/ 49050666
The tree
All of us
Nira Singh with her staff
banoffe pie
Chocolate
Carrot cake
Fruit Gazpacho
Red Snapper Fish
Coq au vin
Pork belly
Risotto
Smoked salmon Pate
Yes it's US
Nira Singh – Isn't she beautiful?
blue cheese pear tart
bacon wrapped dates
Green Gazpacho with beet root salad
Croquets
The nest
Caramalised Onion – Focassia
Rose soda- welcome drink