Last night, my sweet daughter politely told me that she is so sick of eating cakes these days as I had been testing numerous recipes for a project.
I do agree with her on this aspect and she suggested that I bake her some cookies instead.
I had bookmarked someChewy Mochi Cookie recipes some weeks ago as both of us like mochi and incorporating it into a cookie sounds interesting.
Coincidentally, I saw my IG friend attempted it and gave a good review.
So no more dallying for me.
I made just a small batch because I need to finalized one last cake trial so this meant that I have one more cake to eat again.
haiz.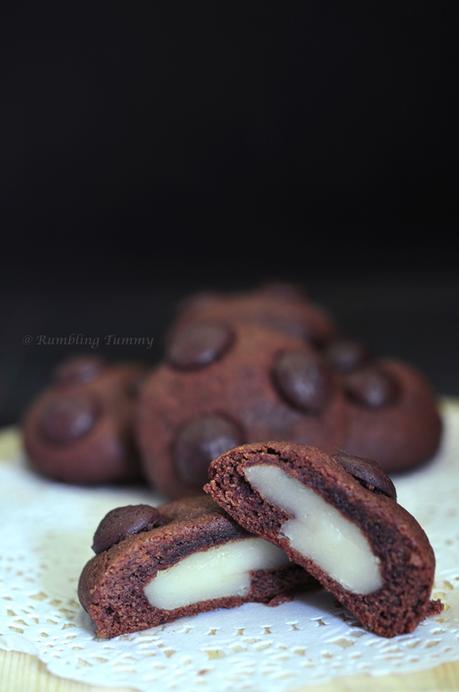 Findings: This cookie tasted really nice, the cocoa powder plays a huge role in this giving it an intense chocolately flavour, and with the added chocolate chips, my family totally love it.
But we find that this is best eaten within the baking day and
thankfully
, suspecting the mochi will turn hard, I only done a small batch.
Just enough to satisfy those rumbling tummies.
Source
What you need:
Yield : 14 pcs
Mochi50g glutinous rice flour15g corn starch100ml milk10g sugar10g butterDough70g brown sugar70g butter½ egg 125g cake flour15g cocoa powder, dutch processed
2/8 tsp baking powder
Method:
Mochi
In a microwaveable bowl, combine glutinous rice flour, corn starch, milk and sugar.  Mix well and clingwrap.  Microwave at 30 sec interval, stir each time until it is cook.   Let it cool slightly.Add the butter into a plastic bag and transfer dough into the bag, knead in the butter until fully incorporated.  It might be hot, so be careful.Let it chill.Preheat oven to 180°C.  Line a baking sheet with parchment paper.DoughIn a bowl, beat butter and sugar until light.Beat in egg slowly and until it became smooth.Sift in cake flour, cocoa powder and baking powder.  Fold until fully mixed.Divide dough into 20g each.Divide mochi into 10g each.Wrap mochi with dough.  Making sure it is sealed properly.  Flatten a little and place chocolate chip on it.  This dough does not spread out much, so it is okay to place them near to each other.Bake for 180°C for 12 mins or until cooked.
Enjoy!

If you have enjoyed this post by
Rumbling Tummy
, be sure to follow her on
Facebook
, Instagram, Pinterest,
Twitter
and
Google+
.