Dog toys keep your dog occupied when you're not around, and provide an outlet for energy and teach your dog and entertainment. Interactive dog toys with treats let dogs solve problems on their own and keep the mind and paws and mouth busy.
the Dog Miracle Puzzle™ from Nina Ottosson. This durable, cleverly constructed puzzle lets dogs seek out concealed treats by trying to move, lift or push aside durable, stackable bricks with their paw or nose. By changing the placement of the puzzle bricks and where the treats are concealed, pet parents can decide how difficult the game is going to be. The number of ways the bricks and hidden treats can be rearranged is virtually endless!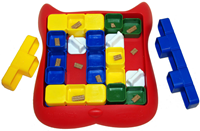 http://www.companyofanimals.us/products/toys-and-games/nina-ottosson-games/nina-ottosson-interactive-plastic-toy-dog-miracle
Cici was all gung ho for finding treats and eating them. She tore the bricks apart looking for them. Then she started chewing on the plastic bricks and I had to take the game away from her. Thankfully, I was there to supervise her. I would NOT advise leaving this toy alone with your dog for any length of time in case your dog enjoys chewing plastic (or anything she can get her paws/teeth on) as much as Cici does.
Star Spinner by Kyjen
Dog games develop cognitive ability in a fun way.
Enrichment toys were first implemented in zoos to eliminate boredom of captive animals. Every well-balanced animal needs stimulation and enrichment. Among the methods used to create stimulating environments are food puzzles. They encourage animals to interact with their surroundings while foraging for food. This allows them to use natural instincts that would help them survive in the wild…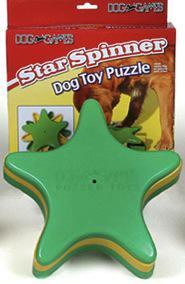 http://www.kyjen.com/puzzle/
Again, Cici looked for the treats, was able to find them and within 2 minutes, she was done. There was no challenge for her. Maybe she has a mouth that just wants to chew and lick all of the time. Obsessed.  Her mouth keeps going and going and going.
I think the best "toys" for Cici are ones she can chew on…
and we finally found something safe she can chew on for hours and that lasts and lasts and lasts…  we tried Himalayan chews and she ate one in 10 minutes. I usually freeze soup bones but worry about her chomping off sharp pieces and swallowing them.  the antler does not do any of that. The antler does not break apart easily nor splinter.
The antlers are best for dogs that love to chew and aren't picky…they keep your dog busy and out of trouble and will help to keep her teeth clean. The antler dog chews come right out of nature and are completely unprocessed.
Long-Lasting: Antler chews are long-lasting. They last much longer than bully sticks or chews made of compacted starch or rawhide.
Safe chewing: Deer antlers for dogs are much less likely to chip or splinter when they are being chewed than processed bones. The chewing action grinds the antler chew down slowly.

Healthy: Chew antlers contain many beneficial nutrients and nothing artificial.

Odor-Free: Antlers have virtually no odor or residue to get on your carpet or furniture.

Variety: Antler chews vary in shape, thickness and color. A benefit of purchasing multiple antlers for your dog is that no two are alike and your dog will enjoy the variety in his chews.
Antlers from Pet Expertise are the best quality: As antlers for dog chews are getting more popular and difficult to source, some other antler chew sellers are offering low quality, old, chalky, antler that is likely to splinter and crack. Other sellers offer antlers that are split down the center which can cause the antler to dry out quickly and become brittle. Rest assured that Pet Expertise antler is grade A, fresh antler from the USA only and will continue to be!
Antlers from Pet Expertise are economical: Pet Expertise was the first online retailer to offer high-quality, large antler chews and have been offering them since 2005 (they are their biggest seller.
Safe Chewing Hint: When giving your dog an antler (or any) dog chew, their trainer recommends the following: 

Supervise your dog. Do not allow your dog to attempt to break the chew in half with his back teeth. Do not allow your dog to consume more than 1/2″ to 1″ per day. If you need to get the antler away from your dog and he doesn't know "drop it", you can trade him for a tasty treat such as a piece of meat or cheese.
This is the XL. They are $16.75
http://www.petexpertise.com/dog-toys/antler-chews.html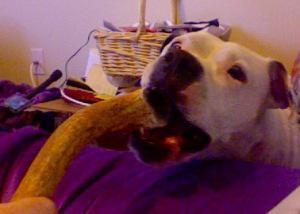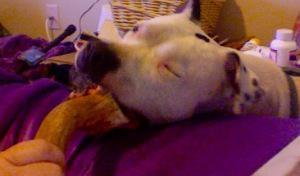 clearly, Cici's bliss is chewing an antler…  she has chewed on this one for the last few days, about 2 hours a day and there is no sign that this antler is any worse for the wear and tear of her chewing. She will have many more hours to enjoy this antler.  If/when we travel, I would take an antler with us for her to enjoy while I was driving.  HIGHLY RECOMMEND.   Four paws up !!!