Chest Exercises For Men - Explosive Chest Workout to Get Huge Pecs!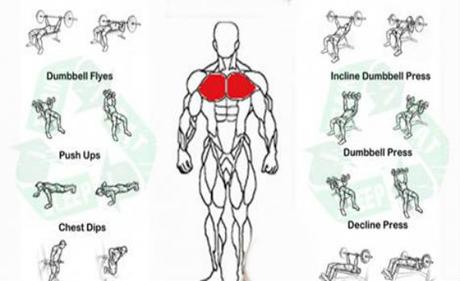 Chest exercises for men can really bulk up your muscles so you get killer pecs! In this article I want to tell you the best four exercises to make your chest look huge. To get a bigger chest you have to make your muscles work, so don't skip any of these exercises because they're hard! If you use them you will begin to see a massive difference in the size of your pecs very quickly...
Chest Workouts For Men - What You Need To Know...
There are loads of possible exercises that you can do to target your chest muscles, but the best are the ones that I'm going to reveal to you. These exercises should be done in sequence so that you complete a super-set (instead of doing them in any order that you want when you're in the gym.)
Chest Exercises For Men - Exercise 1: The T-Press Up
Step 1: Get into the press up position, with your hands just over shoulder-width apart and your body straight from your ankles to your head.
Step 2: Tense your abs, don't drop or raise your hips and lower yourself to the floor.
Step 3: Do a standard push up, then raise your weaker arm and raise it up. Your body will turn so that your upper body is facing left. Control your body then return to step one. (Swap which hand you raise after every press up!)
For this chest exercise you should do 10-15 of these in the first set and as many as you can on the second.
Chest Exercises For Men - Exercise 2: Parallel Bar Dips
This chest exercise is a toughy! Don't let that stop you from doing it as it will really help you to get a bigger chest. What you want is parallel bars in your gym. If there is more than one option then use bars which are spaced further apart (this works the chest muscles more; if they were closer they'd work the triceps more.)
Step 1: Grip the bars so that your arms are straight and you're elevated above the ground.
Step 2: Lower your body so that your arms bend. You want to slowly lower your body until your upper arms are parallel to the ground.
Step 3: Raise your body to the start position and repeat.
For this exercise you should do 10-15 reps on the first set, then return to exercise 1 to do the second set of that, then do as many dips as you can for the second set.
Now take a 2 minute break because we're going to do the next exercises in the chest workout for men - and these exercises need weights!
Chest Exercises For Men - Exercise 3: The Bench Press
The bench press is the most popular chest exercise for men that there is to get a bigger chest.
Step 1: You should use a barbell at heavy weight and lay down and grip the bar with your hands shoulder-width apart.
Step 2: Take the bar off the stand and hold it above your chest.
Step 3: Lower the bar until it is 1-2 inches above your chest.
Step 4: Raise it back to the starting position.
Use a spotter if you can. If you can't then don't use a weight that's too heavy! Move immediately move on to the next exercise...
Chest Exercises For Men - Exercise 4: The Dumbbell Fly
Step 1: Lie on a workout bench with a dumbbell in each hand, raised above your chest so your arms are nearly straight.
Step 2: In an arc shape, move the dumbbells out to the side, so your arms are parallel to the floor on either side of you.
Step 3: Lift your arms back up.
Take 2 minutes, then move back to exercise 3, then immediately to this one to complete the set.
Chest Exercises For Men - What You Should Think About...
Remember that when you do chest exercises with the aim of getting a bigger chest, you should use heavy weights. For each of the weighted exercises you should struggle to do 15 reps. If 15-20 reps are easy then use heavier weights.
To get an incredible physique you need to work on every aspect of your body. I'm Michael Ed Clarke and I've become an expert at muscle building...
Source