The tomatoes are still rolling in, and in the instance of the cherry tomatoes, we mean this quite literally as one of the baskets we frequently use to harvest garden goodies sprang a leak and sending cherry tomatoes gamboling across the kitchen.  These bright little berries (yes, technically tomatoes are a fruit) tend to disappear before we can use them in a recipe much like blueberries or cherries.
And, like blueberries and cherries, tomatoes are an excellent addition to a classic French tart. Tarts are so pretty and impressive with their carefully arranged elements. Unlike recipes for other savory tarts which usually have custard or cream-based fillings, this recipe guarantees that the taste and texture of the tomatoes will not get lost.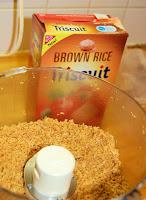 The crust is made from a new line of Triscuit crackers baked with 100% whole grain brown rice and wheat as well as other natural ingredients. These new "Real Food" Triscuit varieties have a lighter texture and crispier crunch. But, the true stroke of genius is the layer of mustard you spread on the tart crust which provides a spicy back-bite to the baked tomatoes. I used a layer about as a thick as you would spread on a sandwich, but you can be as parsimonious or as generous as you please. These little babies are perfect summertime fare, whether hot from the oven, or served at room temperature.
Triscuit Tartlet Crust
1 9-oz. box of Triscuit Brown Rice, Tomato & Sweet Basil crackers
1½ cups shredded sharp cheddar cheese
6 tablespoons (3/4 stick) unsalted butter, cubed and chilled
½ teaspoon freshly ground black pepper
To make the crust, empty the box of Triscuit crackers into a food processor and pulse until the crackers resemble fine bread crumbs. Pour the cracker crumbs out into a mixing bowl and mix in the butter, shredded cheese and pepper until completely combined. Place the dough in the refrigerator until ready to use. It is best if you can chill the dough for at least an hour.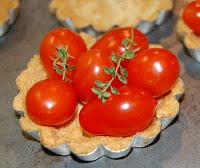 Pre-heat your oven to 425°F. If you are using tartlet pans, take about a one-inch ball of dough and flatten between the palms of your hands, then lay the disc into the tartlet pan and mold the dough into the pan. As you complete each one, set it in the freezer until ready to add tomato filling. You can also use a mini muffin pan to make tartlets, using about ½" ball of dough and molding into the cups.
Tomato Tartlet Filling
2 cups cherry tomatoes (or 3 medium vine-ripe tomatoes, cored and sliced ¼" thick)
2 tablespoons Dijon mustard
¼ cup grated Pecorino cheese, for sprinkling on top
Fresh herbs (thyme, basil, oregano), finely chopped
To fill the tartlets, spread a thin layer of Dijon mustard on the bottom of each tartlet. Gently prick a knife in each cherry tomato to barely pierce the skin. This will help the tomatoes to melt without exploding. Arrange the tomatoes in a decorative pattern on the tartlet crust. Repeat this process for each tartlet before baking them for 15-20 minutes depending on the size of your tartlets.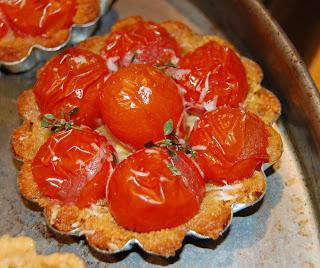 For the finishing touch, remove the tartlets from the oven 5-10 minutes before they are done and sprinkle the tops with Pecorino cheese and fresh herbs and pop back in the oven. When the crust is golden brown and the cheese is completely melted, remove the tartlet to a cooling rack. Allow them to cool for 5-10 minutes before serving because the tomatoes will remain scaldingly-hot for longer than you would think. Serve with a fresh salad and a crisp white wine for an irresistible summer treat.
A new take on an old favorite. Enjoy the new line of Triscuit baked with whole grain brown rice and wheat, some with real food ingredients like sweet potato or red beans.​ How do you reinvent classic meals or snacks? Comment below with your ideas!
This is a sponsored conversation written by me on behalf of Triscuit. The opinions and text are all mine.