I usually try to make the cocktails I do for Friday Cocktails ahead of time. Ideally a week ahead of time but the last few months I've been swamped with new house stuff; both indoors and outdoors and I'm lagging behind; I feel lucky to get a cocktail done on Wednesday or Thursday for a post on Friday but I have to say the attention to my yard has paid off even if I am so very late today! These Cherry Mint Margaritas? If you're reading this on Friday; I just finished getting them made at 12pm noon. Uh oh.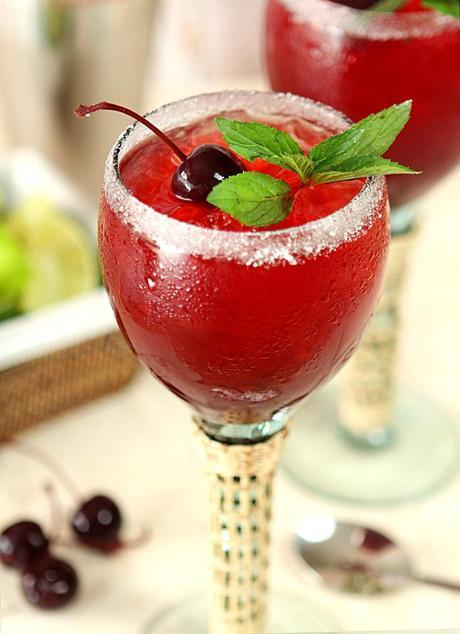 Still I didn't want to postpone posting this drink, I just knew it would be fabulous and it is. I was lucky to find some organic cherries yesterday from Colorado but I know the cherry season is waning. But wait…I have a tip that I was reminded of the other day when I looked at this cocktail which laughs at the short cherry season. Cherries nowhere to be found? Use some cherry preserves in lieu of fresh cherries and sugar; you won't' miss anything at all! An unexpected hint of mint brightens the entire drink and seriously the first one is almost gone. Glad I made two. :)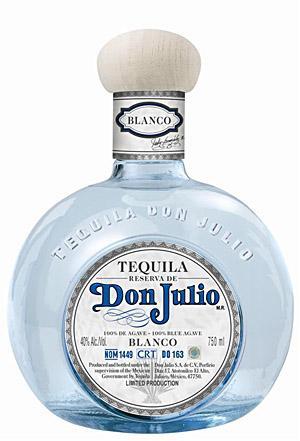 This cocktail was made using Don Julio Blanco Tequila. Don Julio Tequila starts off with high quality blue-agave grown in fields surrounding the town of Atotonilco, in Jalisco, Mexico. The agave is hand-picked  and steam-cooked for seventy two hours then grounded up prior to fermentation beginning. The fermented juices are distilled twice and once distillation is complete, Don Julio bottles the Blanco immediately while the Reposado is left to age in American white oak barrels for eight months.
These precise steps create impressive representations of both a Blanco and Reposado Tequila, both with a balanced flavor profile. Starting with a nose filled with notes of pepper, Don Julio Blanco marries these notes with tones of soft fruit. This creates a perfect unison of clean spice and sweetness with neither ever overpowering the other and both tequilas work great within cocktails.
You know about mint right; how it will take over in your garden? I've always planted it in a 5 gallon paint bucket that I then put into the ground and that controls it's spreading. This year with everything in pots I planted it with rosemary, thyme and chives. It's got a reputation and it's determined to keep it…it started as one little plant; look at how much it's spread! But no matter; just glad to have it and I'm going to make sure I use it; this cocktail was the perfect choice! Cheers!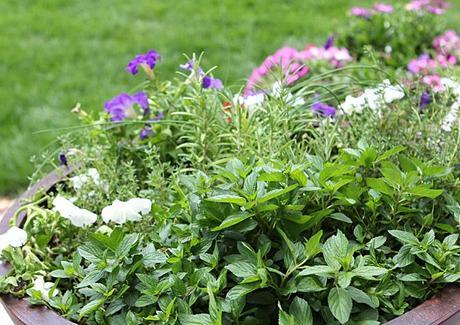 Cherry Mint Margaritas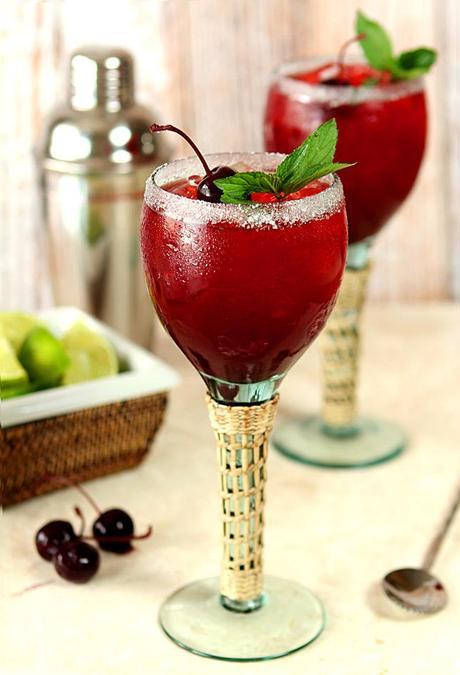 Ingredients
Lime wedge, sugar and salt (equal amounts combined) for rimming glass
1/4 cup fresh bing cherries, pitted
Half a dozen mint leaves
Sugar, to sprinkle
2 Tbsp agave nectar (or simple syrup)
2 Tbsp fresh lime juice
4-6 Tbsp Tequila, silver or blanco (clear)
2 Tbsp cherry liqueur, or to taste
Club soda, chilled
Mint leaves and Cherries with stems, to garnish
Preparation
Using a cut lime wedge, rub the lime around the outer edge of two chilled glasses; dip the glasses in the combination of salt and sugar. Fill the glass with ice.
Put the cherries and mint into a cocktail shaker, sprinkle with sugar and muddle with a muddler tool or a wooden spoon.
Add the agave nectar, lime juice, tequila and cherry liqueur and fill the shaker with ice.
Shake vigorously for 10-12 times; strain over 2 glasses and garnish with a mint sprig and cherry with stem.
2.5http://www.creative-culinary.com/cherry-mint-margaritas/This recipe brought to you by Creative Culinary | A Food and Cocktail Blog | Website: www.creative-culinary.com
I was provided with a bottle of Don Julio Blanco Tequila however all commentary is my own.