Cherry and Chocolate Cake
Spring is coming,first cherry tree are full of red sweet soft fruits.
My friend Blanka have Birthday and every year for her Birthday i bake this Cherry Chocolate cake decorate with lot white cream and fresh cherry fruits.
I like full and rich cakes and to bake this cake i needed lot of almonds,dark chocolate and big soft fresh Cherry fruits.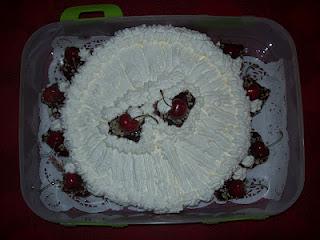 Cherry and Chocolate Cake
Integrates
biscuit
 6 eggs
500 gram almond
10 tbs sugar
2 tbs flour
1 tbs cacao powder
vanilla sugar
lemon peel
baking powder
sea salt
Chocolate cream Integrates:
200 gram dark chocolate
200 gram butter
200 gram powder sugar
300 gram almonds
4 tbs flour
3 eggs
1 lit milk
8 tbs sugar
1 tbs honey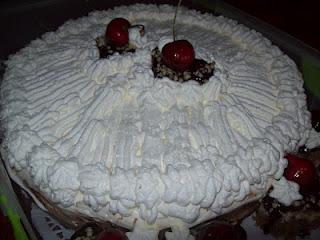 Integrates for decoration and cream
1 kg fresh Cherry Fruit
2 tbs original Cognac
1 lit  whipped cream
dark chocolate in liquid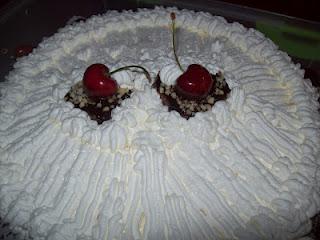 PREPARATION:
biscuit:
Make it as usual,beat white-eggs separate with little sea salt.
Bake it at 180 Celsius about 35-40 min.
Biscuit must be cold to cut it in 3 parts.
Cooked and cold chocolate cream ,melt dark chocolate ,fresh Cherry add as fill.
Its going like this:
add chocolate cream,than cherry than white cream,add second part of biscuit+all fill as on first part.
On the end add last part of biscuit pour with melt chocolate,decorate with white cream and lot of fresh Cherry.