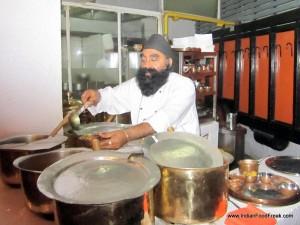 Chef Sweetie Singh in action
Dhaba at the Claridges, New Delhi will be hosting Chef Sweety Singh who will showcase an array of authentic preparations from the rustic Punjab region using his vast experience with Punjabi cuisine from 16th May to 1st June, 2014. I am at the Dhaba for a preview to get the taste of things to come. I am greeted by Chef Neeraj Tyagi of the Claridges, the man instrumental in organising this food festival.
Chef Sweetie Singh is unlike any other chef I have met. Affable and unassuming, he has gained a lot of wisdom in his years of running his modest dhaba opposite Delite cinema in old Delhi. Born in a refugee family he has had to struggle to make his way to the top. So when I ask him how his food will be different from the heavy, spice-laden food that we know as Punjabi, he says "what you should expect is original taste of home. Authentic Punjabi food does not rely on cashew paste or cream or an overdose of masalas. Real Punjabi food is cooked slowly, even overnight over coal fire of the chulha, and always with freshly ground masalas." Why is there so much difference between the food cooked in Punjabi homes, I ask. His simple answer is that there are no Godfathers who can guide young chefs.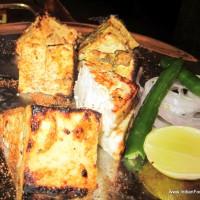 paratdaar paneer tikka
What stand out in the tasting session that follows are fresh flavours and restraint. Surmai Macchi de tikke (Rs. 1195) has a yielding texture, and Kandhari murgh de tikke (Rs. 995) is competent. Keeme di seekhan (Rs 1095) or mutton seekh kabab is tasty, though I would have preferred a coarser texture in true Punjabi tradition. Chukandar de kebab (Rs 745) is the Chef's own creation, and is an interesting combination of beetroot filled with cheese. The paratdaar paneer tikka (Rs 845) is the star kabab. It is a layered tikka with fresh, creamy paneer having mango chutney and pudina chutney inside, giving the taste an added dimension. Yummy indeed! In fact among the best paneer tikkas I have had in Delhi NCR.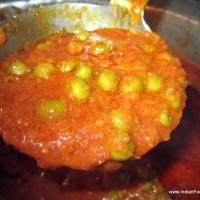 Matar Paneer
In the mains, the Amritsari meat tari wala (Rs 1295) is nice though the meat could have been cooked further which would have made the mutton pieces melt in the mouth and given the gravy that meaty taste that we expect from any Punjabi mutton curry. Nalli meat saag de naal (Rs 1295) has marrow bones cooked with spinach, and it is a delicious dish. Matar Paneer (Rs 895) is a Claridges Dhaba special, and is as good as ever.
The vegetarian dishes are, if anything, a couple of steps ahead of the meats.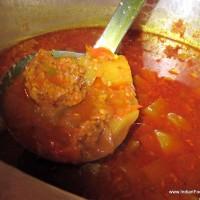 Gheeya wadi di sabzi
Gheeya wadi di sabzi (Rs 845) is made with an unusual combination of the famous Amritsari wadi and lauki has the authentic red color coming from tomatoes, wadi and Kashmiri laal mirch. Chikkad chholley (Rs 845) steals my heart with its sheer simplicity. Here are perfectly cooked chickpeas with no unnecessary masalas or cream.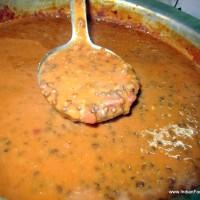 maa rajma di makhani daal
The next to come are the Dals. I am most looking forward to tasting Chef Sweety Singh's maa choleya di daal (Rs 745). I have some wonderful childhood memories associated with this dal, which we used to buy from the neighbourhood dhaba who would slow cook it overnight with juliennes of ginger, all smoky with the smoke from the chulha. The Dal I am served does not have that magic because, as I find out, it is not cooked on hard coal chulha, but on gas. But the maa rajma di makhani daal (Rs 825) has it all. The accompanying breads are a delicious Amritsari aloo kulcha (Rs 225), and an interesting gobhi wali make di roti (Rs 195).
It is time for desserts. Panjiri (Rs 325) is an Indian and Pakistani sweet snack, made from whole-wheat flour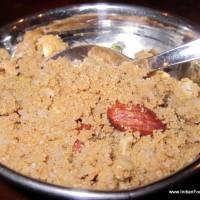 Panjiri
fried in sugar and ghee, heavily laced with dried fruits. It is usually eaten in the winters to ward off cold. Panjiri is normally also given to nursing mothers. This one is as authentic and as delicious as any Grandma can make. Chukandar da halwa (Rs 395) is a wonderfully crafted beetroot halwa sweetened mostly by beetroot's own sweetness. Kesari Kheer (Rs 395) in comparison is ordinary.
This festival has been both an eye opener and a journey back to the flavours of childhood. Best of all, after a long time, I come out of a Punjabi restaurant not feeling heavy. Good reason to come back!
Promotion period: 16th May to 1st June, 2014
Surmai Macchi de tikke
Matar Paneer
Gheeya wadi di sabzi
Kesari Kheer
maa choleya di daal
Chef Sweetie Singh in action
paratdaar paneer tikka
Kandhari murgh de tikke
Keeme di seekhan
Chukandar da halwa
maa rajma di makhani daal
Panjiri
Chukandar de kebab