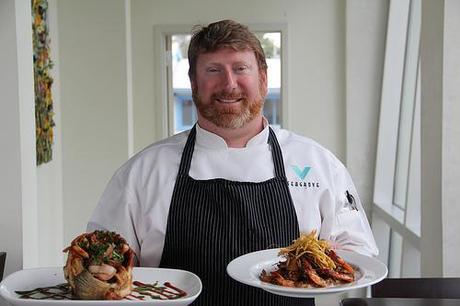 Chef David Cunningham of V Seagrove
David Cunningham is the Executive Chef of V Seagrove on 30-A. Chef Cunningham specializes in Gulf Coast cuisine, and creates the restaurant menu  based on seasonal ingredients, always fulfilling the need of the diner. Seafood dishes are most requested, like the Poached Grouper with Jumbo Lump Blue Crab, in a Morel Cream with Phyllo Pastry on top, and the Shrimp and Grits are also quite popular.
Shrimp and Grits
Chef Cunningham grew up in Baton Rouge, Louisiana learning to cook from generations before him. He shared with me his love of good food, and the special memories he has of his Grandfather making Gumbo from the leftover turkey at their family Thanksgiving. Cunningham has a passion for fishing and appreciates all Gulf Seafood, but reflects on his roots when speaking of his fondness for speckled trout and redfish. When at home with family on the weekend, he really enjoys grilling.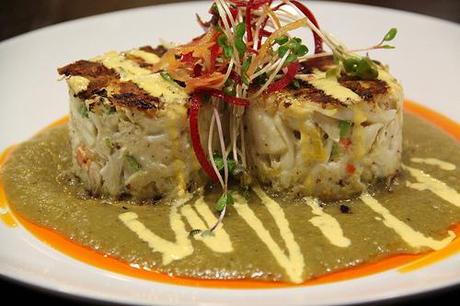 Chef David may love grilling, but I love his Crab Cakes!
Chef Cunningham came to the V Seagrove from the former Commanders Palace in Destin, where he was the Executive Chef, and prior to that, Commanders Palace in New Orleans, where he worked under his mentor, the famed Jamie Shannon. Working with Shannon gave him the insight he needed to be a more devoted chef. He was taught to search for the freshest local products, learned farming techniques, and that the best products and meals come right out your own back yard.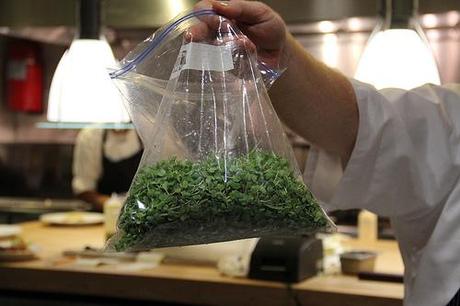 Local Micro-Greens
Chef Cunningham keeps his food clean, not intricate, and lets it present itself. You will find fresh foods from C&D Mills, Mac Farms, Apalachicola, and Destin Ice showcased on the plates at V Seagrove. When I asked about Cunningham's sources, he says, "If it's not fresh, it's not on my menu!"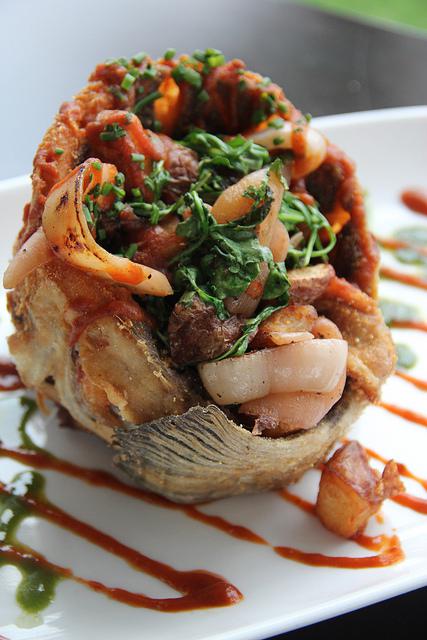 Fresh Local Crispy Fish
V Seagrove has an eclectic atmosphere with indoor and outdoor dining. They are located at the corner of Highway 395 and 30A. 2743 East County Highway 30-A in Santa Rosa Beach, Florida. Hours of operation are Monday through Sunday 6:00 p.m. to 10:00 p.m., and they can be reached by phone at (850) 468-0973. The General Manager is Sean Goss.