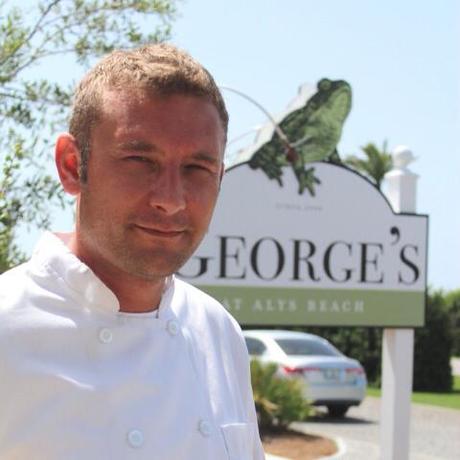 Chef Darek Tidwell is the new Executive Chef at George's at Alys Beach and has been taking 30A taste buds by storm. The Hartley's (owners of George's), have selected menu presentations with behave and misbehave options, along with Gluten-free, making dining easy for all. If looking for something different on steak night, try this fantastic fall recipe for Wood-Fired Cauliflower T- Bone's. Cauliflower is low in carbs and a great way to stay health conscious, especially around the holiday's!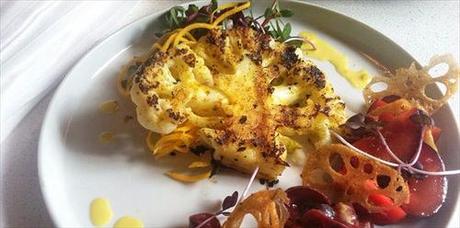 Chef Darek Tidwell's recipe as seen in food fanatics
Wood-Fired Curried Cauliflower T-Bone
adapted from food fanatics
Ingredients:
2 head cauliflower, sliced into 1-inch thick "steaks"
2 tablespoon madras powder
Blend of olive oil and vegetable oil
Salt and pepper, to taste
1 cup butternut squash, julienned
2 cup pursalane
Saffron vinaigrette, recipe follows
Pickled plums and muscadine grapes, recipe follows
Lotus root chips, recipe follows
Preparation:
Generously season cauliflower slices with madras powder and oil and wood grill until tender at the stem. Toss butternut squash and pursalane with saffron vinaigrette and salt and pepper.
To serve, place 2 slices of cauliflower on each plate, divide vegetable garnish on each one and garnish with pickled plums and lotus root chips. Makes 3 servings.
To make saffron vinaigrette: Combine 3 tablespoons sugar, 3 tablespoons lemon juice, ¼ cup mayonnaise, 1 brunoised shallot,1 minced garlic clove and 3 largre basil leaves chiffonade in blender. Pulse with 1 teaspoon saffron threads and stream in ¼ cup extra virgin olive oil to emulsify. Let rest for an hour to extract the color and flavor of the saffron.
To make pickled plums and muscadine: Cut 2 small plums into eighths and halve 1 pint muscadine grapes. Gently toss quarters of fruit in a mixture of 4 tablespoons chili sambal, 1 tablespoon sesame oil, 1 tablespoon soy sauce and 2 teaspoons chopped garlic. Add mixture to a mason jar and let sit for at least two weeks, up to six weeks.
To make lotus root chips: Peel and slice 1 pound thinly sliced lotus root; hold in 2 quart cold water with 4 tablespoons white vinegar. Fry at in flavorless oil heated to 350 F for 3 to 4 minutes until crisp and lightly browned. Remove and season immediately with togarashi.