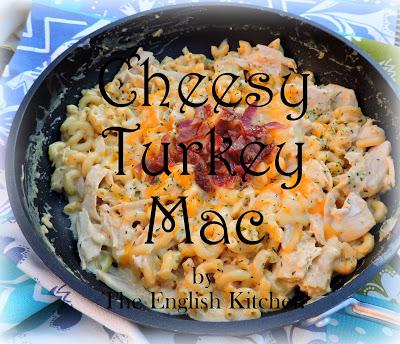 I needed to use up the leftover turkey from Christmas today and so I created a skillet supper with it.  I used turkey, but you could use any leftover cooked poultry actually.  Its a one pan dish that is not only simple and quick to make but also quite delicious!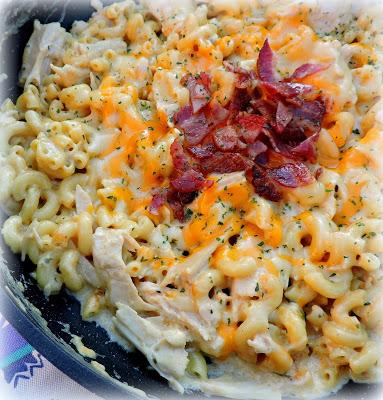 It has a delicious creamy and cheesy sauce  . . .  and you add the macaroni to it uncooked, so it cooks right in the pan.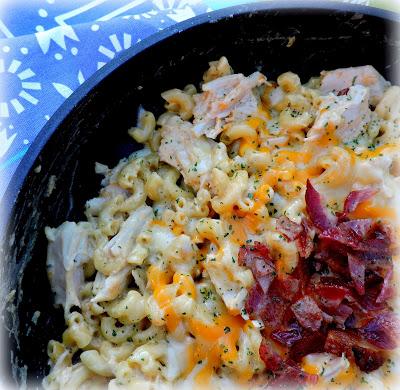 Herb and garlic cream cheese add to the creaminess of the sauce and really pack a flavor wallop . . .  and there is more cheesiness from a bit of regular grated cheese.  I used a mix of strong cheddar and red leicestercheeses.  The sauce is creamy, thick and delicious.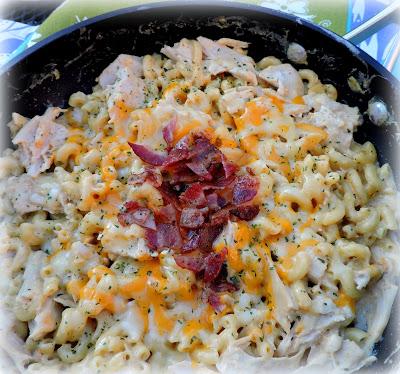 There is plenty of coarsely shredded turkey as well as the added touch of a sprinkling of more cheese to melt over the top of the finished dish along with some crumbled crisp cooked bacon.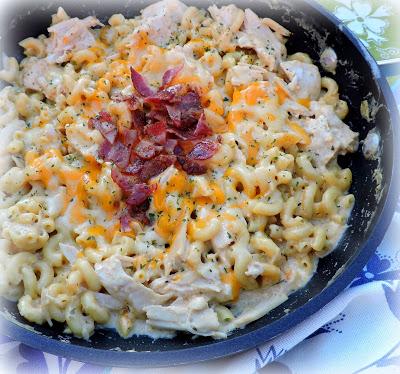 Altogether this is really delicious and so simple and quick to make that makes it a real family pleaser from the cook on down the line!  Winner/winner turkey dinner!  All you need is a mixed green salad on the side to complete the meal.  You could add garlic toast as well if you really wanted to.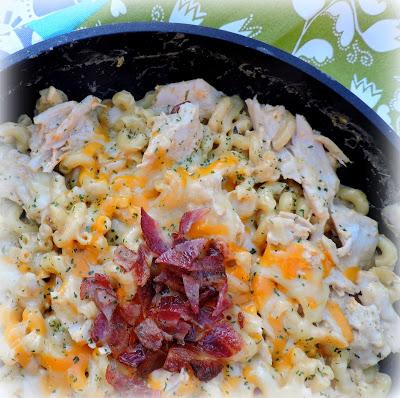 The diet doesn't start until Monday.  Technically it is still the holidays.  😉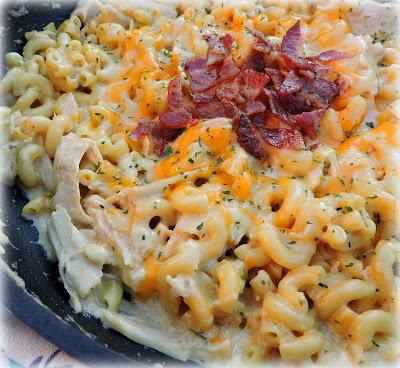 *Cheesy Turkey Mac*Serves 4Printable Recipe 
A most delicious way of using up leftover cooked turkey or chicken!   Simple to make and uses only one pan!  I like to serve a salad on the side.  
500ml chicken stock (2 cups)250g of garlic and herb cream cheese, cut into bits (8 ounces)2 cups shredded cooked turkey or chicken meat230g of uncooked elbow macaroni (2 cups)180g of grated cheese (I use a strong cheddar and red leicester cheese mix) (1 1/2 cups)6 rashers of streak bacon, cooked and crumbled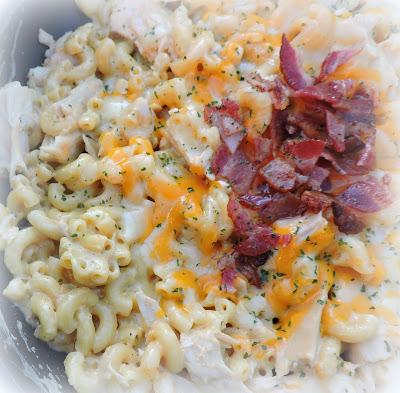 Using a 12 inch non stick skillet whisk together the stock and cream cheese over medium low heat until the cheese has melted.  Bring to the boil and then stir in the macaroni, turkey and 120g (1 cup) of the cheese  Reduce to low, cover and cook over low heat, stirring occasionally for 12 to 14 minutes until the pasta is tender.  Remove from the heat. Scatter the remaining cheese and bacon bits on top along with the bacon.  Let stand until the cheese melts and serve immediately. 
Note - this recipe can also be successfully halved to serve only two.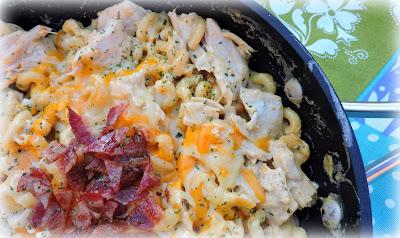 I really hate waste and this was an exceptionally tasty way to get rid of some turkey leftovers!  Bon Appetit!