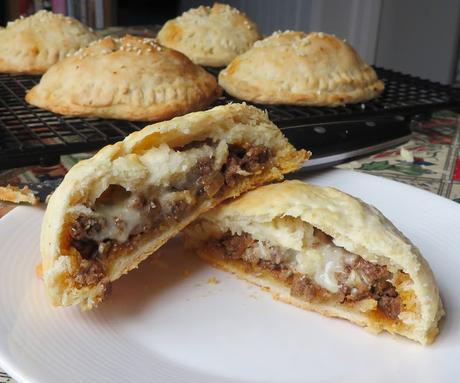 Cheesy Taco Puffs are a simple hot sandwich which my children would have absolutely loved when they were growing up.  These quick and easy hot sandwiches contain all of the flavours of their favorite tacos, except the taco filling is stuffed into a biscuit dough pouch/pocket. My children were always happy campers when tacos were on the menu.  I was happy as well because tacos were something which was quick and easy to make.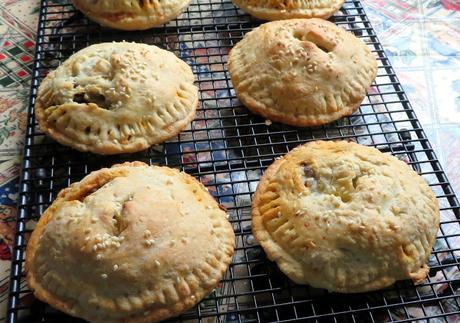 In my opinion these are even better than Tacos.  Probably because they are like little puffy pies and as those who know me well should know by now, if it is in a crust I am all over it.
These almost remind me of the pizza pops my youngest son used to love eating. Oh boy.  Did you have a fussy eater when you were bringing your children up?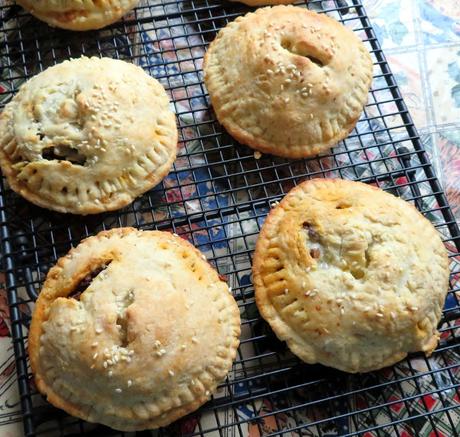 I raised five children, three boys and two girls. They each had their likes and dislikes when it came to food.  I never liked to force them to eat anything they didn't truly like. I had been forced to eat things when I was a child and I just have never thought that was the right thing to do.
If you don't like what is being served, then have a peanut butter sandwich or something like that. I have actually been physically sick by being forced to eat something I didn't like. Not everybody is going to like everything.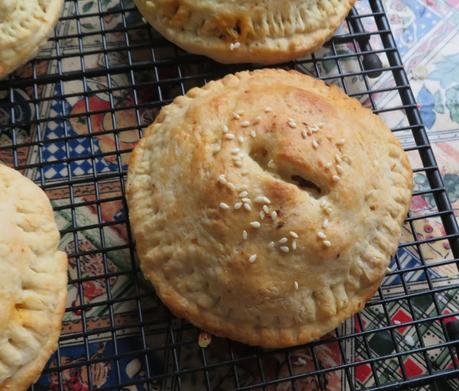 With me it was a texture thing.  I have never outgrown it.  There are certain textures in things which trigger my gag reflex big time, even now.  That is why I would never force my children to eat anything.
My youngest son was extremely fussy. He had not only his own dislikes, but took on board all of his brother's and sister's dislikes as well.  I used to really worry about him getting enough proper nutrition.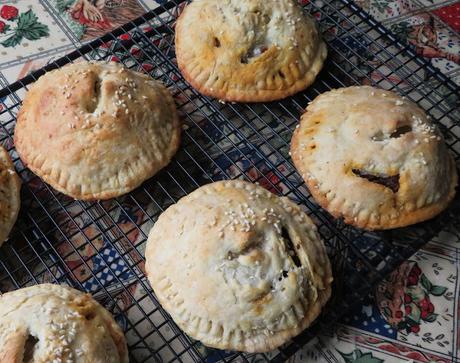 He was, admittedly a bit of a spoilted brat, but he was my spoilt brat. He went through periods of times where he would only eat things that were white.  Bread. Rice, etc.
Even his toast had to be a certain colour, not too dark, not too light and he did not want butter on it at all.  He went through another period of time where all he would eat was hotdogs . . .  until he made himself sick of them.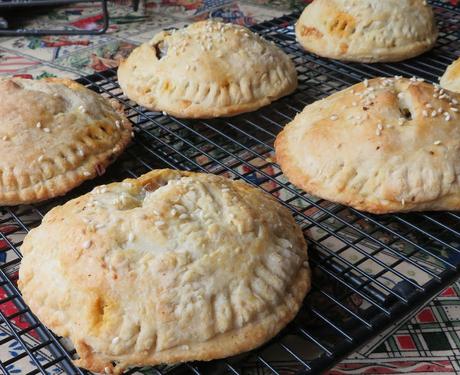 He really loved Pizza Pockets, and he loved Toaster Strudels. I learned to make my own so that it wasn't too expensive.
Gradually he grew out of it and he now eats everything pretty much, as far as I know.  I am pretty sure he would have loved these.  I really hope that one day I get to make them for my grandsons.  Fingers crossed!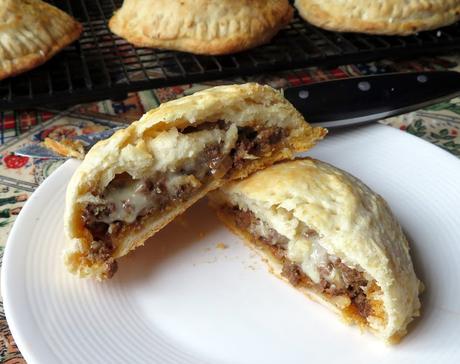 The filling for them is pretty simple. Extra lean ground beef, browned together with onions, garlic and a mix of seasonings. I have kept them as Tex Mex as I can in fitting with taco flavours.
You could probably use a package of taco seasoning instead if you wanted to, but I like to make my own seasonings. That way I can control the salt and the spice.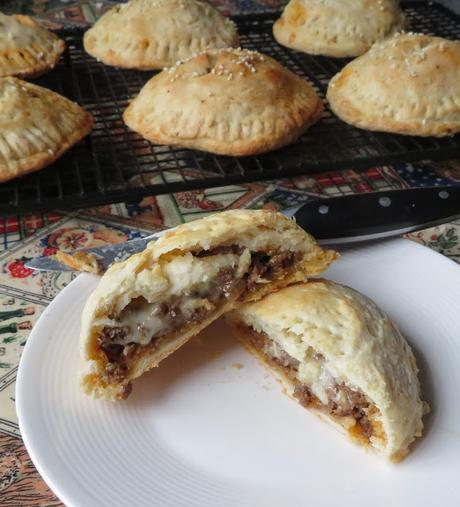 It also means that there are no nasty preservatives or additives in these. No MSG or other things you can't pronounce. If you can't pronounce it, you shouldn't be eating it.  Just my opinion. 
The meat filling for these is incredibly delicious.  Flavoured with onion and garlic, chili powder, cumin, oregano, paprika, salt and black pepper. You could use smoked paprika if you wanted to give them an extra little kick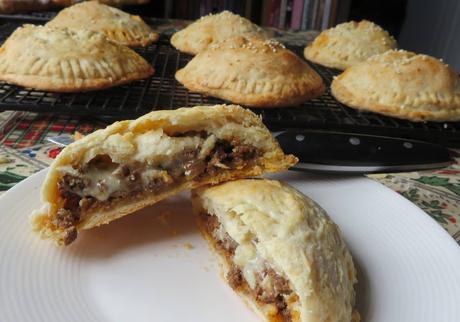 The crust is simply a homemade biscuit/scone type of dough. It is tender and flaky and works beautifully in these. You could use refrigerated biscuits if you wanted to, but again, these have no preservatives or un-pronounceable ingredients.
That's how I like it.  Trust me, the homemade dough is way better and its not really all that difficult to make!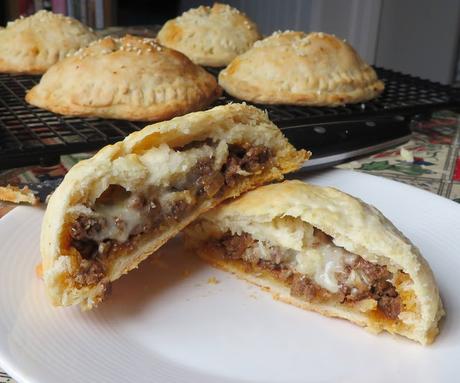 In addition to the meat filling, there is a generous amount of cheese. I have used strong cheddar here, undyed.  I like the flavor of strong cheddar cheese. It is creamy and packs a bit of a flavor punch without going over the top.
You could use a Mexican cheese if you wished to, like a Jack cheese. You could even use a Pepper Jack if you were wanting to add more heat.  That would be really delicious I think.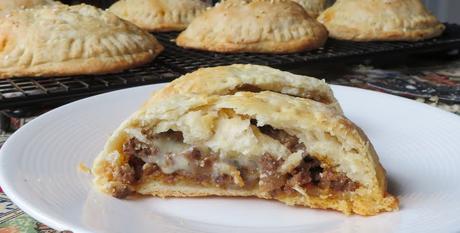 In fact, if you really wanted to, you could add some chopped roasted green chilies to the filling.  Those would be an excellent addition in my opinion.
These are excellent served as hot sandwiches, or even served at room temperature, which makes them perfect for stuffing into lunch boxes.  They are flaky, spicy and cheesy. In short delicious.  I really hope you will want to give them a go!
Yield:
Makes 6
Author:
Marie Rayner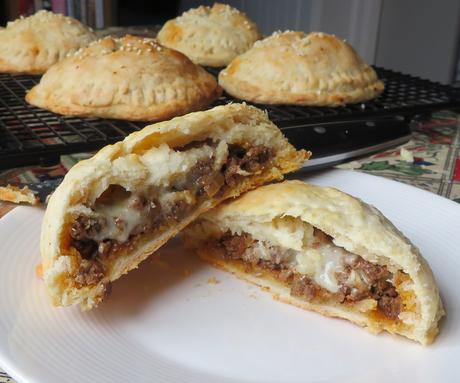 Cheesy Taco Puffs
These simple to make little puffs are fabulously tasty on their own or served with soup or a salad, or even stuffed into lunch boxes.
prep time: 15 Min
cook time: 20 Min
total time: 35 Min
Ingredients
For the dough:
2 cups (280g) all purpose flour
1/2 tsp salt
4 tsp baking powder
1 TBS sugar
1/2 cup (110g) white vegetable shortening such as Crisco or Trex (UK)
2/3 cup (180ml) milk
For the filling:
1 pound (450g)extra lean ground steak
1 medium onion, peeled and finely chopped
2 fat cloves of garlic, peeled and minced
1 TBS mild chili powder
1 tsp ground cumin
1 tsp paprika
1/2 tsp dried oregano
fine sea salt and freshly ground black pepper to taste
2 cups (245g) grated medium to strong cheddar cheese
You will also need:
fresh milk to brush on top
sesame seed to sprinkle
flour to dust the counter for rolling
Instructions
Make the filling first so that you can cool it before stuffing the pockets.
Spray a large skillet with non-stick cooking spray and heat over medium high heat. Add the ground steak, garlic, and minced onion. Cook, stirring occasionally, until the onion begins to soften. Add all of the herbs and spices along with a few tablespoons of water to moisten.
Cook, stirring, until the beef is no longer pink and is beginning to brown. Set aside to cool completely while you make the biscuit dough.
Sift the flour and baking powder into a bowl. Stir in the sugar and salt. Drop in the shortening and cut it in with a pastry blender or two round bladed knives until the mixture resembles coarse bread crumbs.
Using a fork, stir in enough of the milk to give you a soft dough that isn't overly sticky.
Dust a flat surface with some flour. Tip the dough onto it and knead a few times.  Roll out to 1/4 inch thickness. Using a floured cutter, cut into 12 6-inch rounds, gathering any scraps and re-rolling out the dough as required.
Preheat the oven to 400*F/200*C/ gas mark 6. Line a large baking sheet with some baking paper.
Place six of the dough rounds onto the lined baking sheet.  Top each with 1/6 of the meat mixture and then divide the cheese between all six rounds, placing it on top of the meat. Leave a small border all the way around.
Brush the border of each with a bit of  milk. Top with the remaining six rounds (you may have to stretch them a tiny bit)and crimp shut with a fork.  
Brush the tops with a bit of milk and sprinkle with some sesame seeds. Cut a tiny vent into the top of each with a pair of kitchen scissors.
Bake in the preheated oven for 15 to 20 minutes until golden brown. Serve hot or at room temperature.
Did you make this recipe?
Tag @marierayner5530 on instagram and hashtag it #EnglishKitchen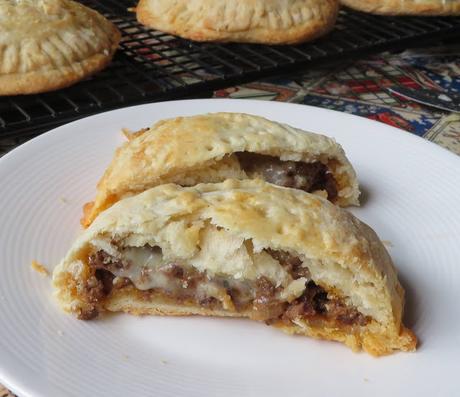 This content (written and photography) is the sole property of The English Kitchen. Any reposting or misuse is not permitted. If you are reading this elsewhere, please know that it is stolen content and you may report it to me at: mariealicejoan at aol dot com Thanks so much for visiting. Do come again!