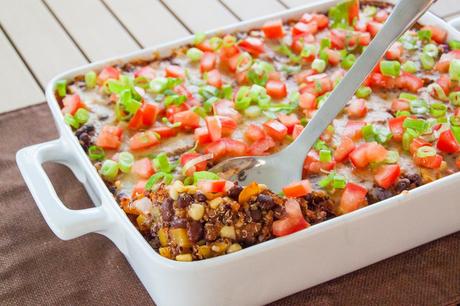 I'm always looking for delicious one-pot meals - the kind that I can just stick in the oven, not worry about, and know that it will turn out to be absolutely delicious.
That's where this recipe comes in 🙂
A lightened-up, healthy quinoa bake that you can enjoy completely guilt-free. Reminiscent of enchiladas, slightly spicy and super satisfying, full of black beans, veggies, and cheesy goodness. And the leftovers (fresh or frozen/defrosted) taste even better!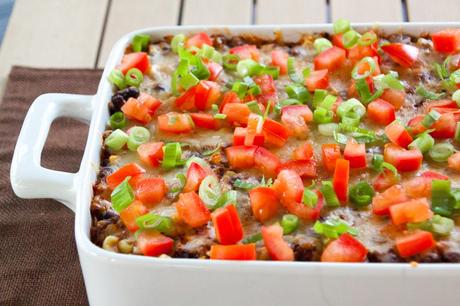 This was super kid-friendly - Layla could easily eat it up with a spoon, and she asked for seconds!
I like this twist on enchiladas because we're using quinoa instead of tortillas - which makes this dish gluten-free as well. Also, by using quinoa we're adding some extra protein and fiber, and you save on prep time because you don't have to assemble individual enchiladas! Just throw everything into a pot, mix it up, and bake in your favorite casserole dish.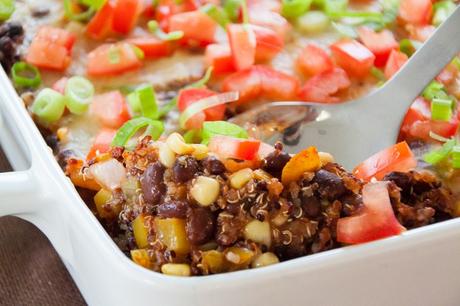 The Ingredients
1 cup quinoa
1 15-ounce can tomato sauce
1.5 cups vegetable broth
1 tbsp chili powder
1 tsp ancho chili powder
½ tsp chipotle chili powder
1 tsp garlic powder
1 tsp onion powder
1 tsp dried oregano
1 (4.5-ounce) can chopped green chiles, drained
1/2 cup corn kernels, frozen, canned or roasted
2 15oz cans black beans, drained and rinsed
3 yellow peppers, diced
1 onion, diced
1 tsp cumin
1/2 tsp salt
1.5 cups mexican shredded cheese
3 Roma tomatoes, diced
green onions, sliced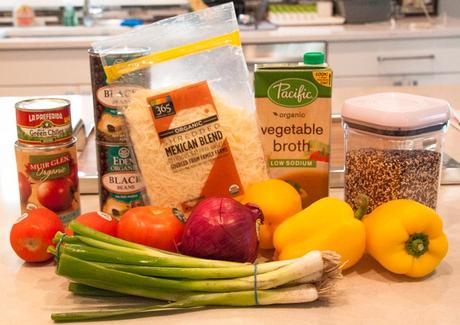 The Directions
Step 1: Cook quinoa according to package directions. Meanwhile saute onion, peppers, corn, cumin, salt, black beans and green chiles in a pan.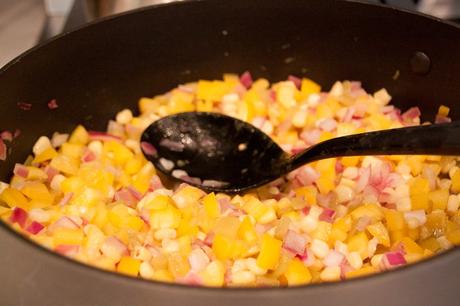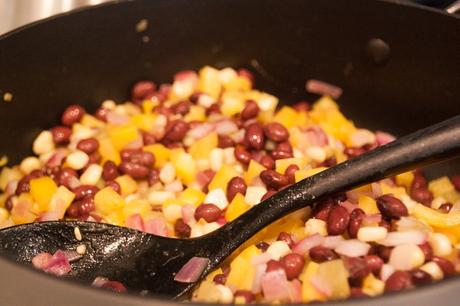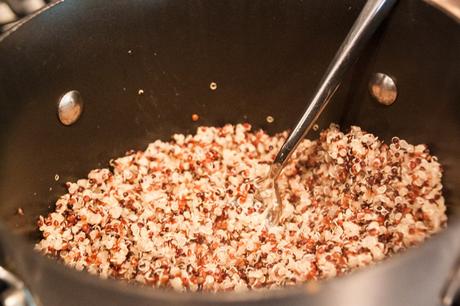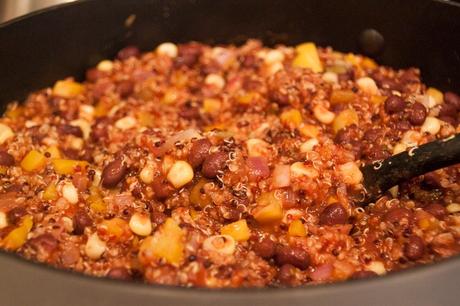 Step 2: While that's cooking, make the sauce: combine the tomato sauce, vegetable broth, chili powders (all 3 of them), garlic powder, onion powder, and dried oregano in a medium sauce pan over medium heat. Whisk to combine, then turn the heat down to low and let simmer 5 minutes.
Step 3: Mix quinoa, sauce and half of the cheese in the pan with the black bean / veggie mixture.
Step 4: Transfer the mixture to a casserole dish, top with cheese, and bake at 375 degrees for 15 minutes, or until the cheese is melted and bubbly.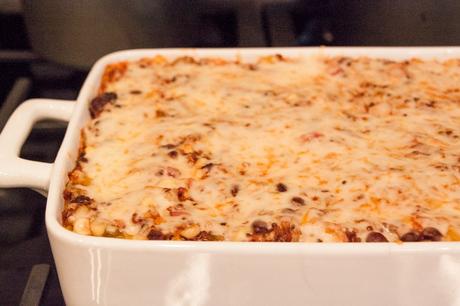 Step 5: Top with diced tomatoes and green onions.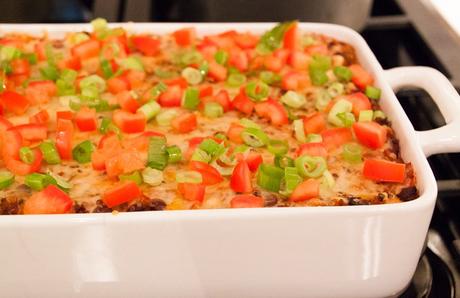 Eat and enjoy! I hope you love this recipe as much as we did - it's perfect for a big crowd, or even for a small family dinner (just freeze the leftovers and reheat when you need a quick weeknight dinner!)
Ingredients
Directions