Hi Pixies! Today's post is more of a 'lifestyle/food' post as, in all honesty, I'm trying to cut back a bit when it comes to buying beauty products as I want to save up as much money as possible for my trip to London at the end of the week. I was at a loss about what I could blog about when my brother suggested that I should share my recipie for
Cheesy Nachos
seeing as my Salted Caramel Hot Chocolate recipe seemed to go down well.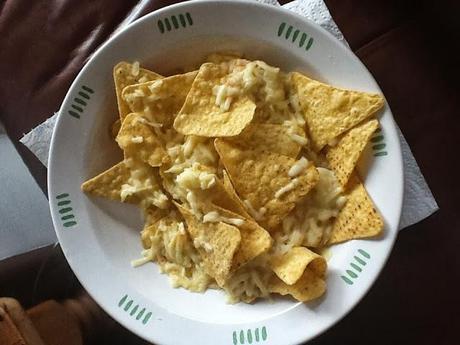 You'll Need:
Family sized bag of Doritos or Nachos (it doesn't make any diffrence)
Cheese (either a block or grated, it's up to you)
A big bowl that's safe to use in a microwave.
Butter.
Microwave or Oven.
01. So first of all, take your Doritos/Nachos and pour them into the bowl so that it's roughly half full.
02. Take your cheese and cut about 1/4 of it into small slices (a little goes a long way!) or if you have chosen to use grated cheese then simply sprinkle it on top of your Doritos/Nachos.
03. Continue to fill up your bowl with more of your chosen crisps, covering up the cheese that you just added.
04. Add more cheese to cover the second layer of crisps.
05. Add a small about of butter on top of the top layer of cheese, this gives it a slightly salted taste.
06. Pop the bowl into the microwave/oven on the highest setting for around 2-5 minutes, depending on how melted you want your cheese to be.
07. Take out of the oven, allow them to cool for a minute then enjoy.