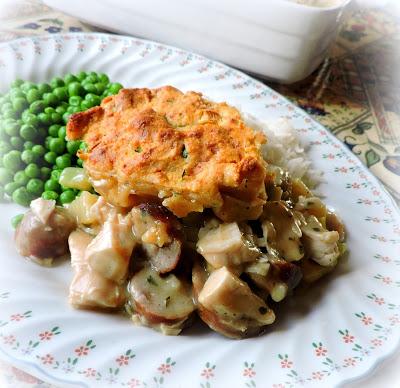 You are going to love this delicious version of a Turkey Pot that I am sharing with you today.  For my American readers it will be a unique and delicious way of using up some of their Thanksgiving turkey leftovers, and for my British readers it will be a wonderful way o f using up some of their Christmas turkey leftovers, so whichever side of the pond you reside, this is a recipe you will want to bookmark and use!  Its simple to make and very, very tasty!  Leftovers never tasted so good!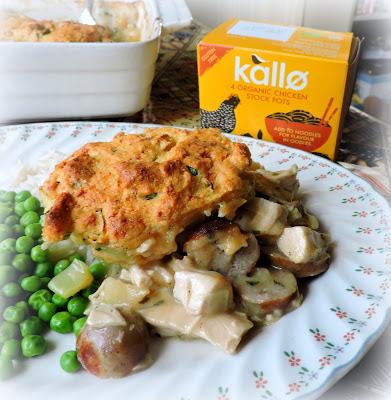 Its also a recipe which allowed me to highlight a product that I received in my November Degustabox which arrived just two days ago.  Win/win!  I get to eat something tasty and I get to do something for this fab company at the same time!  Yay!  I was a little late getting my review in last month, so this month I am being sure to get it in extra early before the holidays take over and time gets away from me!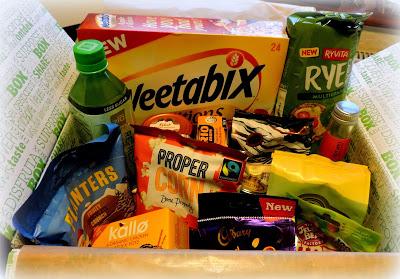 Every month I am the happy recipient of a Degustabox. I love these boxes. Opening each one is a bit like opening a Christmas box. Always a surprise and always filled with things I want to try. Degustabox is a monthly foodie subscription service that sends out a range of specially selected foodie products. There's always a great mix of new products that I haven't tried before, as well as plenty of treats from more established brands. Quite often you will have the opportunity to try new products before they arrive in the shops, so it can be a bit of a sneak peak! Each Degustabox costs £12.99, delivery costs are included in the price, and there is no fixed contract involved - you can cancel at any time. I love getting these boxes!!  This month actually was their Christmas box so bonus! There were quite a few things in this recent box that screamed out to me as something which I could use to create something tasty with, so watch this space.  Today I want to highlight the Kallo Stock pots in the recipe I am showing you, but first a bit about what was in the November Box.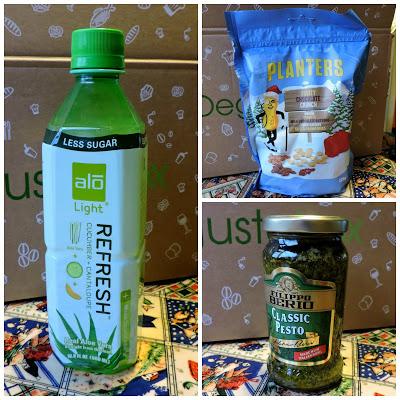 ALO
1 X £1.99
ALO is the only quality-proven brand of Aloe Vera drinks in the UK drinks market today. We pride in and are confident of our premium quality, taste and experience. As Aloe Vera drinks are already known to be complementary to Asian dishes, Alo offers the best of it's kind.
Very healthy!
PLANTERS
FRUITY CHOCOLATE CRUNCH 1 X £2.00
Planters are making this festive season even more exciting with the introduction of two deiciously indulgent nut mixes.  Planter Fruity Chocolate Crunch is made with crunch peanuts, juicy cranberries and deliciously creamy milk chocolate buttons, guaranteed to get those taste buds tingling. 
A deliciously indulgent snack!
FILIPPO BERIO
Classic Pesto 1 X £
Made with freshly picked Ligurian Basil, crushed pine kernels, fine Grana Padano cheese and Filippo Berio Extra Virgin Olive Oil, our traditional green pesto is sublime stirred into pasta sprinkled with parmesan. Filippo Berio Classic Pesto is delicious in a host of recipes, on meat or fish, used as a filling in peppers or in chicken breasts, on new potatoes, in place of butter, or mix or drizzle it for an instant taste of Italy.
If you are going to use a bottles Pesto, this is the one to pick!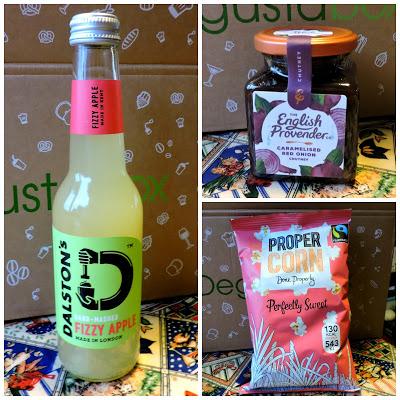 DALSTON'S
FIZZY APPLE  1X £1.89
Our fizzy apple sodas are packed with Jonagold, Idared and Bramley apples from farms in Kent. We work with the Nightingales farm - Gibet Oak - to make this soda. The Nightingales have been growing apples for ... a long time.  And they're pretty good at it! 
This is delicious!  
ENGLISH PROVENDER CO'S
CARAMELIZED RED ONION CHUTNEY 1 X £1.99
The English Provender Co's Caramelized Red Onion Chutney is the perfect accompaniment to your festive cheese board and ideal to add flavor to sandwiches. The brand's signature chutney uses sweet red onions to creat a delightfully sticky savoury chutney which will brighten up any dish.
We adore the English Provender Co products. They are all quality.
PROPERCORN
PERFECTLY SWEET POPCORN 1 X £0.89
Hand-popped corn, sprinkled with unrefined Fairtrade sugar for a perfectly sweet caramelized flavor.  PROPERCORN pride themselves on makin gsure that theyir popcorn is delicious and guilt free.  With a dedication to detail, they try to make everything the best it can possibly be.
Perfect for guilt-free Christmas movie night!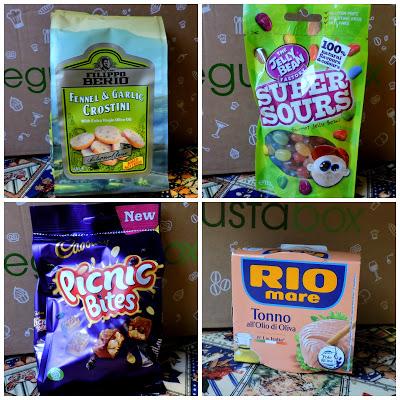 FILIPPO BERIO
Fennel & Garlic Crostini 1 X £
Inspired by our favorite Italian flavours, these Fennel & Garlic Crostini are made from freshly baked bread, mixed with aromatic fennel seeds with sea salt and drizzled with our signature Filippo Berio Extra Virgin Olive Oil. Because they're baked, not fried, our Crostini are lower in fat, but still with an addictively delicious taste.
Bursting with flavour, Filippo Berio Fennel & Garlic Crostini are perfect straight from the pack, with dips or as a special treat with drinks.
Suitable for Vegetarians and Vegans 
A source of fibre 
30% less fat than regular crisps
These will be great over the holidays to serve with drinks, cheese and nibbles!
THE JELLY BEAN FACTORY
SUPER
[email protected]
1 X £1.79
The Jelly Bean Factory Super Sours Jelly Beans come in 9 fantastic flavours to tickle your tastebuds. Each Super Sour Gourmet Jelly Bean is made using natural flavours and colours.  They're also gelatine free, gluten free and nut free as well as being suitable  for Coeliacs and Vegetarians!
I am a huge fan of The Jelly Bean Factory jelly beans!
CADBURY
PICNIC BITES 1X £1.99
Nobbly nibbles of crispy wafer, chewy caramel, crunchy peanut and juicy raisins, all wrapped in Cadbury milk chocolate.  Shake it up with new Cadbury Picnic Bites!
Oh gosh . . .  very moreish!
FILIPPO BARIO RIO MARE TUNA IN OLIVE OIL
1 X £3.00
Made with the best tuna and selected oive oil, its unique taste and appealing color make it an unmistakeable product, creating the excellence of real Italian taste.
I love quality tuna.  This will be great for a Nicoise salad later on in the month.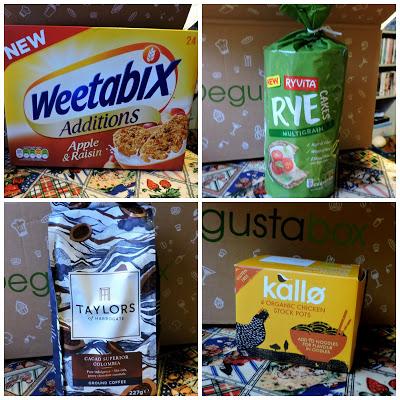 WEETABIX
ADDITIONS 1 X £2.99
Our new Weetabix Additions range is high in taste: 100% whhole grain with a burst of delicious fruit. Delight yoursenses with a nutritious breakfast that's packed full of flavor with delicious apple, juicy raisins and warming cinnamon promising temptingly tasty goodness in every bite. Have you had your Weetabix?
Weetabix is a favorite breakfast cereal in this house and with fruit, well can it get any better?
RYVITA
MULTIGRAIN RYE CAKES 1 X £1.39
Made wit popped wholegrain rye, Rybita Multigrain Rye Cakes are naturally high in fiber and low in fat, making them a delicious and wholesome snack. Get creative with your favorite toppings or enjoy them on their own. The choice is yours! 
Love my Ryvita any way I can get them.  These are delicious!
TAYLORS OF HARROGATE
Single Origin Coffee 1 X £4.49
Taylors of Harrogate is an independant family tea and coffee company from Harrogate. Our single origin coffee explores extraordinary flavor from the world's great growing regions - carefully roasted to bring ou tthe flavor profiles unique to each country. You can find the range at Morrisons, Sainsbury's, Waitrose, Ocado and Amazon.
*Either the Rare Blossom Ethiopia or the Cacao Superior Columbia variety is included in each Degustabox.
We don't actually drink coffee, but this will make a nice gift for a friend who does.
KALLO
ORGANIC STOCK POTS 1 X £1.80
Introducing the NEW Kallo Organic Stock Pots. Made with organic, natural and high quality ingredients, the flavoursome stock pots enhance the taste of your favorite recipes; soups, stews and traditional pasta dishes. Available in three flavours - chicken, beef and vegetable, just stir into your cooking to unleash your flavor pot-ential.
*One of three flavours is included in your Degustabox  
I already use their stock cubes, and rice cakes.  I especially love the milk chocolate ones.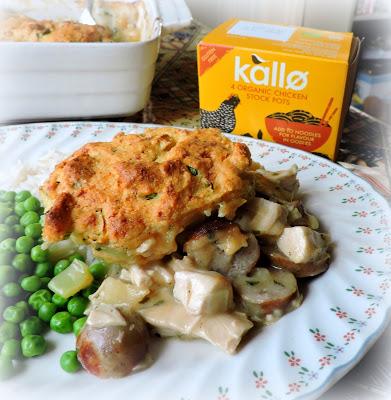 I personally received the Kallo Chicken Stock Pots and this is what I used to make the filling for my pot pies today.  I thought they added a lovely flavor to my gravy, and worked out perfectly.  I love that all of the ingredients are organic and natural. Nothing artificial here.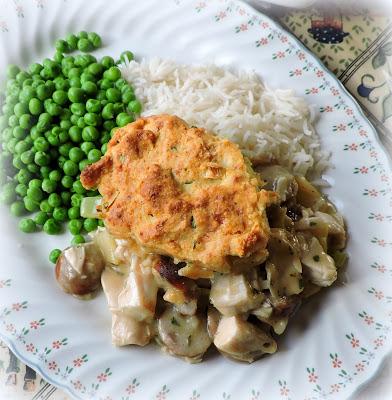 The filling is very simple to make.  You begin by sauteing some celery and onion in a large saucepan, and then you add some chopped apple.  This forms the base for that delicious gravy.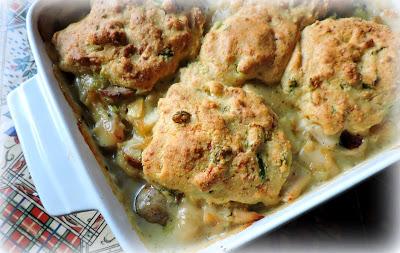 You add some chopped cooked turkey and a couple of sliced cooked sausages to the gravy and pour it into a baking dish.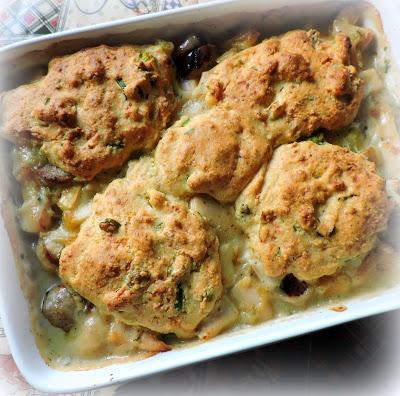 Then a simple cheese, spring onion and cornbread dumpling getd dolloped on top and you pop the whole thing into the oven until the filling is bubbling and those dumplings are puffed, golden brown and so deliciously sitting on top!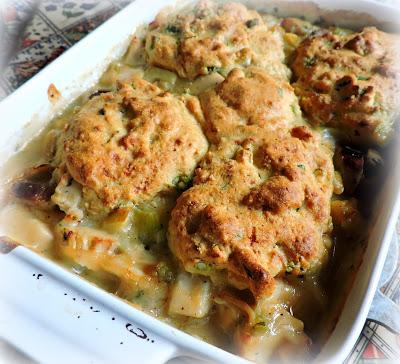 Altogether this is quite, quite delicious and very easy to throw together.  I think this is something the whole family is going to love, and of course a part of that is having a delicious stock to make the gravy with!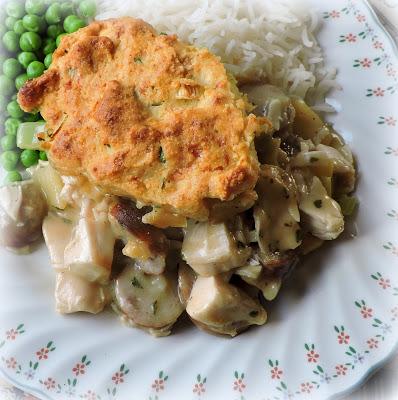 *Cheesy Cornbread Turkey Pot Pie*
Serves 4
Printable Recipe  
Leftovers from your holiday meal, put together in a very delicious way. 
For the filling:1 1/2 TBS butter1 small onion, chopped1 stalk celery, trimmed and chopped1 sweet/tart eating apple, cored and chopped3 TBS flour360ml  chicken or turkey broth (1 1/2 cups)
60ml milk (1/4 cup)1 1/2 cups chopped or shredded cooked turkey2 fat sausages, cooked and sliced1 TBS chopped fresh flat leaf parsley1/4 tsp black peppersalt to taste

For the topping:
70g plain flour (1/2 cup)90g cornmeal (1/2 cup)60g strong cheddar cheese, grated (1/2 cup)1 spring onion, thinly sliced1/2 TBS sugar1 tsp baking powder120ml  milk (1/2 cup)1 small egg, beaten1 1/2 TBS butter, melted and cooledsalt and black pepper, pinch of each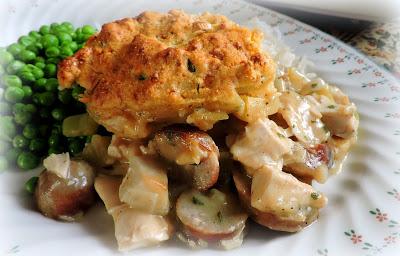 Melt the butter in a large saucepan over medium heat.  Cook the onion and celery, until they begin to soften without colouring. Add the chopped apple and cook until tender.  Whisk in the flour and cook for one minute.  Stir in the stock and milk.  Cook, stirring for about 5 minutes.  Stir in the cooked turkey, sausages, parsley and pepper.  Cook, stirring often, until the sauce is thick enough to coat the back of a wooden spoon. Taste and season with salt as needed.  Pour into  1 1/2 liter (2 quart) baking dish. 
Preheat the oven to 190*C/375*F/ gas mark 5. 
Whisk together the flour, cornmeal, cheese, spring onions, sugar and baking powder.  Whisk together the milk, egg, butter, salt and pepper. Add all at once to the dry mixture stirring to combine.  Drop by the spoonful over top of the hot turkey mixture.  Bake for 30 to 35 minutes, until puffed and golden brown.  Serve hot.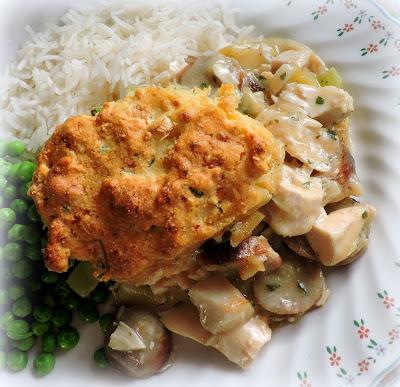 So, that was the November Degustabox - a nice selection of products as always. We loved it. The price of each Degustabox is £12.99 (including delivery). To order your box, visit www.degustabox.com  Many thanks to Degustabox UK for sending me this box. I have to say I really look forward to getting my box each month. There are always lots of things in it to enjoy and new products to try out. I highly recommend. You can also tailor the boxes to your own likes and dislikes by filling in your own Taste Profile.  Do you like the sound of the Degustabox October 2017 box? Why not sign up now! I find them to be really good value for money spent and I really enjoy trying out new products that I have not tried before.  
Follow them on Facebook 
Follow them on Twitter 
Note - Although I was sent a box free of charge any and all opinions are my own.
Bon appetit!