We aren't sure what it is about a strata that makes it such a revered comfort food; maybe it's the added warmth of the oven on a cool day or maybe it is the nostalgia; the yearning for a simpler time when a simple dish made with modest, unpretentious ingredients. Either way this toasty, cheesy casserole with delicate flavors of leek, cremini mushrooms and cauliflower layered with bread and sharp cheddar cheese will make you feel all cozy inside like being wrapped in your favorite blanket.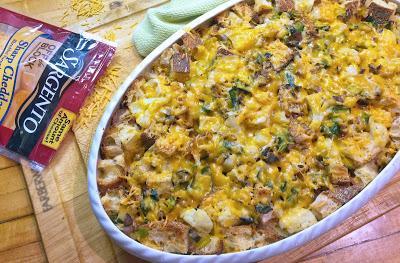 While we used these particular ingredients in order to compete in the "Chopped At Home" Challenge sponsored by the Food Network and Sargento®, you could use almost any vegetable combination that strikes your fancy. The addition of some sausage or chicken would be quite tasty as well.
Like a bread pudding, there are several types of casseroles based on the technique of soaking leftover bread in broth, milk or custard and then baking until the inside layers are soft and creamy. While the lines between these dishes can be blurry, the main difference lies in the kind of soaking liquid that is used.
A strata is made by layering bread slices and adding eggs and milk (usually more eggs than milk) giving them a consistency and flavor akin to quiche. A panade is a soupy casserole made with chicken or vegetable broth resulting in a savory dish similar in consistency to spoon bread. Panade is sometimes compared to stuffing in which the quantity of liquid is reduced to equal the volume of bread and other ingredients. Lastly, bread pudding is also made with eggs, milk or cream, and bread, but has a denser, softer custard with a milkier flavor (due to a more equal ratio of eggs and milk). Stratas and panades are typically savory, while bread puddings can be sweet or savory. These homey casseroles can be served at breakfast, brunch or as a side at dinnertime. They also make the perfect potluck dish.
1 8-oz. package of cremini mushrooms (a.k.a. baby portabellos)
3 cups cauliflower florets
1 large fresh leek, chopped
3 tablespoons unsalted butter
6 large eggs
2 cups milk
1 tablespoon Dijon mustard
1 teaspoon salt
1/2 teaspoon black pepper
1/4 teaspoon freshly grated nutmeg
6 cups crusty stale bread, 1" cubes
1 cup cheddar cheese, grated
Blanch and drain cauliflower removing as much liquid as possible.
Cook mushrooms in butter in a large heavy skillet over moderate heat, stirring for 3-4 minutes. The mushrooms will release a good bit of moisture. When the moisture has cooked off, add the chopped leek and continue to sauté for another 3-4 minutes until leeks are soft and tender. Stir in cauliflower, then remove from heat.
Spread half of the bread cubes in a buttered 3-quart gratin dish or other shallow ceramic baking dish and top evenly with half of the vegetable mixture. Sprinkle with half of the cheddar cheese. Repeat layering ending with cheese on top.
Whisk together milk, eggs, mustard, nutmeg, salt and pepper in a large bowl and pour evenly over strata. I use a sheet of plastic wrap to gently press down on the ingredients (so the bread soaks up the egg mixture) before adding the top layer of cheese. Chill strata, covered with plastic wrap, at least 2 hours (or overnight) for bread to absorb more of the liquid.
Remove the strata from the refrigerator and let stand at room temperature for 30 minutes. Before cooking. Preheat oven to 350°F.
Bake strata, uncovered, on the middle rack of the oven until puffed, golden brown, and cooked through. Depending on your oven this should take from 45 to 55 minutes. Let stand 5 minutes before serving.
Let stand at room temperature 30 minutes before baking.