Though my girl loves tarts especially egg tart, I hardly made tarts because my skill in molding the pastry to the tart tin is terrible.  Due to my warm hands, the pastry often melts before I even had a chance to do it properly plus I like my crust to be thin too so it became really challenging.  The sticky dough thus frustrates me a lot as I cannot do a good job.
I was eyeing on this tart press for the longest time but it was really expensive here.  I did enquire with an online shop in Malaysia but it turned out that they have big difference in quote to a Singaporean and to a Malaysian.  After conversion, there is no difference if I get it in Singapore.    
Anyway, recently during my KL trip, I managed to buy a tart press and I was delighted.
ET's Cheese Tartlet greeted me this morning during my morning FB read. 
With this cool wet weather, I guess it will be the perfect time to bake some tarts for my princess and since I have some cheese blocks in the fridge, Egg tart will have to wait.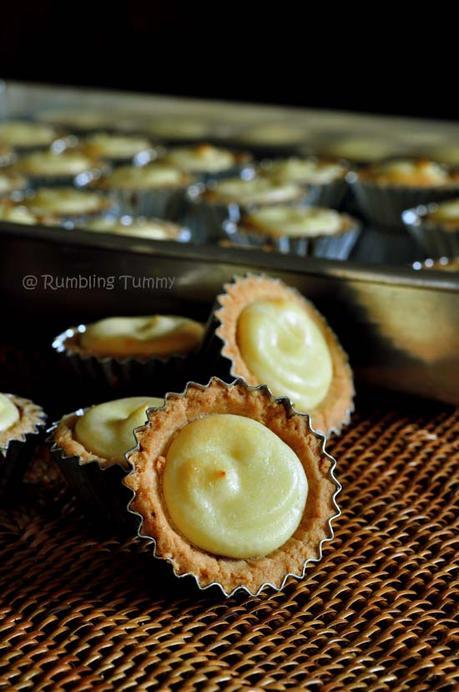 Findings: This recipe is so easy to put together and it tasted yummy too.  Going to share some with my neighbor.
The crust is crunchy and not too sweet.
I have added in some berries jam so my cheese mixture was just nice to fill up all 49 pcs.  

Thanks ET for sharing such a nice recipe.  
SourceWhat you need:2" tart
yield : 49 pcs
Crust
160g butter
40g castor sugar
half egg, beaten
250g plain flour 
40g almond flour
Method:

Cream butter and sugar until light and fluffy.
Beat in egg.
Add in flour and mix until it forms a dough.
Mold into the tart tin and bake 170°C for 20minutes.
Filling

250g cream cheese. Leave it in room temp for 15 minutes
15g butter
50g icing sugar
30g beaten slightly
10g non dairy whipped cream, optional *
½ tsp vanilla
Method:

Beat cheese, butter and icing sugar until light and fluffy.
Add in the egg little by little.
* If batter is too heavy, FOLD IN GENTLY the whipped cream
Assembly
Arrange shells in a tray

Put in flavor filling like choc kr blueberry, Nutella etc

Pipe cream cheese onto the shell.  Hold the bag horizontally. Squeeze the cheese into the shell.
Bake at 170°C for 10 to 15minutes.
It is done when the cheese no longer sticks to your fingers.
If you have enjoyed this post by
Rumbling Tummy
, be sure to follow this Rumbling Tummy on
Facebook
, Instagram, Pinterest, Twitter and
Google+
.