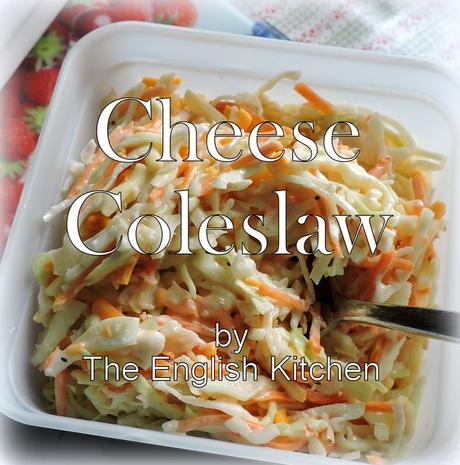 Cheese Slaw isn't something I had ever tasted before moving over here to the UK.  I hadn't even really considered it.   I think it was my friend Jo who mentioned it one day at work when I was working at the Manor and my interest was piqued.  Cheese  . . . in coleslaw?  It just had to be good!  I often add chopped dried fruits to my coleslaw, which gives it a lovely hint of sweet.  Cheese makes it a bit more savoury.  It's very moreish!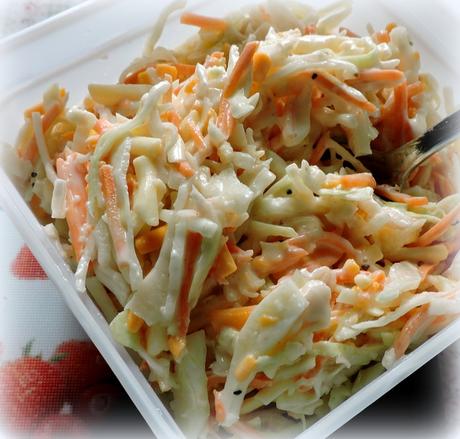 I made this the other day when we had the Missionary Zone Leaders over for supper.  I always like to have some sort of salad when we feed the missionaries.  The girls always like a leafy salad, but the guys are always a bit more fond of coleslaw.  Not sure why that is, but, meh . . .  what can I say!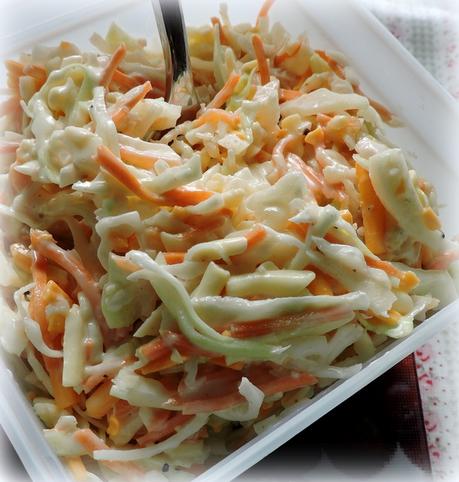 I didn't really get  a lot of photos of it.  Todd hates me taking food  photos when we have people over.  But trust me when I say this is delicious.  I am not fond at all of storebought coleslaw.  It's too bland for my taste and too gloopy.  I like my coleslaw to have a nice flavor and plenty of texture.  Bland coleslaw is a no no for me.  Suffice it to say there were no leftovers the other day.  One of the guys said to me . . .  "Did you make this coleslaw?  It's the best I've ever eaten."  I was quite happy to respond in the affirmative!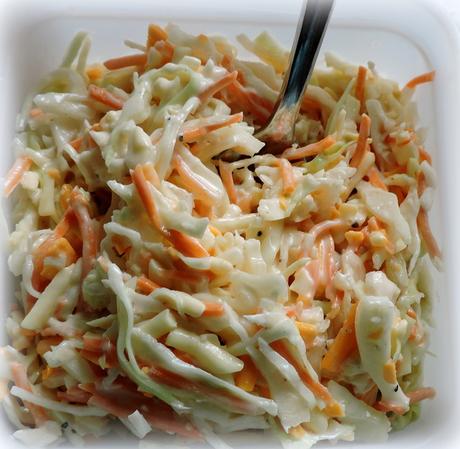 *Cheese Slaw*Serves 4 to 6 Printable Recipe 
This is delicious and a bit different than regular slaw.  I like a nice quanitity of cheese in mine, but you use as little or as much as you want.  
3/4 pound (12 ounces) white cabbage, cored, trimmed and finely shredded(I like to shred by hand.  It takes longer, but I like the texture better)1 large carrot, peeled and coarsley grated1/2 small onion, peeled and finely grated165g of good quality mayonnaise (3/4 cup)55g of salad cream (In American you can use Kraft Coleslaw dressing)1 TBS cider vinegar1 TBS sugar1/2 tsp celery saltfine seasalt and freshly ground black pepper to taste120g of coarsely grated cheese (1 cup)(I used a mix of strong white cheddar and red leicester)  
Shred and grate all of your vegetables, and toss together in a large bowl.   Whisk together the mayonnais, salad cream, cider vinegar, sugar, celery salt and salt and black pepper to taste.  Pour this ovr the vegetables in the bowl, tossing to coat.  Stir in the cheese.  Cover and chill in order for the flavours to meld together for at least an hour.  This keeps well for a day or so.   (If you have any left that is!  It goes very well with cold slices meats and in sandwiches too!)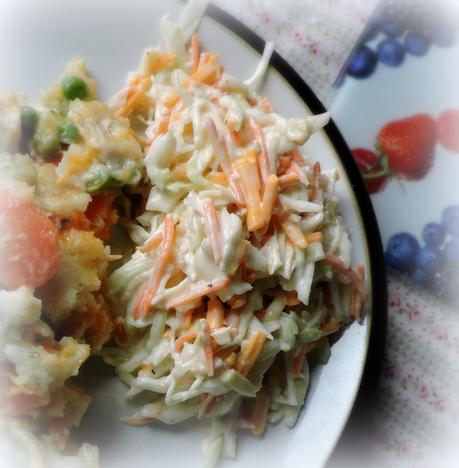 Bon Appetit!