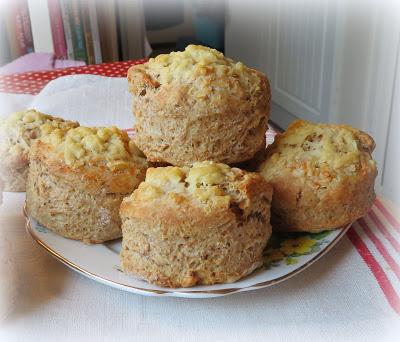 Marmite  . . .  it is a love it or loathe it type of thing.  Todd enjoys it just spread on buttered bread.  Myself, I have never quite warmed up to the idea of simply spreading it on bread, although I do quite enjoy it cooked into things.  I used to add it to stews and things when I lived in Canada, and I also do that here. 
Spaghetti with Marmite
is one of my favorite things to eat, and at Christmas I enjoy Twiglets, which are like marmite flavoured wheat sticks.  Having said that, however . . .  if Todd has been eating Marmite on bread he is not allowed to kiss me.  I can't just can't do it  . . .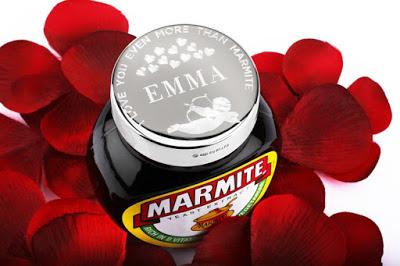 As you all know, February is the month of celebrating Love and Lovers and a time when many of us like to gift the special person in our life with something really unique and special.  Marmite, one of Britain's most iconic condiment has had a makeover this year just for this purpose.  Renowned for dividing the country between lovers and haters, the famous marmite jar is available for lovers this year with a very unique and special twist, created for specifically for lovers by the Engraver's Guild of London.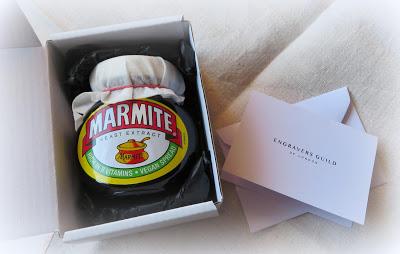 In short, it's a beautiful
solid silver Marmite lid from Engravers Guild
, made in England, engraved with a Valentine's scene and personalised with your lover's name (£79). For the person who has everything, it really is the ultimate luxury for foodies.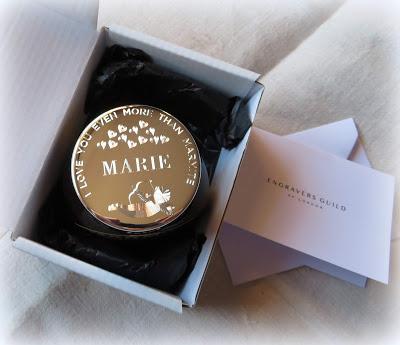 Isn't it beautiful? This solid silver lid showcases a unique Valentine's design that has been engraved using special Diamond Tip Cutters.  Showcased in the center of the lid is your marmite lover's name, along with  a baby cupid shooting a cloud of floating hearts, whilst around the edge is a simple statement which says  . . . 
"I Love you even more than marmite!"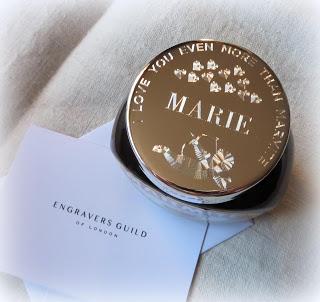 This reusable Marmite lid is solid 925 sterling silver and made in England, featuring the hallmark of the Birmingham Assay Office. Available from Engravers Guild of London, the personalised gifts retailer, the lids are £79 and can be previewed with your lover's name online. Elliot Bishton, the founder of Engravers Guild of London, said: "Marmite is famous the world-over for inspiring strong emotions and we thought it would make the perfect expression of love this Valentine's Day. The silver Marmite lid is a truly unique piece and will be treasured for very many years." 
The Valentine's Marmite Lid can be viewed and purchased here:
https://www.engraversguild.co.uk/silver-marmite-lid-engraved/valentines-silver-marmite-lid-250g/ 
Each silver lid comes complete with the 250g jar of Marmite.  If I had been thinking, I would have had Todd's name engraved on the lid, however no matter . . .  he will just have to ask me for access to its contents!!  😁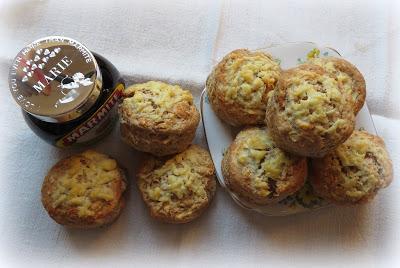 As I said, the way that I enjoy marmite most is in cooked and baked things.  To me that is where it's unique flavor really shines.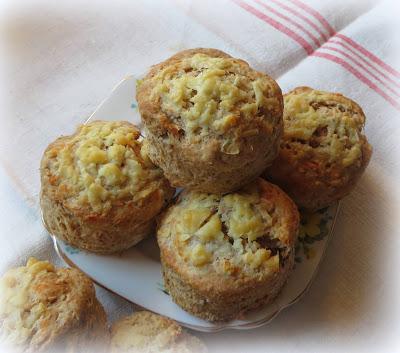 Hello Cheese & Marmite Scones!  YUM!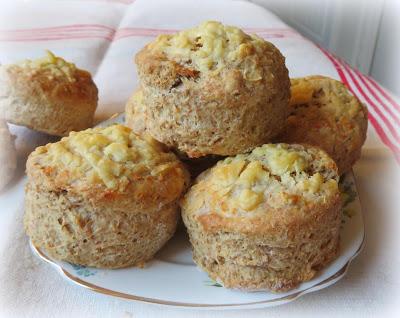 These are a savoury scone as opposed to a sweet scone, and are perfectly at home alone as is, or served along side a delicious soup or salad.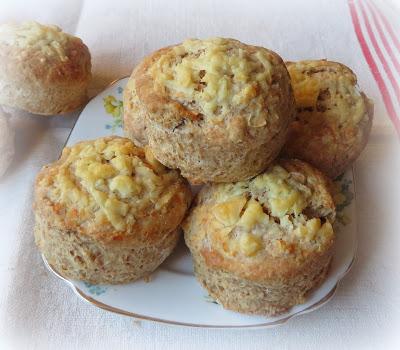 They are created using a combination of plain self raising flour and whole meal/whole wheat flour, which to me means they are a tad bit healthier than the norm.  Added fiber is a good thing.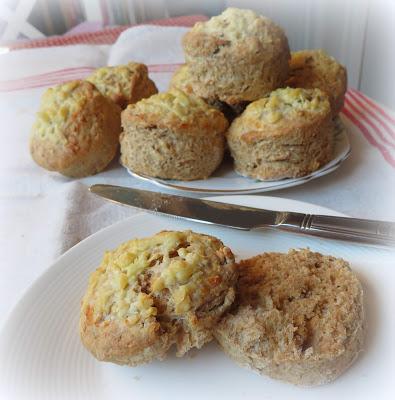 Just look at the lovely rise of these scones, and that beautiful texture . . .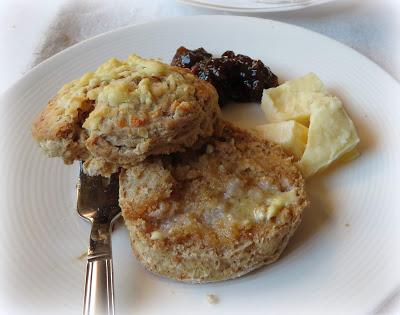 In addition to some Marmite for flavouring there the flavor of strong cheddar cheese, both in the dough for the scones themselves, and then sprinkled on top prior to baking  . . .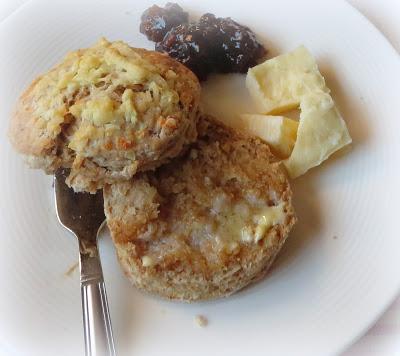 I served them warm and spread with butter, along with some Branston's pickle and more cheese  . . .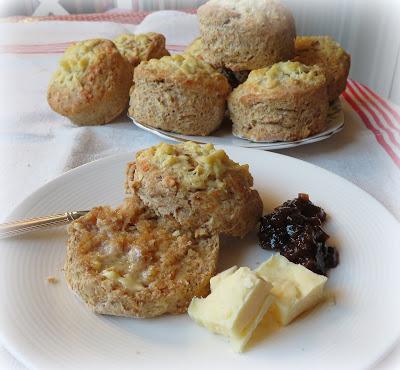 Cold meats would also be lovely . . .  think ham, or smoked turkey  . . .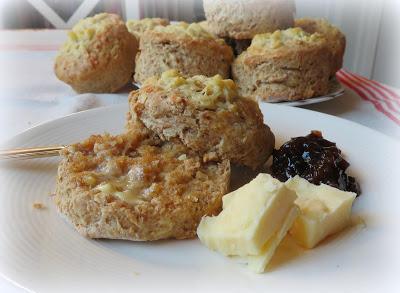 Smoked salmon would also be nice with these.  They would be great taken on picnics or in lunch boxes.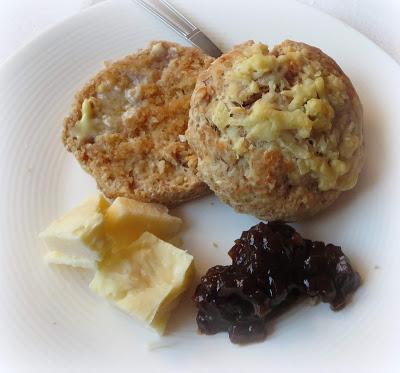 They would be excellent alongside a hot bowl of soup . . .  mmmm  . . . tomato immediately springs to mind!  That would be so delicious!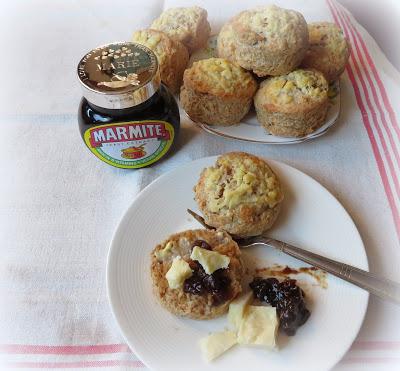 No matter how you choose to enjoy them, I can make you this promise  . . .  you WILL enjoy them!  I am certain of that! 
Yield: 8
Author: Marie Rayner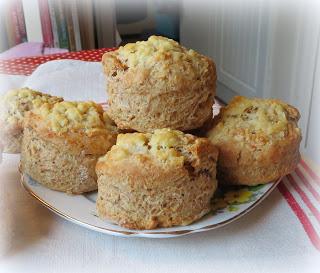 Cheese & Marmite Scones
prep time: 15 mins
cook time: 12 mins
total time: 27 mins
The perfect savoury scone to have with a hot bowl of soup, or with some cold sliced meats and cheese.  Perfect for in the lunch box too!  Healthy and whole meal.
ingredients:
140g self raising flour (1  cup)
140g wholemeal flour (1 cup)
1 tsp baking powder
50g cold butter, cut into small cubes (3 1/2 TBS)
85g mature cheddar cheese (1 cup)
1 large free range egg
1 TBS Marmite
2 TBS Greek yogurt
3 TBS milk, plus more to glaze
instructions:
Preheat the oven to 190*C/375*F/ gas 5. Line a baking sheet with parchment paper. Set aside.
Whisk together the self raising flour, wholemeal flour, and baking powder in a large bowl. Drop in the butter and quickly rub it into the flour mixture using your fingertips until the mixture resembles fine bread crumbs. Stir in half of the cheese. Make a well in the center.
Whisk together the egg, marmite, yogurt and milk. Pour this all at once into the well in the center of the flour mixture. Stir together with a fork to make a soft dough. If you think the dough is too dry, you may add a bit more milk. You want a soft, but not sticky dough.
Turn out onto a floured surface, Pat out to about 1 inch thick. Cut into rounds with a 2 1/2 inch round cutter, stamping it straight down and lifting it straight up, re-rolling the scraps as necessary, until you have 8 rounds.. Place the scones on the prepared baking sheet. Brush the tops with some more milk and then sprinkle with the remainder of the cheese.
Bake in the preheated oven for 10 to 12 minutes until golden brown. Remove to a wire rack to cool..
Created using
The Recipes Generator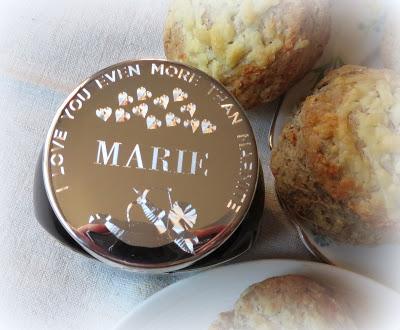 Many thanks to the Engravers Guild for sending me this beautiful and unique gift.  It is truly lovely.  I
do
think it would make a beautiful gift for the marmite lover in your life this Valentines day! 

Note - although I was sent this silver lid free of charge I was not required to write a positive review.  Any and all opinions are entirely my own.