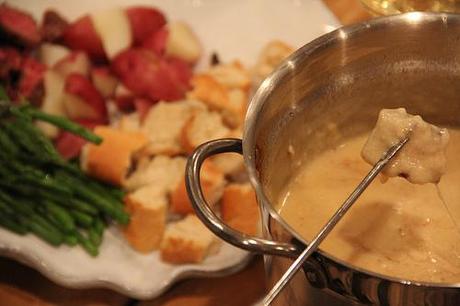 Cheesy Valentine Fondue!
Virtual Potluck has teamed up with Taste to serve up some delicious beverages to go along with our special Valentines menu. We will be participating in this event for three weeks and will be bringing you a plethora of menu choices to surprise your Valentine with! Maybe you just need an appetizer prior to going out to dinner, or only a dessert to follow. Maybe just the cocktail, or the whole shebang! Whatever your needs, Virtual Potluck has you covered!
If you are not familiar,Taste is a mixology show that features clever cocktails from the creative minds at N8tion.com, an independent television and radio network founded by brothers Myron and Otis McDaniel.
http://www.youtube.com/watch?v=ypmeXYv2wIE
The cool and clever bartender is Otis, who showcases his cocktail recipes. Virtual Potluck is thrilled to have the opportunity to work with Otis on pairing libations with our Valentine dishes.
I have created a classic preparation of Cheese Fondue for this event, as it is incredibly romantic, and I happen to think it is the ultimate cheese lover's comfort food! With February being named National Fondue Month, it is the best time of year to enjoy this delectable and hot indulgence.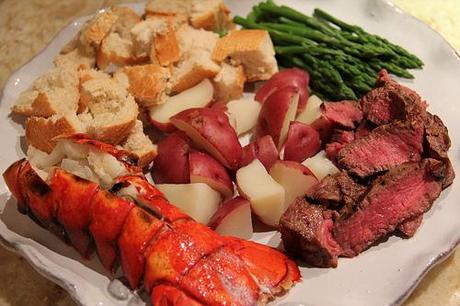 Dipping Selections
Making fondue is easier than you think and it is very versatile: just add the beer or wine of your choice, your cheese selections, the proteins and seasonal veggies you want to dip, and melt those worries and winter blues away! My husband found my wine and cheese selections at Chans Wine World in Destin where Michele is always an invaluable resource to both of us. You  really must stop by and meet him if in Destin. Chans Wine World serves an amazing lunch bistro style, and has wine and beer tastings often.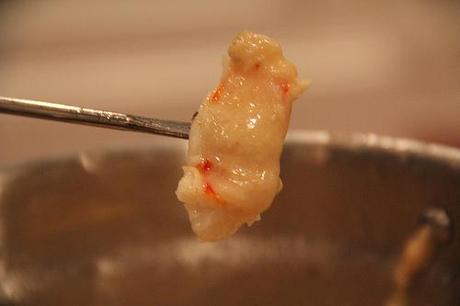 Dip Broiled Lobster!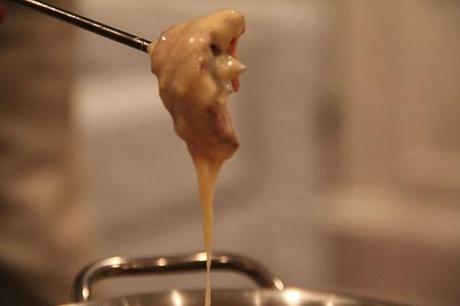 Dip Grilled Filet!
Fondue is also fun to serve to your family if you are celebrating Valentine's Day with the kids. They love to pick and choose what they will dip next, but just beware of the fondue forks, as they tend to be sharp and you won't want any sword fighting at the table!
Ingredients:
1/2 pound imported Swiss Cheese, shredded
1/2 pound Gruyere, shredded
2 tablespoons cornstarch
1 cup dry white wine
1 tablespoon lemon juice
2 tablespoons cherry brandy, such as kirsch
1/2 teaspoon dry mustard
1 teaspoon minced garlic
Pinch nutmeg
Optional Dipping Items on Skewers:
Boiled baby new potatoes in their skins, or quartered if large
Lightly steamed broccoli florets
Lightly steamed cauliflower florets
Lightly steamed asparagus
Button mushrooms, wiped clean and stems removed
Cubed smoked ham
Cooked sliced hot sausage
Long thick pretzel sticks
Lightly toasted cubes French Bread
Steamed lobster cut into bite size pieces
Grilled beef filet cut into bite sized pieces
 This week's participating VP blogs:
APPETIZER: Tara at Foodie brings us Herbed Smoked Salmon Mousse Croûte— smoked salmon mousse on a grilled toast drizzled with white truffle oil and sprinkled with fresh herbs.
Appetizer Drink:
Drink Name: Brandy Squirt
1 1/2 oz of Brandy
1 tablespoon of powdered sugar
1/2 teaspoon of grenadine
Fill with Carbonated water
Shake with Ice and pour in Highball Glass
INTERMEZZO:  The Groovy Foody brings Pomegranate, Beet Root and Blood Orange Savory Sorbet served with goat cheese, thyme and crushed almonds.
Intermezzo Drink:
Drink Name: Cape Coder
1 1/2 oz of Rum or Vodka
3 oz of Cranberry Juice
1/2 oz of Lime Juice (if desired)
Fill with carbonated water
Stir in Old Fashion Glass with ice
ENTREE: Susan at 30AEATS  Brings a  Creamy and Savory Cheese Fondue served with bites of broiled lobster, grilled filet and seasonal vegetables for dipping.
Entree Drink
Drink Name: Florida Lemonade
2 oz of Whiskey
2 oz of Lemon Juice
2 oz of Lime Juice
1 Tablespoon of Powdered Sugar
1/4 Tablespoon Grenadine
Shake with ice pour in highball glass
DESSERT: Theresa at Food Hunter's Guide whips up a Chocolate Mascarpone & Amaretto Layer Cake
Dessert Drink
Drink Name: Black Russian
2 oz of Vodka
1 oz of Kahlua
Served in Old Fashion glass with Ice and stir