Cheese and walnut goes really well together.  In fact, walnut is quite a versatile nuts and thus I always stock up on this.
Usually for small quantity bake, I love to use the air fryer to do the job.  Unfortunately, I busted it after 3 years (I think it is baking at 200°C for 4 rounds is the cause of it).   I must say it is one of the most well used appliances that I never regretted buying.  
Anyway, decided to try out this, Cheese and Walnut Bun recipe when I was browsing in the library.  I wasn't even sure if it works since I have never try using a pan to make bread.

The first round, I burnt it and thus this is my second attempt.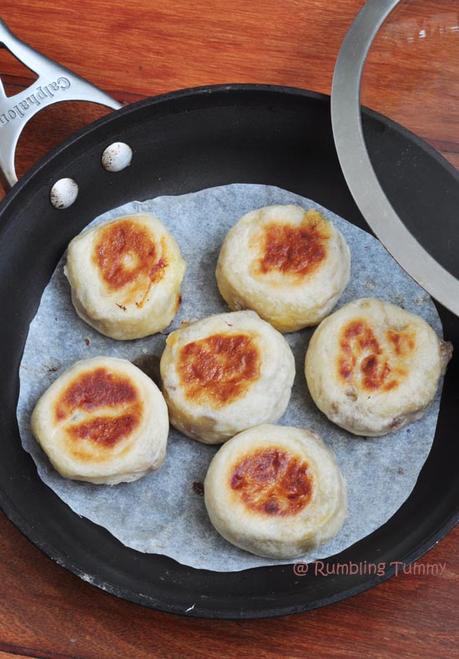 Findings: The texture is soft and nice.  A little on the chewy side.  As I said earlier, the cheese and the walnut went well together.
When I flipped over, I did not press the buns down.  Thus you can see the browning not very pretty.
What you need:
150g bread flour1½ tbsp castor sugar
½ tsp salt½ tsp yeast20g unsalted butter, softened90ml warm water30g walnut, toasted and chopped100g any firm and creamy cheese
Method:
Combine salt, sugar, yeast and bread flour together.
Knead to combine into a dough.
Add in softened butter and knead until it is soft and pliable.  Pass window pane stage.
Knead in walnut.
Place in a greased bowl and clingwrap.  Let it proof for 40 mins.
Punch out gas.
Divide into 6 portions.
Wrapped in cheese.  Seal well.
Lined frying pan with bake proof paper.
Place bun inside and turn on med heat (covered) and let it heat for 5 mins.  
Turn off heat and let it proof for 30 mins.  
Turn back on low heat and let it cook for 15 mins.  Once turn golden, flip over and press.  Let it continue to cook for 10 mins and until golden brown.
Remove and cool on rack.
Stay healthy!If you have enjoyed this post by
Rumbling Tummy
, be sure to follow this Rumbling Tummy on
Facebook
, Instagram,
Pinterest
, Twitter and
Google+
.