It is Spring break time for my son this week and making interesting meals for him has been a challenge for me. So I referred to the cookbook '
India: The Cookbook'
by Pushpesh Pant and found this quick and easy Cheelas. I've always wanted to make these vegan omelettes, but never got around to make them. My son really liked them and gobbled up a couple with some ketchup. They taste the best when served hot out of the pan.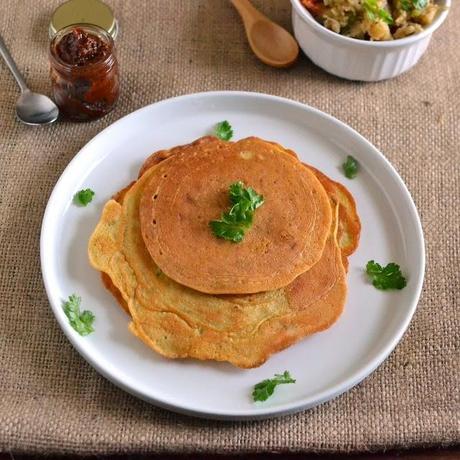 Cheelas are basically besan (chickpea flour) dosas (crepes). They take about 15 minutes to make from start to finish. They are protein rich and healthy. Any vegetable that is grated or shredded can be added to cheelas to make them more substantial.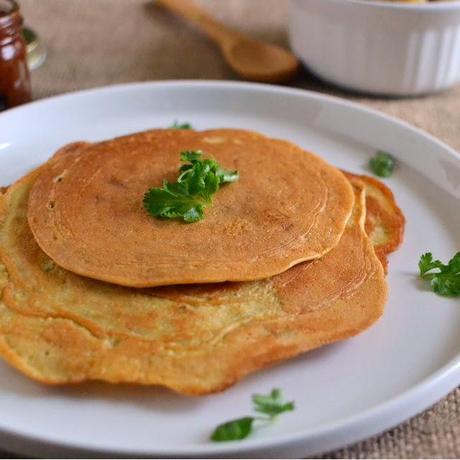 Ingredients
:
Makes 4~5 Cheelas
Besan/ Chickpea flour - 1cup Green chilies - 2, finely chopped Tomato - 1 small, finely chopped Cumin seeds - ½tsp
Cilantro - 2tbsp, finely chopped
Salt - to taste
Method
:
Add enough water to besan to get a pour able consistency. Add the rest of the ingredients and whisk for 1 minute.
Heat a nonstick pan; add 1tsp oil and the batter with a ladle. Swirl the pan and cook for about 2 minutes or until golden brown. Flip and cook for 1 more minute. Serve immediately.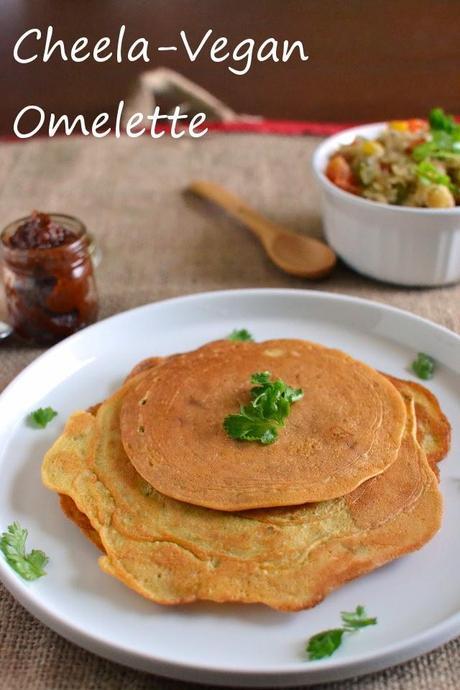 I also made some upma along with the cheelas. Original recipe used just sooji, but I added some semya (vermicelli) too because I only had ½cup of each and wanted to use up both of them. Addition of garlic and yogurt to the upma sounded interesting to me and they sure add good flavor to the dish.
Vegetable Upma
:
Ingredients
: Sooji/ Semolina - ½cup Semya/ fine vermicelli - ½cup Onion - 1 small, chopped Mixed vegetables - 1cup, chopped (carrots, green beans, peas, cauliflower, corn etc would be great) Green chilies - 2, finely chopped Ginger - 1" piece, finely grated Garlic - 1 clove, finely minced Curry leaves - 10~12 Yogurt - 2tbsp Cilantro - 3tbsp, finely chopped Mustard seeds - ½tsp Cumin seeds - ½tsp Urad dal - ½tsp Salt - to taste
Method
:
Heat 1tbsp oil in a pan; add mustard seeds, cumin seeds and urad dal. Once the seeds start to splutter, add the curry leaves, green chilies, ginger and garlic. Cook for 1 minute.
Next add chopped onions and mixed vegetables, cook till veggies are tender, about 6~8 minutes.
Add salt, 2cups of hot water, yogurt and mix well. Slowly stir in the semya and sooji, mixing constantly, to avoid forming lumps. Cover and cook on low flame until cooked through, about 4~5 minutes. Serve hot.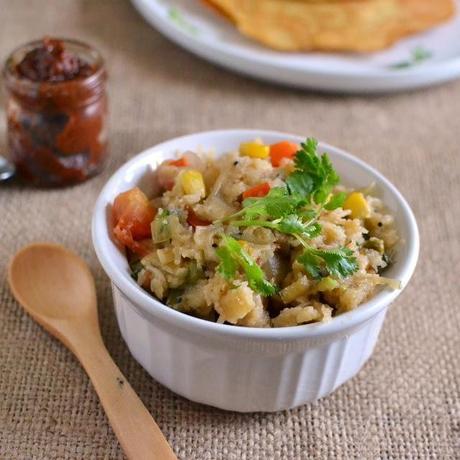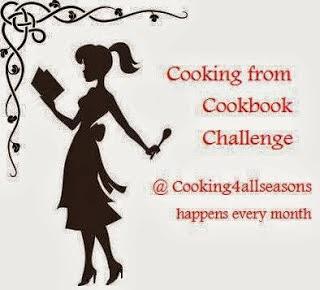 Linking this to Valli's
'Cooking from Cookbook Challenge: April -- Week 2'
.
Also linking to '
Fabulous Feast Friday# 11
', being hosted this week by
Usha
and me.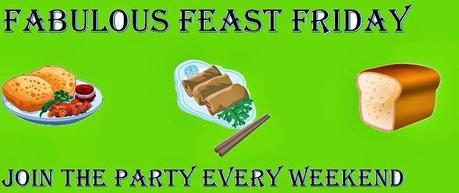 Also to Valli's '
Come Join us for Breakfast
' event.