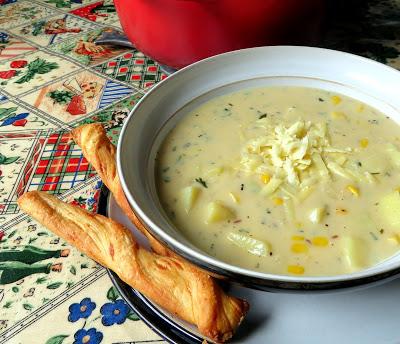 It got really cold here yesterday (Monday).  It was raining and blustery. The perfect soup day.  I had been wanting to cook this Cheddar & Corn Chowder for a really long time and I decided it was the perfect day!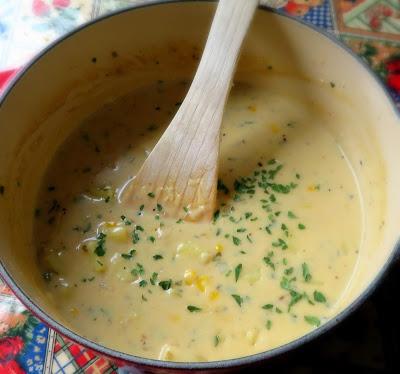 Normally I make this
Corn Chowder Recipe.
  It is one that I have been making for years and years and years. It is the recipe my children grew up on.  I used to make it every Sunday after church. It was and is a real family favourite!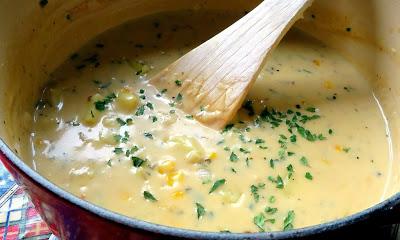 Another one which we make and really like is this
Chicken & Corn Chowder Recipe
.   I've been making that one for years also.  I got the recipe out of one of those little cookbook magazines you used to be able to find buy next to the til's at the Grocery store. Its a real winner!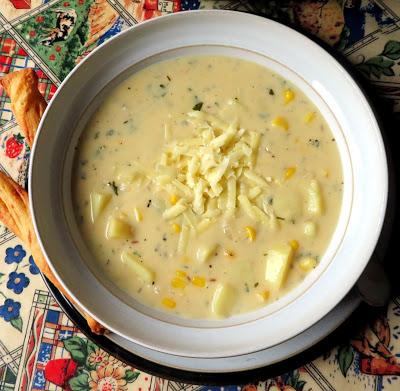 This Cheddar & Corn Chowder recipe is a bonafide true winning recipe however.   I clipped it out of a magazine many years ago.  I am afraid I don't know which magazine however as I only clipped the recipe and not the page, so there is no telling for sure . . .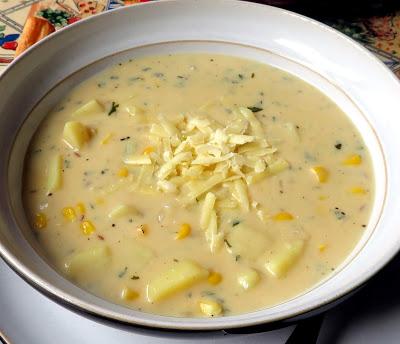 I only know for sure that it was a Canadian magazine because the measurements were in both cup measurements and metric measurements.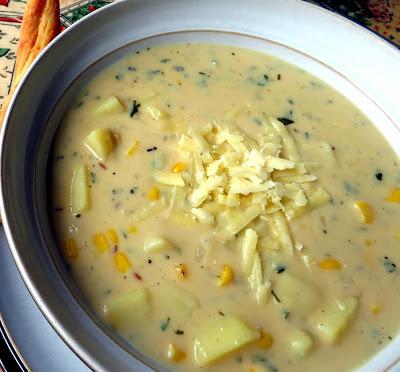 I have a strong suspicion that it was Canadian Living.  This recipe got a second prize in a Favourite Family Supper Contest.  I have had it sitting in my binder for many years, and had never made it.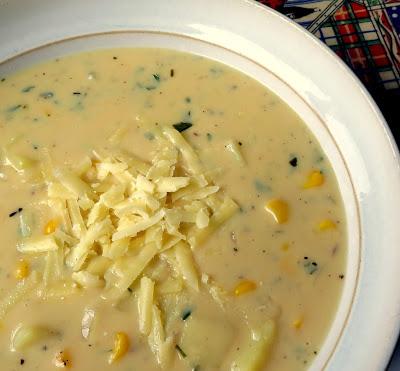 I made a promise to myself that this year I was going to try to use the recipes that I have collected and then share them (if they are any good) and then get rid of the paper.  What is the point of keeping things you are not using?  No point, that's what. It is only taking up space.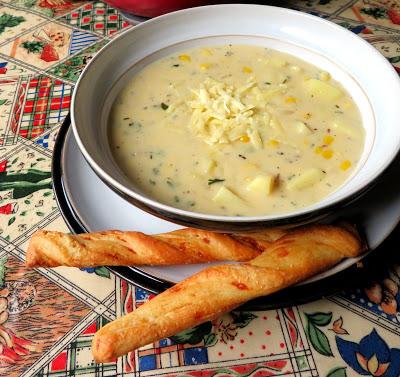 One day it will all end up in the bin anyways, as it probably only has value to me. I don't want to leave a mess for someone else to clean up and so I am trying to use as many of them as I can! I will only ever be able to touch the tip of the recipe ice-berg however as I have been very prolific  and very good at collecting them through the years!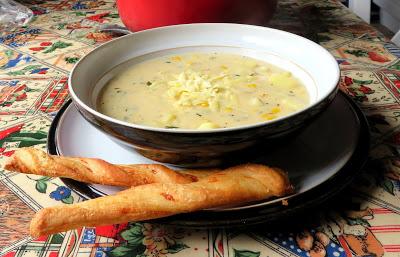 Back to the soup . . .  this is a true winner.  No wonder  . . . its delicious!  Simple to make as well.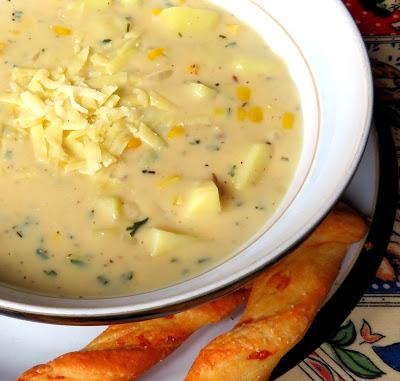 It also uses ingredients you probably have in your kitchen already . . . onions, potato, frozen corn, butter, flour, milk . . .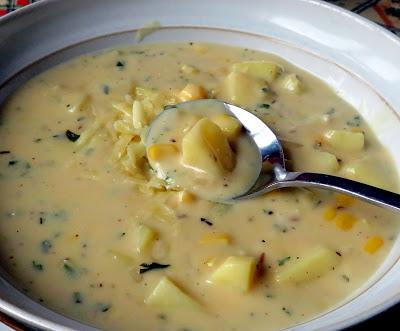 It is flavoured with bay leaf and cumin seed.  I like to bruise the cumin seed to release their flavours and I also break the bay leaf in two. This also helps to release its flavours. Trust me, you will notice a huge difference in just doing this. It also used fresh chives. I had none, so I used dry and it was still fabulous!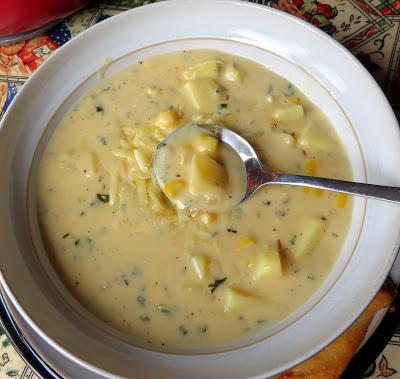 I used a really good cheddar in this  . . .  an old one, sharp flavoured . . .  aged . . .  with plenty of calcium crystals in it.  You get more taste bang for your buck when you use a good OLD cheddar.  You will find a little bit goes a very long way.
Yield:
4 - 6
Author:
Marie Rayner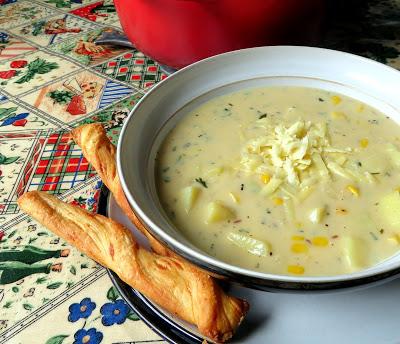 Cheddar & Corn Chowder
Use extra strong cheddar cheese to give this hearty chowder a special zip! this is a prize winning recipe, so you know it is delicious.
ingredients:
3 TBS butter
1 medium onion, peeled and chopped
1 large potato, peeled and cut into 1/2 inch cubes
1 bay leaf, broken in half to release the oils
1/2 tsp whole cumin seeds, bruised
1/4 tsp dried sage
3 TBS plain flour
480ml chicken stock
300ml light cream or milk (1 1/4 cups)
225g frozen corn niblets (1 1/2 cups)
2 TBS chopped fresh parsley
2 TBS chopped fresh chives
1/4 tsp ground nutmeg
60ml dry white wine (1/4 cup)
200g grated strong cheddar cheese (2 cups) plus more to sprinkle
salt and black pepper to taste
instructions:
How to cook Cheddar & Corn Chowder
Melt the butter in a saucepan with a heavy bottom.  Add the onion, potato, broken bay leaf, cumin seed and sage.  Cook over medium-low heat, stirring occasionally until the onion is softened without browning.  Stir in the flour.  Cook and stir for about 2 minutes.  Don't let it brown.
Whisk in the stock and the milk.  Bring to the boil, whisking constantly until smooth. Reduce to medium low and simmer, stirring often for about 30 minutes, until the potatoes are tender.  Stir in the corn, parsley, chives, nutmeg and wine.  Simmer for a further 5 to 6 minutes until heated through. Discard the bay leaf. Stir in the cheese and heat over low heat, just to melt the cheese.  Don't let the soup boil. Taste and adjust the seasoning with salt and black pepper.  Serve hot, ladled into heated bowls with a spoonful of cheddar sprinkled over top of each.
Created using
The Recipes Generator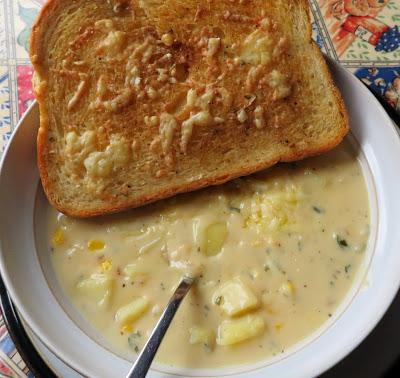 I made Todd some cheesy toasts to enjoy with his.  I had the cheese straws . . .  I just love something crunchy with my soups.  I think it is the Canadian in me!  Anyways, you are going to love LOVE this Cheddar & Corn Chowder.  Its fabulously tasty!  Quick, easy and delicious.  YUM!!!
Up Tomorrow:
Stacked Turkey Mexi-Melts